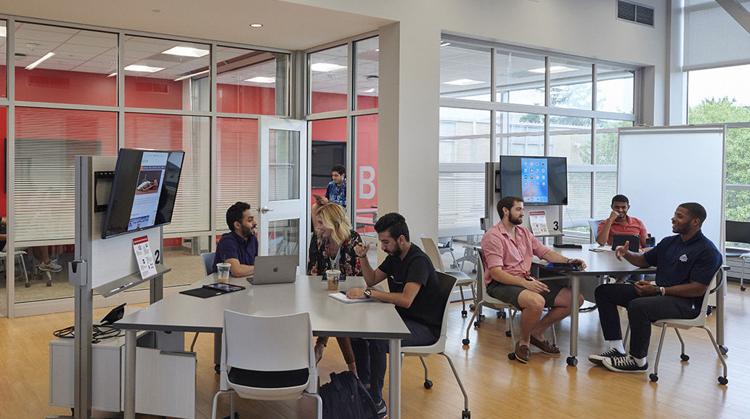 For the past five years, Maryville has aggressively renovated, upgraded and created new dynamic learning spaces on campus. Cutting-edge technology drives every project, ensuring you'll have the most innovative tools available to help you learn and prepare for career success. We are also working on additional plans to grow and further enhance our classrooms, our gathering and study spaces and our sports facilities.
Our new state-of-the-art learning spaces are outfitted with the latest technology, including augmented and virtual reality, among others to enhance and empower student learning. Our innovation hub will be a series of spaces designed to foster student, faculty and staff creativity, project-based learning and innovative engagement.
Academics is just one aspect of your college experience, so we've also been busy assuring your out-of-classroom experience is just as active and engaging. Students were delighted to see the addition of Starbucks to campus last year and are already enjoying the newly renovated Louie's, one of the dining options on campus. Louie's features freshly made, build-your-own-burgers where you can-with a variety of toppings and sauces, build a burger as unique as you are.
The new Maryville University Athletic Complex, opening this fall, will not only host competitions for our NCAA Division II lacrosse, softball and tennis teams but will greatly enhance intramural and club sports for all of our students. Our new soccer stadium seats more than 800 and includes a NCAA track for meets and field events. It also offers a covered portion for tailgating and student life events.
The Maryville University Hockey Center opened in August in partnership with the Chesterfield Hockey Association. The 84,000-square-foot facility features two NHL-sized rinks and seating for approximately 2,000 spectators. The Hockey Center will be the home facility of Maryville's men's and women's hockey teams.
There are so many more exciting things to come. Visit maryville.edu/campusenhancements to see what else we're working on and envision yourself at Maryville.
---
This content was produced by Brand Ave. Studios in collaboration with Maryville University. The news and editorial departments of the St. Louis Post-Dispatch had no role in its creation or display. For more information about Brand Ave. Studios, contact tgriffin@stltoday.com.