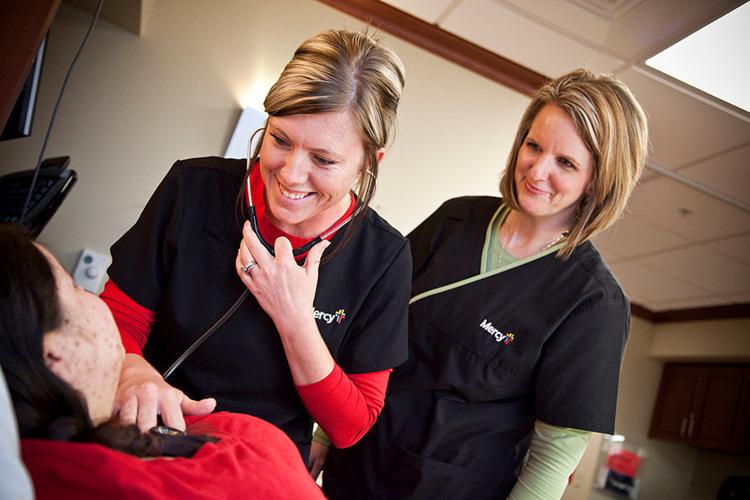 To be a nurse at Mercy is to embrace the responsibility of patient care.
"At Mercy, delivering compassionate, coordinated, collaborative care is the basis for all we do," says Betty Jo Rocchio, chief nursing optimization officer.
Mercy is a four-time Watson Health 15 Top Health System (2016-2019) and serves millions annually. This includes more than 40 acute care and specialty (heart, children's, orthopedic and rehab) hospitals, 900 physician practices, 45,000 co-workers and 2,400 Mercy Clinic physicians in Arkansas, Kansas, Missouri and Oklahoma.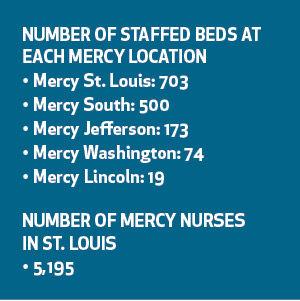 Serving the St. Louis community, Mercy has five local hospitals, employing a total of 5,195 nurses altogether.
As a faith-based organization, Mercy is rooted in its mission of bringing to life the healing ministry of Jesus through care and service. There are five core values that guide Mercy nurses and the directions they take with their care every day – dignity, excellence, justice, service and stewardship.
A RICH HISTORY OF SERVING
Mercy's mission and values began with the Sisters of Mercy, often referred to as "The Walking Sisters," who would seek out those in need and deliver care in the streets of Dublin, Ireland, serving the poor, the homeless and women and children regardless of their culture or background.
"Our foundress, Catherine McAuley, is foundational to our Mercy identity, to honoring our history and heritage. We educate our nurses, physicians and co-workers from orientation onwards about Catherine's story, and we reinforce the story of Mercy's founding and values in the workplace," said Rocchio.
With dignity as a core value, each nurse strives to treat each individual just as the Sisters did. "Dignity to us means respecting everyone," said Marie Graham, director of medical-surgical and women's health units at Mercy South.
The core value of dignity intertwines with another value that is on the top of the list: justice. Mercy nurses have a special focus on those who are economically poor, making sure each individual within the hospital and in the community has services available to them.
Thanks to technology, some of these extended services include Mercy Virtual, or a "hospital without beds." Virtual care allows clinicians to "see" patients wherever they are – whether it be in the intensive care unit on a two-way camera or in the comfort of their own home via an iPad.
OPPORTUNITIES FOR GROWTH
Mercy offers a variety of opportunities for nurses to continue their education and eventually move into leadership roles.
Some of these opportunities include:
Tuition and professional development reimbursement programs
Nursing loan forgiveness
Public Service Loan Forgiveness (PSLF)
Student loan refinancing discount
Mercy scholarships and grants
University partnerships providing discounted tuition, scholarships and waived fees
RN to BSN bridging program
MSN program
Nurses Graham and Corin Allen, director of heart and vascular services at Mercy South, have taken advantage of these opportunities. Allen started at Mercy as a patient care tech and Graham began her Mercy career as an LPN. Both nurses have been able to move into leadership roles thanks to the opportunities that Mercy provides its staff.
"The opportunities are limitless," Graham said. "Whether it be advanced practice or a higher level care in leadership, all of these options are available to any Mercy nurse."
"I started as a patient care tech here, and over the years I have benefitted from the tuition reimbursement programs and started my master's program," said Allen. "I am very blessed to be a nurse here at Mercy."
COLLABORATIVE CARE
Nursing leaders at Mercy embrace the decision-making process by involving every member of their team, recognizing that each individual plays an important role when it comes to caring for their patients. "Mercy has developed professional practice teams by nurse specialty that work alongside our physician specialty councils to make decisions regarding policies and protocols, care delivery and shared decision-making so that we deliver a coordinated, collaborative, front-line approach to patient care," Rocchio said.
This decision-making process combined with Mercy's digital and technology platform have transformed the care delivered and the care experienced in the midst of COVID-19. "We have a nursing leadership structure that is nimble so we can make timely decisions, a digital technology and analytics footprint that gives us real-time information to make informed clinical and care decisions, and evidence-based care guidelines embedded right into our electronic medical record for our nurses. This platform has been very instrumental in our ability to move care in the right direction during this pandemic," Rocchio said.
She and leaders at Mercy are also cross-collaborating with other area hospitals during this time. "This is a special time in nursing as we are being called upon to transform the care and respond to community needs. We are reaching out to our local nursing leaders, making sure we are connected," she said. "We want to make sure that not just Mercy patients are covered, but the entire community."

---
This content was produced by Brand Ave. Studios in collaboration with Mercy. The news and editorial departments of the St. Louis Post-Dispatch had no role in its creation or display. For more information about Brand Ave. Studios, contact 
tgriffin@stltoday.com
.
Be the first to know
Get local news delivered to your inbox!