When Julie Fox's husband Mike was diagnosed with Barrett's Esophagus in 2015, it was a wake-up call. Mike was only 38 years old when he received the unexpected diagnosis. Julie and Mike thought they were eating healthy, but when they started reading the ingredient lists on their food, they realized they weren't eating healthy at all. Julie and Mike immediately changed their diet by omitting grains, dairy, processed food and refined sugar and adopted the Paleo diet. But Julie didn't want Mike to feel like he was on a diet for the rest of his life, so she began making him tasty, nut-based snacks like almond butters, cashew butters and grain-free granolas.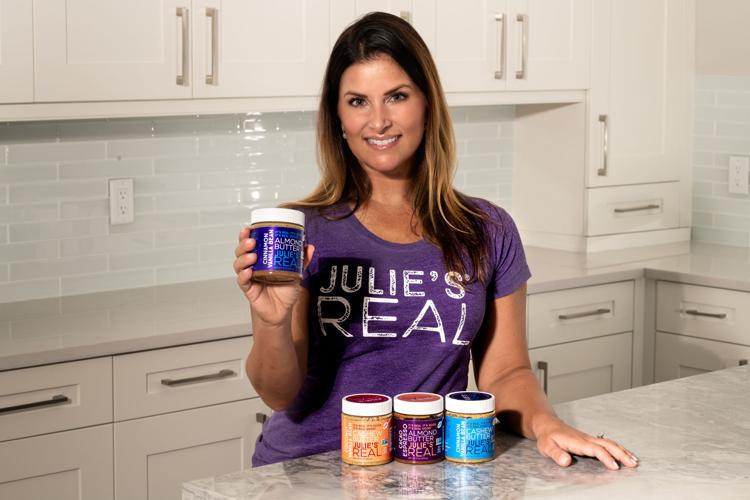 Mike told Julie, "This stuff is really good – you should start selling it." And with that, Julie's Real was born.
Julie's mission was to make real food that tastes real-ly good. She says, "There are a lot of products out there that claim to be healthy that really aren't, and there are a lot of healthy products that just don't taste good. Our products are incredibly clean and delicious – that's what Julie's Real is all about – real food that tastes really good!"
Julie's Real products are made with only 100 percent whole food ingredients. They are Paleo, gluten-free, dairy-free, soy-free, peanut-free and non-GMO verified. She also just launched a line of Paleo Baking Mixes that are USDA Organic. Think about the most decadent brownie you've ever tasted that's actually good for you!
"It can be hard to snack when you want to avoid high-sugar and processed foods. When you look at the ingredients in the foods you are eating you will find they are filled with words like 'flavorings' or ingredients you can't pronounce," says Julie.
What makes Julie's Real different from other products on the grocery store shelves? Julie explains, "We use only the highest quality ingredients – no flavorings or extracts – just real food, and you can taste the difference."
These products are not only for those with dietary restrictions and food lovers alike, but are also loved by athletes. Julie's Real fueled the 2016 and 2018 U.S. Ryder Cup Teams as well as the 2017 U.S. Presidents Cup Team. Additionally, Julie's Real Nut Butter Packets are available on the first and 10th tee at every PGA Tour event.
Julie's Real has grown quickly to meet demand for increasing orders, and the products are now available in more than 2,000 stores nationwide. Bringing Julie's Real to her hometown of St. Louis has been a priority since she started the company.
Find Julie's Real Almond Butters and Cashew Butters at your local Dierbergs, Fresh Thyme and soon at your local Schnucks.
---
This content was produced by Brand Ave. Studios in collaboration with Julie's Real. The news and editorial departments of the St. Louis Post-Dispatch had no role in its creation or display. For more information about Brand Ave. Studios, contact tgriffin@stltoday.com.