Soldiers Memorial Military Museum is dedicated to telling the diverse stories of St. Louisans who served their country, and highlighting their contributions to the nation's military history.
The famed Tuskegee Airmen were known for their courage and determination during an era of segregated military service. They served with distinction in the U.S. Army Air Forces during WWII, where the red tails on their planes and their strong record as bomber escorts earned them the nicknames Red Tails and Red-Tail Angels. Their accomplishments helped pave the way for military integration in 1948.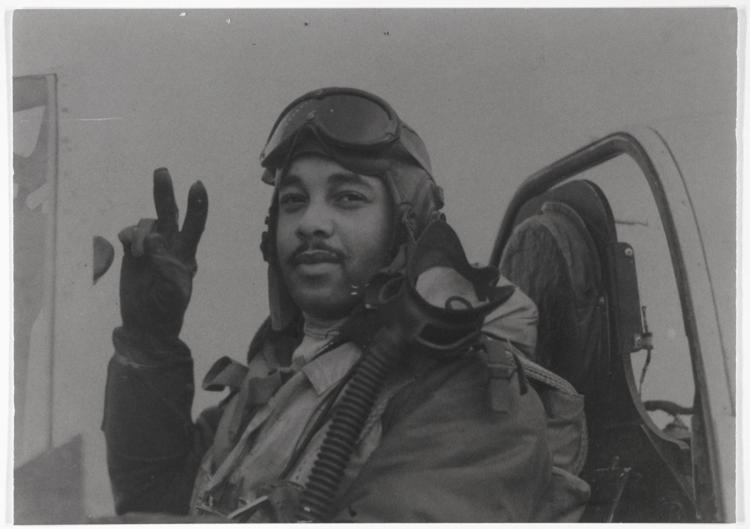 Here are the stories of two Tuskegee Airmen who called St. Louis home.
Captain Charles White grew up in St. Louis and flew a P51-D Mustang fighter. He earned the Distinguished Flying Cross and an Air Medal Distinguished Unit citation. After fighting for freedom abroad, White's experiences led him to be more outspoken about inequality at home. "If you fight and risk your life... then you want to make demands when you come back," he said. He was a teacher and a principal in the St. Louis Public Schools.
Wendell O. Pruitt, a Sumner High School graduate, served in the Mediterranean Theater as a fighter pilot. Capt. Pruitt and Lt. Lee Archer, known as the Gruesome Twosome, racked up the most air victories of any pair of Tuskegee pilots. Pruitt shot down three German planes over the course of 70 combat missions. On December 12, 1944, the City of St. Louis celebrated Wendell O. Pruitt Day with a ceremony downtown. The Pruitt-Igoe housing project, a school and two American Veteran Posts were named in his honor.
Soldiers Memorial offers programs and outreach services including special exhibits, tours, services for the military community, school programs and lectures.

---
This content was produced by Brand Ave. Studios in collaboration with Soldiers Memorial. The news and editorial departments of the St. Louis Post-Dispatch had no role in its creation or display. For more information about Brand Ave. Studios, contact tgriffin@stltoday.com.