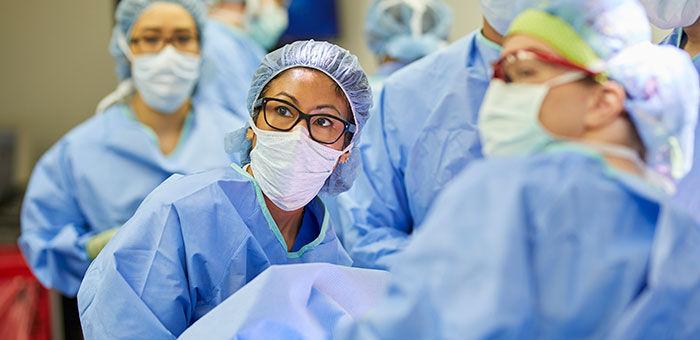 Colorectal cancer is a leading cause of cancer death in the United States, and too few Americans are being screened as recommended.
Doctors say don't wait until it's too late.
Colorectal cancer can be prevented or treated if caught early. Too often, symptoms of this deadly disease are silent. It's crucial to be screened even if you don't feel sick.
"You can cure patients when it's found at an early stage, but you have to be able to find it first," says Dr. Grace Montenegro, a SLUCare surgeon practicing at SSM Health Saint Louis University Hospital, where she specializes in colorectal cancer and other diseases of the colon and rectum. "If we don't know it's there, we can't treat it."
According to the American Cancer Society, an estimated 147,950 new cases of colon or rectal cancer were expected to be diagnosed in 2020, with more than 53,200 people expected to die from it. (Source: Cancer Facts & Figures 2020, American Cancer Society)
Thanks to improvements in screening, early detection and treatment, more colorectal cancer patients each year are able to say they are survivors. But at least one-third of people who should be screened are not actually doing it.
A colonoscopy allows doctors to find cancer early and treat it, as well as remove small growths, called polyps, before they become cancer. Guidelines call for most men and women to get regular screenings beginning at age 50.
Just do it
Dr. Montenegro says many people put off the lifesaving test in part because they're squeamish about the bowel-cleansing prep that precedes it. Less-invasive screenings are available that require no prep, such as a fecal occult blood test in which the patient sends in a sample of their bowel movement to be tested for blood.
"I understand it's a nuisance, but if these tests are positive you still have to get the colonoscopy done," Dr. Montenegro says. "Everyone just has to be screened — just do it."
Treatment options for colorectal cancer are ever improving, Dr. Montenegro says, with more minimally invasive options such as robotic-assisted laparoscopic surgery. This allows surgeons to access the colon through several small incisions in the abdomen rather than one large one. This typically leads to less pain, fewer complications and a shorter recovery period.
Transanal is another minimally invasive surgery that allows doctors to approach and remove some polyps and tumors through the anus with no incision at all.
Everything in moderation
Besides screening, there are other ways to help prevent colorectal cancer. Dr. Montenegro says it's important to know that better nutrition and a healthy lifestyle, including eating less red meat and more veggies and getting regular exercise, are key.
"I just tell patients everything in moderation," she says.
And, she says, it's important to know that if you have a family history of colorectal disease, you're already at greater risk for the disease and should talk to your doctor about being screened earlier than age 50.
For more information about Dr. Montenegro and SLUCare Colorectal Surgery, call 314-977-4440 or go to slucare.edu/colorectal-surgery.