For Sister Jude Ruggeri, no longer being able to hear birds singing, decipher conversations or react to a fire alarm was devastating. She thought it meant an early end to the work she loved.
"It's not only that you can't hear but it's so personally frustrating to not be able to interact," says Sister Jude, the executive director of Sacred Heart Villa preschool. "I couldn't talk on the phone or have conversations. It got to the point where I was going to have to quit ministry."
Hearing aids had served her for more than 20 years but were no longer working well. That's when she turned to Dr. Anthony Mikulec, an otolaryngologist who started SLUCare's cochlear implant program in 2004. After an evaluation to determine whether she was a good candidate, Dr. Mikulec performed Sister Jude's implant surgery in June 2016.
Hearing a new way
Three weeks later, the device was activated and a long learning process began. That's because unlike hearing aids, which amplify sounds, cochlear implants allow patients to hear a different way.
"It's really amazing technology," says Dr. Joshua Sappington, another member of SLUCare's team of otologists. "It's basically hearing electrically versus hearing the way the Good Lord planned for us."
Cochlear implants work by bypassing damaged portions of the inner ear to provide sound signals to the brain by electrically stimulating the hearing nerves. It takes time and perseverance for patients to learn how to decipher those sounds.
"You have to be dedicated to re-training your mind and body to hear — it's exhausting to tell you the truth," Sister Jude says. "I'm still learning. But this has changed my life. I can hear things now that I haven't heard in years. I haven't heard birds in years. Now I can hear birds again. It really has been a gift."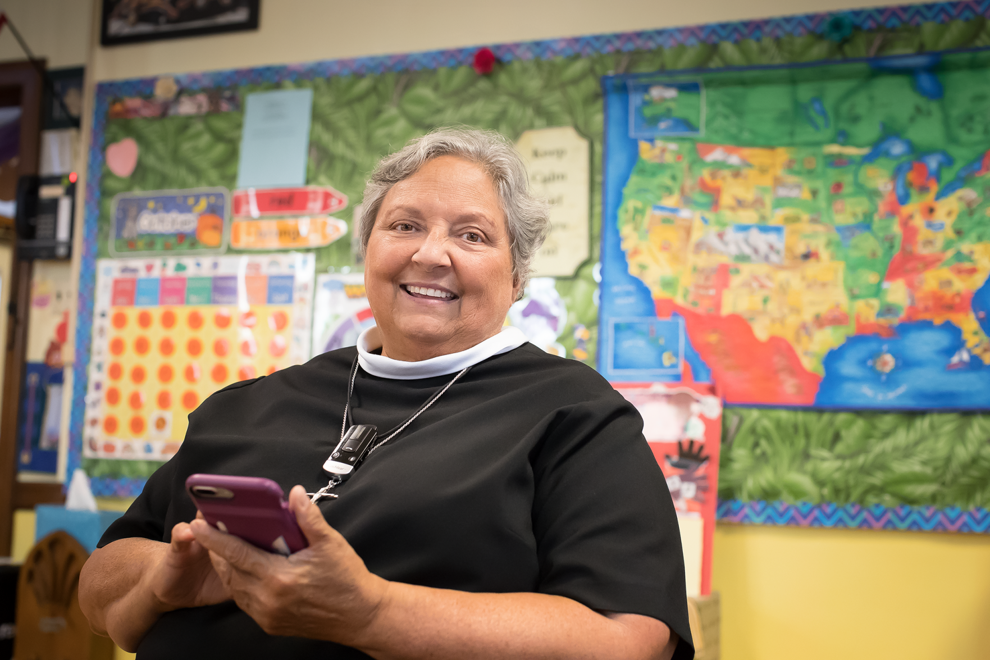 Cochlear implants can be life changing
Being deaf or severely hard of hearing can cause people to withdraw from life, Dr. Sappington says. He saw it in his own family when his uncle retired early from a career as an insurance salesman because hearing aids were failing him. Eight years ago he received bilateral implants.
The implants gave him his life back, Dr. Sappington says. "Now I can pick up the phone and call him, and that's something I couldn't do eight years ago."
Since first being approved in the mid-1980s, the technology behind cochlear implants has steadily improved. Today, more than 58,000 adults in the United States and 38,000 children have received implants, according to the National Institute on Deafness and Other Communication Disorders.
The magic comes later
Surgery itself takes about two hours and patients often go home the same day, Dr. Mikulec says. "The surgery's the easy part, the real magic comes later," he says.
About two or three weeks after surgery, patients return to work with audiologists to activate the device and start learning how to hear electrically. "They have to put the work in," Dr. Mikulec says. "This is a lifelong commitment. This isn't like glasses where you just put them on and off you go."
The process can be easier for children who are born deaf, he says. When children receive implants early in life — before connections between the ear and brain are fully formed — they typically develop language skills at a rate comparable to children with normal hearing.
When those young patients first hear sound, "it can be very emotional," Dr. Mikulec says. "It's a very heart-warming experience for everyone involved."
Sister Jude agrees.
"It is a miracle," she says.
To learn more about cochlear implants and the SLUCare Cochlear and BAHA Implant Program, go to: www.slucare.edu/cochlear