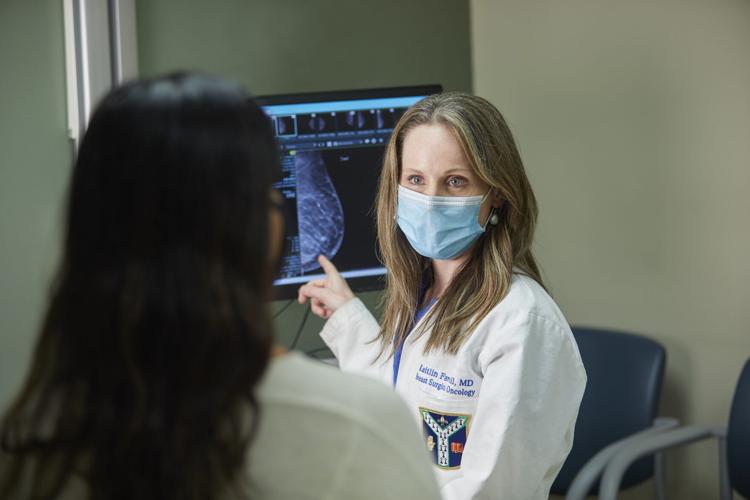 Finding and treating breast cancer early is key to survival; but beyond scheduling an annual mammogram, it's important for women to understand their risk factors, SLUCare breast surgeon Dr. Kaitlin Farrell says.
Dr. Farrell urges all women to talk to their doctors about their family history and undergo a formal risk assessment between the ages of 25 and 30, well before the recommended age at which most women begin yearly mammograms.
"It may be that you don't have to do anything different, but it empowers you to make sure that if you do have an increased risk, you have a plan," she said. "Take stock of your family history and find out if you're at higher risk."
Though some women will get breast cancer without any known risk factors, those who do have an increased risk may be eligible for additional or more types of screenings at an earlier age, improving the likelihood of detecting breast and related cancers early.
A family history
For Cynthia Mueller, now 29, a family history of breast cancer meant she began undergoing yearly mammograms and Pap smears at age 18. Her mother was 28 when first diagnosed with breast cancer, which later metastasized to her lungs and brain. She died in 2017 at age 43.
Having a first-degree relative such as a mother, sister or daughter with breast cancer raises a woman's risk. A small percentage of breast cancers are hereditary, meaning they are caused by genetic changes ("mutations") passed down in families.
Knowing that her family history increased her risk for cancer, Mueller chose to see a genetic counselor who ordered genetic testing on samples from a swab of the inside of her cheek.
Those tests determined she had inherited mutations in the BRCA1 gene. Women with a BRCA gene change have a greatly increased risk of getting breast cancer, as well as an increased risk of other cancers such as ovarian and pancreatic cancer. Their siblings and children have a higher risk, as well.
Ultimately, genetic testing led Mueller to opt for a bilateral mastectomy as a preventative measure. Though she must continue to be vigilant through regular screenings, having the surgery lowered her stress about it.
"It gave me a lot of peace of mind," Mueller said. "I felt like I was making the right choice. I would tell other women, if you know you have a risk, get tested. It's one of the best decisions I've made."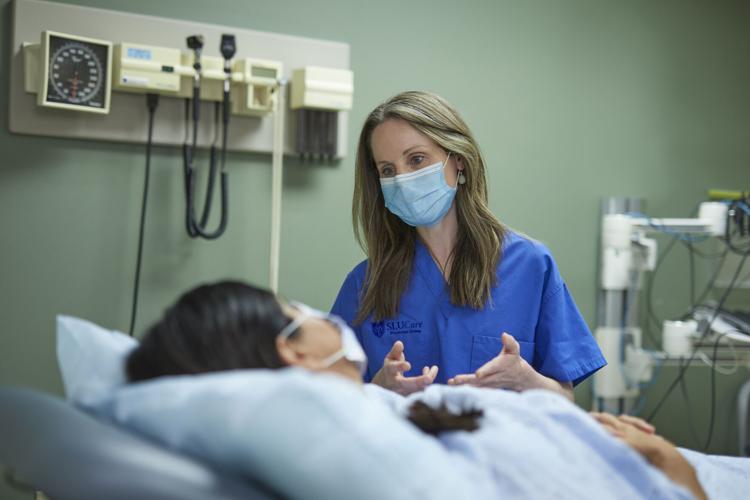 1 in 8 American women will develop breast cancer
Breast cancer is the second-most common cancer after skin cancer among women in the United States and the second-most deadly for women after lung cancer. Experts say roughly one in eight American women will develop invasive breast cancer over the course of her lifetime.
Finding it early can mean a less-intensive treatment plan and a better outcome, said Dr. Farrell, who continues to treat Mueller.
At SLUCare, physicians take a multidisciplinary approach to treating patients with breast cancer. In addition to Dr. Farrell, who practices at SSM Health Saint Louis University Hospital and SSM Health St. Mary's Hospital, the team includes specialists in breast radiology, medical oncology, radiation oncology, plastic surgery and genetic counseling.
Advances in genetic testing, as well as the understanding of tumor biology — which ones are more aggressive, for example — are among the biggest advancements in treating breast cancer in the last 10 years, Dr. Farrell said.
"Anytime someone is diagnosed with breast cancer, they end up seeing a number of different doctors. It's important to have breast specialists working together in order to make sure we give the best treatment overall for each individual," she said.
"Some patients end up needing all of them, some need some combination of them. We all have a different part in the treatment, but we all work closely together, and I think that gives patients confidence."
For more information about Dr. Farrell and the SLUCare team of breast experts, visit slucare.edu/breast-surgery.