Many people wouldn't dream of skipping routine dental visits. Your hearing and ear care shouldn't be any different, says Dr. Dave Harris, the director of SLUCare's audiology team, which has offices in the Doctors Office Building near SSM Health Saint Louis University Hospital and at SLUCare Otolaryngology West County at 555 N. New Ballas Road.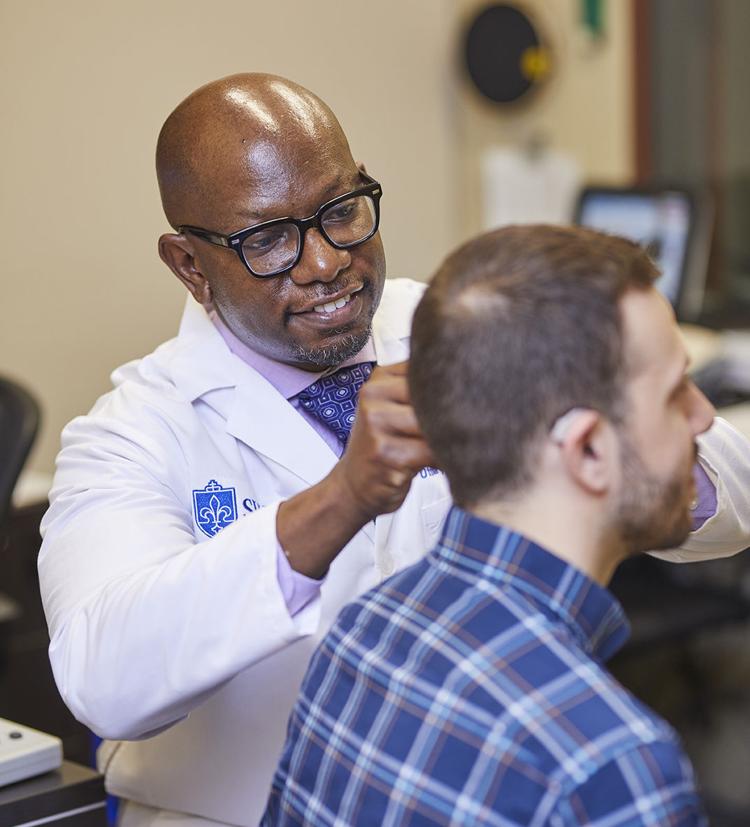 Just as you have your teeth cleaned, vision checked or your blood tested, having a regular hearing screening should be a routine component of your health care, Dr. Harris says.
"Your hearing is a big deal, and your quality of life is a big deal," says Dr. Harris. Unlike hearing aid retailers, the SLUCare audiology team offers a full range of services for ear and hearing care to ensure that patients aren't missing out on life due to hearing loss. Dr. Harris says it's important to seek expert care if you have a family history of hearing problems, are regularly exposed to loud noise, have a sudden loss of hearing or ringing in your ears, or when you or your loved ones begin to notice you're missing out on aspects of conversations around you.
"We do a full hearing evaluation," Harris says. "Our job is to first diagnose to see what type of hearing loss you have and whether it can be corrected medically or surgically. It isn't just about hearing aids. We also do balance testing and treatment. Some patients have conditions that will cause both."
When hearing aids are the best option, SLUCare specialists are trained to help patients choose the right device for them based on their lifestyle and needs, Dr. Harris says.
"We let them know what type of hearing aids would be best, but we also let them know it's their decision," Dr. Harris says. "It really just depends on their lifestyle and what they need the hearing aid to do."
Dr. Harris recently helped a surgeon choose hearing aids that are fully automatic, so that when he scrubs in to the operating room, he won't have to touch his ear to adjust the device. A judge who had trouble hearing the jurors in his courtroom is now using a device with a remote microphone.
Dr. Harris says hearing aid technology continues to improve, and devices are more streamlined and simpler than ever to use. Advances include wireless connectivity so that hearing aids not only communicate with each other but can interact with a patient's telephone or television, for example. Rechargeable hearing aids eliminate the need to frequently replace tiny disposable batteries. Users simply put their hearing aids on a charger at night just as they would their cell phone.
Not your grandmother's hearing aid
Hearing aids have come a long way, Dr. Harris says. Still, many people are unaware of what modern hearing aids look like and what they can do.
"Their experience is with their mother or their grandmother who used to wear them and hated them," he says. "We need to try to overcome the stigma of getting a hearing aid. If people can use AirPods and think that's OK, they shouldn't have any objections to wearing hearing aids."
Whatever device a patient chooses, a SLUCare specialist will set it up so that all the patient has to do is wear it — and enjoy hearing what they've been missing.
"They say, 'Wow, these are light, I don't even feel them,'" Dr. Harris says. "And then they realize maybe they were missing some things."
SLUCare audiologists also will continue to work with patients over time to make sure the device is meeting their changing needs. Dr. Harris says he recommends patients be seen at least every six months.
To learn more about SLUCare Audiology,