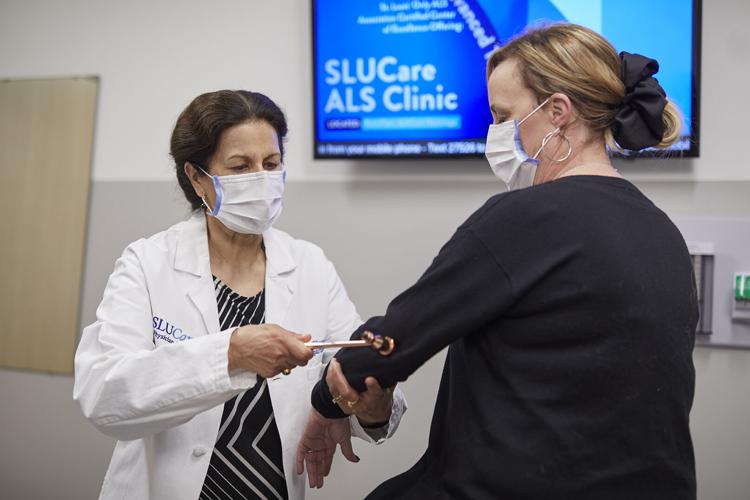 When Dr. Jean Schaid was diagnosed earlier this year with ALS, she knew she would need to fight the disease with an army of experts.
She found the team approach she was looking for at the SLUCare ALS Clinic, the only ALS Association Certified Center of Excellence in Missouri. To receive the designation, the SLUCare ALS Clinic had to demonstrate expertise through a coordinated, multidisciplinary care team that included a neurologist, physical therapist, occupational therapist, respiratory therapist, nurse, dietitian, speech language pathologist, social worker, mental health professional and an ALS Association chapter liaison.
"We started holding the clinic 20-plus years ago," said Dr. Ghazala Hayat, a SLUCare neurologist and the clinic's director. "Patients don't have to go to different appointments all over town to see different providers. It would take weeks to months before the whole care is coordinated. Here, we accommodate all their needs. It's a team effort. Everybody works together."
For people with ALS (amyotrophic lateral sclerosis), a progressive neuromuscular disease that eventually leads to the loss of a patient's ability to move, eat or even breathe without assistance, a team approach is critical to slowing the course of the disease and make living with ALS easier.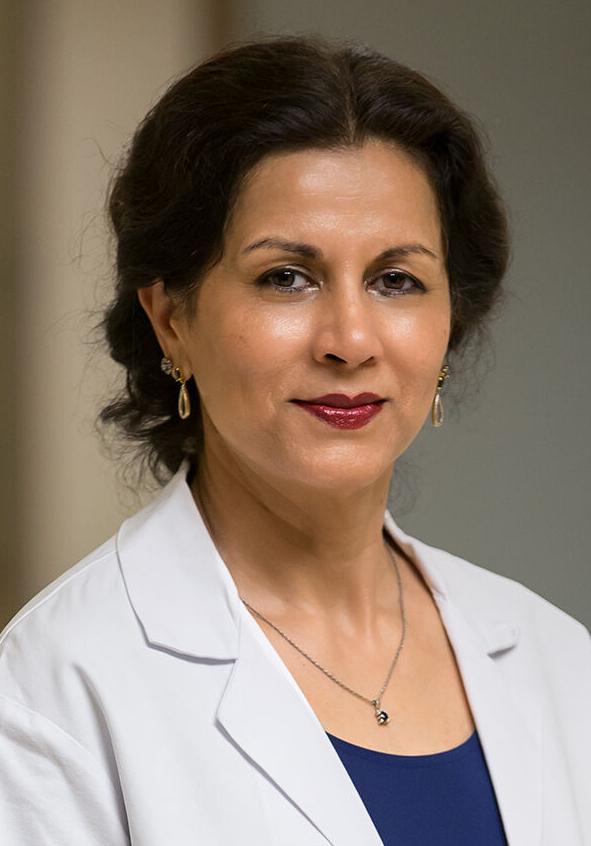 Slurred speech was first sign something was wrong
Schaid, 64, was working as a clinical psychologist in Tennessee when she first noticed changes in her speech last fall. "I noticed that it was harder to talk, my speech was slower and it took me longer to get things out," she said. She also began having trouble controlling her right hand and later, her left hand as well. By the time she was diagnosed in February this year, daily tasks such as tying her shoes were becoming more difficult.
ALS forced her to give up her work in order to concentrate on holding off the progression of the disease. Since then she moved to Springfield, Illinois, in order to be closer to friends and family and the streamlined care provided by the SLUCare ALS Clinic at the Center for Specialized Medicine, located at 1225 South Grand Boulevard in St. Louis.
As a clinical psychologist who once worked at an integrated health care center that provided medical, dental and behavioral health services to indigent and uninsured patients, Schaid recognized the advantages of a coordinated treatment plan.
"You're seeing all these different fields in one visit rather than various appointments," she said. "I think it enhances communication between the different people who are treating you."
A roundtable approach
Hayat said the clinic typically manages the care for 80 to 95 patients at a time. Most patients who are stable are seen every three months, but if their symptoms are progressing they are seen more frequently.
Visits to the clinic might take two to three hours for each patient, but during that time they and their family or caregivers remain in a treatment room, while specialists rotate through to address whatever challenges the patient is facing. At the end of the day, those specialists meet for a roundtable discussion to adjust each patient's treatment plan. If needed, additional specialists are called in, and the program coordinator is in contact with patients between visits.
Combining the experience and wisdom of multiple disciplines means not only efficient and coordinated care for the complex needs of those with ALS, but advances in research, too. Patients at the ALS clinic have access to research and clinical trials involving medications that may improve quality of life or even, one day, provide a cure. Dr. Hayat said studies have shown coordinated care at an ALS clinic may even help extend a patient's life by 10 to 12 months.
Each year, more than 5,000 Americans are diagnosed with ALS. Currently, the average life expectancy is about two to five years from the time of diagnosis.
"We are looking to improve our patients' quality of life," Dr. Hayat said. "Their needs are changing every week. These specialists (at the clinic) have really become specialists in ALS care."
For more information about Dr. Hayat and the SLUCare ALS Clinic, visit slucare.edu/als
Be the first to know
Get local news delivered to your inbox!