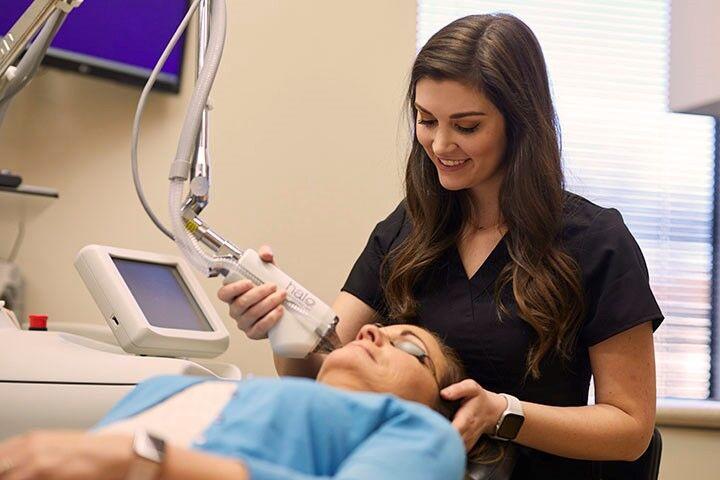 Even with the best of intentions, preventing sun damage to skin is difficult to do.
Protecting against harmful UV exposure with daily use of sunscreen is essential to limiting dark spots, fine lines and other signs of damage and aging. But there are a number of other non-surgical tools available to help restore the look of more youthful skin.
"Prevention is key; nourishing and protecting your skin is so important," said Paige Campbell, a clinical esthetician with SLUCare Facial Plastic and Reconstructive Surgery. "But if you feel like you need improvement, we can help. It's truly about making people happy in their own skin."
Campbell is one of two licensed estheticians at the SLUCare med-spa at 555 N. New Ballas Road; both are experts at revitalizing the skin's appearance with facials, chemical peels, microdermabrasion, laser treatments and more.
The first step
A free consultation is the first step to looking your best.
Campbell said many clients come in knowing the issues they want to address, but not how to proceed. She works with each patient to create a customized plan based on the results they desire, how aggressive they want the treatment to be, the price range they're comfortable with, and the amount of downtime they can afford.
Cosmetic laser treatments are a popular way to treat skin concerns such as redness, brown spots and dull or uneven skin tone because they work quickly with little downtime, Campbell said.
One option is Halo, which combines two wavelengths to treat both the superficial and deep layers of skin. One laser makes tiny pin pricks in the skin and the second emits a light that targets deep-down damage. The process boosts the skin's own collagen and elastin production. Collagen provides the plump and elastin pulls everything nice and tight, Campbell said.
"It's a good treatment if somebody has a lot of concerns," Campbell said. It can address fine lines and wrinkles, discoloration, uneven skin texture, acne scars and melasma, also known as pregnancy mask. Some patients may need a single treatment while others may opt to return in a few months or a few years.
"It's a slower process, not immediate, because the skin is repairing itself," Campbell said. "I always tell patients, you're going to like the way you look after a week or so, but you're going to love the way you look after about two months."
Downtime from Halo differs from patient to patient, she said. The procedure itself takes about half an hour. A topical numbing cream is applied first. Afterward, patients typically feel as if they've gotten sunburned and may have swelling or redness for up to a week and rough, bumpy skin as the tiny scabs heal and fall off.
Targeting age spots and more
Another treatment Campbell provides is BroadBand Light (BBL) therapy, which uses infrared frequencies of high intensity light to target areas of damaged skin on the face, neck, chest and hands. BBL is used to treat sun spots, age spots, rosacea, broken capillaries and even freckles.
The treatment does not require numbing beforehand but patients may feel a quick pinch like the warm snap of a rubber band, Campbell said. Downtime may be less with BBL, but patients may notice darker or redder areas initially and flecks of dead tissue, like coffee grounds, as they rise to the surface to flake away.
Cosmetic laser treatments such as Halo and BBL are not covered by insurance, but clients are usually surprised by their affordability, Campbell said. Treatments can range from $350 to $1,000.
Campbell said she urges everyone to make skincare a priority, whether they choose laser treatments or less aggressive remedies to prevent and treat the effects of sun and aging.
"All skin is beautiful, no matter what," she said. "It's your largest organ. Give it a little love and care."
For more information about cosmetic laser treatments and other services provided by the med-spa at SLUCare Otolaryngology and Facial Plastic Surgery - West County, visit slucare.edu/cosmetic or call 314-977-5900.