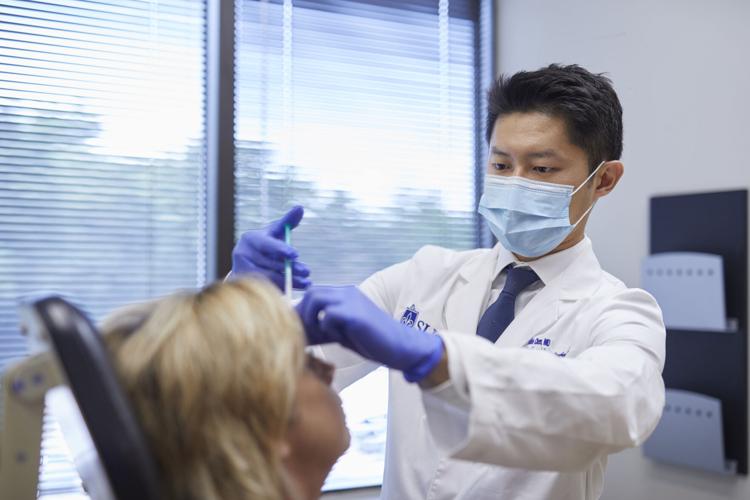 Thanks to the rise in video conferencing during these pandemic times, many of us are seeing more of our own faces, including the crow's feet and laugh lines we'd rather not.
But Dr. Collin Chen, a SLUCare otolaryngologist who specializes in plastic and reconstructive surgery of the face, says now is the perfect time to freshen up your look with minimally invasive cosmetic procedures, such as Botox and filler injections.
"We have all looked at our faces more than ever before," Dr. Chen said. "We used to have work meetings in our offices, but now because of coronavirus we're doing it on our computer screens all day, up close, and we're seeing ourselves as well."
Even with the holidays approaching, Dr. Chen said there is plenty of time for procedures that can help erase wrinkles, enhance cheekbones and plump lips. And unlike surgery, Botox and fillers are quick and convenient, with no downtime.
"The results are quite immediate," Dr. Chen said. "They can be done in a clinic visit in 30 minutes or less. You don't have to go to sleep, you don't have to have someone drive you home, and the procedures are done in a medical office. You can get it done over your lunch break and go back to work."
Best face forward
Dr. Chen says more patients are choosing Botox and fillers to get the look they desire without surgery. With the rise of social media and the prevalence of on-screen time, people want to put their best face forward, whether it's for work or for holiday virtual visits.
"Everyone's wishes are different," he said. "For some people, their target is they want to have as few wrinkles as possible. Other people point to a specific wrinkle and say, 'This is the one I see the most.'"
Dr. Chen, who practices primarily at the state-of-the-art SLUCare Otolaryngology and Facial Plastic Surgery office at 555 N. New Ballas Road in West County, says he and his colleagues offer a wide range of services. But most importantly, they provide a tailored approach to each patient's unique needs.
Wrinkles are like fingerprints
"Wrinkles are like fingerprints," he said. "Not everybody can be treated with the same protocol. I spend a lot of time talking to my patients to find out what their goals are, what procedures they've had before, what their reservations are. Everyone's different, and we treat everyone as a unique individual with unique needs."
Since Botox and dermal fillers work differently, Dr. Chen said he thoroughly discusses the options with his patients. Both are safe, quick and with few side effects. But because their results are not permanent, they are a great alternative for patients who aren't comfortable right now with cosmetic surgery.
Botox is a medicine that is injected to relax the wrinkle-producing action of a muscle. "If the muscle gets calmed down, then so do the wrinkles it causes," Dr. Chen said.
With Botox, results are typically seen in five to seven days but last four to six months, he said. Typical targets for Botox injections include forehead lines, crow's feet and frown lines.
Fillers act immediately
Unlike Botox, fillers are products that mimic naturally occurring substances in our tissues that break down over time. Fillers, which include brand names such as Juvederm, are injected to fill out or plump up those areas — for instance in cheeks or lips — to smooth, blend or change contours.
With fillers, patients see results immediately. "We can do one side, and then you can look and say, 'let's do a little more at the top.' You walk out of the clinic with those results, and it lasts from nine to 12 months."
With both procedures, patients may experience swelling, bruising or redness at the injection sites, Dr. Chen said. Some patients require a numbing product before the injections to ease discomfort.
While the cost of cosmetic procedures is not covered by insurance, Dr. Chen said his office offers affordable pricing and package deals in which patients can also visit a clinic esthetician for skin rejuvenation procedures such as laser treatments, chemical peels and microdermabrasion.
Even though the holiday season may look different this year, with fewer in-person gatherings and more virtual celebrations, "you still have to put your face out there," Dr. Chen said. "Good candidates for Botox and fillers are anyone who wants an improvement in their wrinkles and facial appearance, whether you're man, woman, young or old."
For more information about Dr. Chen and SLUCare Facial Plastic and Reconstructive Surgery, visit slucare.edu/cosmetic.