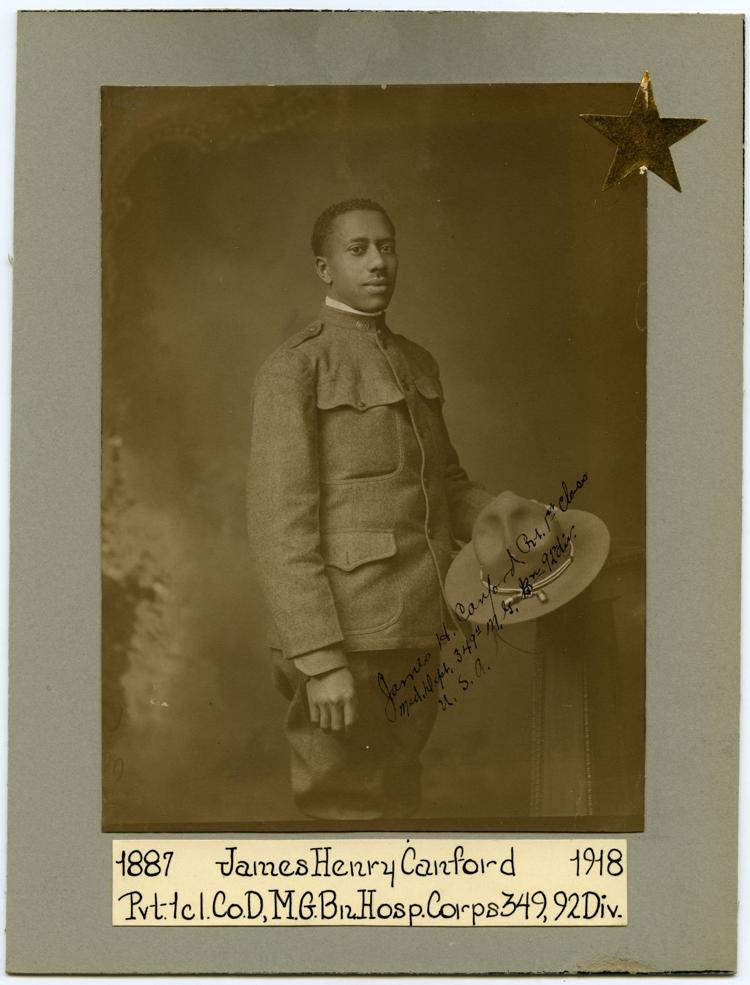 Soldiers Memorial Military Museum is dedicated to telling the diverse stories of St. Louisans who served their country and highlighting their contributions to the nation's military history. 
James Henry Canford was one of thousands of African-American refugees who escaped the South and came to St. Louis during The Great Migration in the early 20th Century. African-Americans left in search of better jobs and to escape violence perpetrated by domestic terrorists like the Ku Klux Klan. They often found white supremacy just as strong in the Northern cities as it was in the South. Canford settled on La Salle Avenue and worked as a porter to support his daughter and his widowed mother. When the United States entered The Great War in 1917, the 29 year-old Canford was drafted. He served in the 92nd Division, one of two all Black combat divisions during The Great War. Canford and the men of his unit trained at Camp Funston, Kansas.
Military service was part of the Canford family legacy. Canford's father was born into slavery in Kentucky, liberated himself, enlisted in Company I of the 8th U.S. Colored Heavy Artillery and was promoted to sergeant. He survived the war and was one of over 200,000 African-American soldiers to serve in the War of the Slaveholders Rebellion.  
James Henry Canford, however, never left training at Camp Funston. A few months after arriving, he contracted pneumonia and died. His service was not forgotten by those who knew him. His name is listed on the cenotaph at Soldiers Memorial Military Museum with 1,075 other St. Louisans who made the ultimate sacrifice during the Great War. 
Soldiers Memorial offers programs and outreach services including special exhibits, tours, services for the military community, school programs and lectures.

---
This content was produced by Brand Ave. Studios in collaboration with Soldiers Memorial. The news and editorial departments of the St. Louis Post-Dispatch had no role in its creation or display. For more information about Brand Ave. Studios, contact tgriffin@stltoday.com.