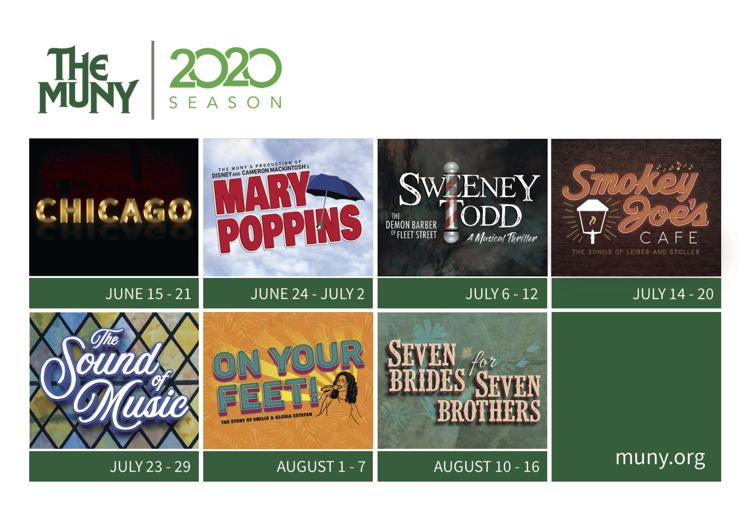 Much like the 102-year-old amphitheatre, the sky truly is the limit when it comes to crafting a magical, one-of-a-kind lineup just for St. Louis. In July, Muny-goers were given a show selection survey with over 35 titles from which to select a dream season, including timeless Muny favorites and new, up-and-coming works.
How do those 35-plus titles make it to the survey? The Muny formula is simple – a healthy mix of classics and Muny favorites, premieres and a show tailored specifically for families. The common theme throughout? A season for St. Louis, chosen by St. Louis. The Muny's second season of its second century brings this tradition centerstage.
"Our 2020 season continues the tradition of 'something for everyone' in St. Louis," said Muny artistic director and executive producer, Mike Isaacson. "These shows offer incredible variety, beauty, fun and drama, and we'll create with the fullness and power of our amazing new stage."
"After kicking off our second century with an 'only at The Muny' moment-filled 101st season, St. Louis has chosen a blockbuster lineup for 102," said Muny president and CEO, Denny Reagan. "We expect this season to have a broad appeal with a mix of titles tailored specifically to what Muny-goers voted to see."
With nearly 8,500 hand-tallied votes, St. Louis has spoken.
This summer, Kander and Ebb's legendary, six-time Tony Award-winning musical, CHICAGO tells an iconic story about fame, acquittal and…all that jazz. Following the vaudeville favorite, Disney and Cameron Mackintosh's practically perfect fairytale fantasy MARY POPPINS flies into The Muny with two extended, non-subscriber performances. After a visit to the Windy City and Cherry Tree Lane, Muny audiences make a dangerous dash down Fleet Street for the Muny premiere of Stephen Sondheim's masterpiece musical thriller, SWEENEY TODD. Following a clean shave, the 102nd season journeys to St. Louis' historic Gaslight Square with Broadway's longest-running musical revue, SMOKEY JOE'S CAFE. Featuring generation-defining hits from the '50s and '60s, including "Yakety Yak," "Jailhouse Rock," "On Broadway" and "Love Potion No. 9," this Muny first will have everyone dancing in the aisles. Next, the hearts of Muny audiences "will be blessed" with what many consider to be the world's most beloved musical, THE SOUND OF MUSIC. From Austria to the sun-drenched beaches of Miami, The Muny ushers in another first, ON YOUR FEET! Based on the inspiring true story of the queen of Latin pop, Gloria Estefan and her husband, Emilio, this conga-filled musical makes its Midwest regional debut in the heart of Forest Park. Bringing this blockbuster season to a rollicking close, is the toe tappin', barn raisin' Golden Age classic, SEVEN BRIDES FOR SEVEN BROTHERS.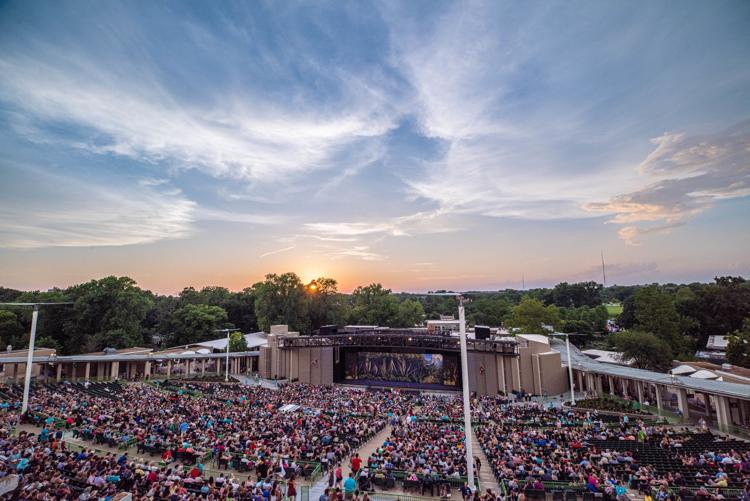 Magical. Magnificent. And just for you.
With several familiar Muny titles returning this season, another Muny favorite reprises its 100-year-old role – the stage trees. Following a successful Phase One of its multi-year campus renovation, which featured a new state-of-the-art stage, The Muny's Phase Two will culminate in the spring of 2020 with the planting of seven large trees – marking the return of the iconic Muny stage canopy. Selected in 2016, these trees have been cultivated at a nationally-renowned tree farm and will be 35-40 feet in height when they make their Muny debut. Other Phase Two projects include a renovation of the West Rehearsal Platform and West Lawn, set to be completed before the 2020 season. Additional phases of the campus rejuvenation will continue over the next several years.
The first of its kind, The Muny began as a civic idea that shared experiences bring us together, making our community stronger. Under the stars since 1919, The Muny remains inspired, transformed and united in this great, time-honored tradition. That idea of a shared, singular experience has turned into an enduring legacy, a family tradition and is embedded in the fabric of St. Louis' identity.
---
This content was produced by Brand Ave. Studios in collaboration with The Muny. The news and editorial departments of the St. Louis Post-Dispatch had no role in its creation or display. For more information about Brand Ave. Studios, contact tgriffin@stltoday.com.