Anders CPAs + Advisors' mission is to be the catalyst for those striving to achieve their highest potential. As one of the largest CPA and advisory firms in the Midwest, the firm concentrates on advancing staff, clients and the community. To ensure the firm is continually building a culture where happy people deliver outstanding results for clients and the community, Anders approaches every relationship and decision through its core values: character, transparency, collaboration, originality, empowerment, welcoming and generosity.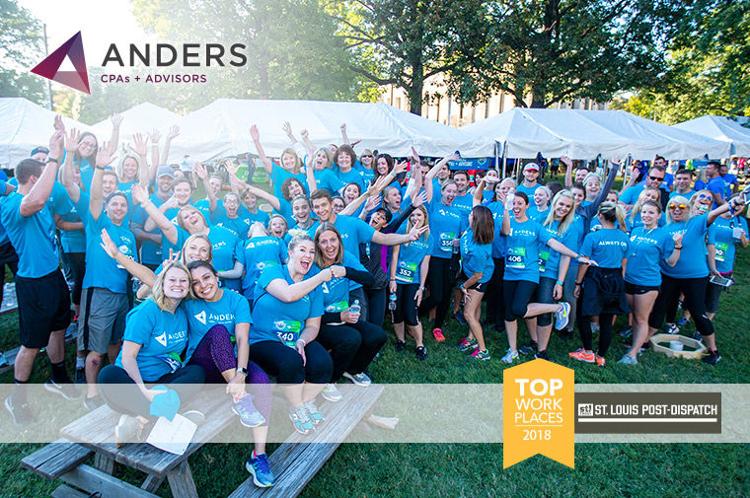 The firm provides staff with the resources and tools they need to succeed, which ultimately leads to growth. Team members experience a flexible, friendly and team-oriented environment. Anders delivers full service accounting, tax, audit and advisory services to growth-oriented companies, organizations and individuals. The firm also specializes in valuation, forensics, technology and financial services.
Living their values
Empowerment is a core value of the firm, and Anders strives to inspire people to be the best they can be. An example of this is offering professional development opportunities. Each staff member, from associate to partner, receives Professional Development Dollars to help foster their business development and relationship building skills.
Generosity is another core value at Anders, and the firm proudly supports local organizations that employees are passionate about and actively involved in. With endorsement from firm leadership, team members have strong ties to the community in a wide range of organizations, and the firm regularly supports activities of not-for-profit clients. In 2018, Anders proudly donated over $215,000 to support charitable groups in the community, including their annual Charity of Choice.
Building new leaders
The Anders Young Professional (YP) Initiative provides a forum for the young staff members to communicate and explore ideas and present recommendations to help in bringing continuous innovative change to the firm. The YP Initiative helps integrate younger staff into the firm and offer opportunities to lead and have their voices heard.
Providing YPs the opportunity to take an internal leadership role to showcase to partners and expand their networks in a non-threatening environment gives newest and youngest staff members the chance to build their careers right from the start. With recruiting CPA talent being at an all-time high for most accounting firms, having an established YP Program in place helps set them apart. It fits well with their 'open door' culture and allows staff members to take on meaningful leadership roles.
In addition to being a tremendous career-building resource, the Anders Young Professionals Group offers a chance for employees to make a difference in the community. Anders YPs sit on many young leader boards, support the annual Anders Charity of Choice and a wide range of other philanthropic efforts they plan throughout the year. A representative from the Anders YP Group also serves on the YP Special Interest Group of the Leading Edge Alliance (LEA), the second largest accounting association in the world, giving Anders YPs the opportunity to have their voices heard not only locally and regionally, but also nationally and internationally. The Anders YP Group has been named the LEA YP Initiative of the Year, and assisted Anders in be- ing named the most innovative firm in LEA.
The partners and staff at Anders appreciate the opportunity to be entrepreneurial within the firm, along with an open-door environment, continuous learning paths and a commitment to client service and community.
To learn more about employment opportunities at Anders CPAs + Advisors, visit anderscpa.com/careers.
See all of the 2018 St. Louis Top Workplaces here.
Click here to nominate your Top Workplace for 2019!
This content was produced by Brand Ave. Studios in collaboration with Anders CPAs + Advisors. The news and editorial departments of the St. Louis Post-Dispatch had no role in its creation or display. For more information about Brand Ave. Studios, contact tgriffin@stltoday.com.