The Federal Reserve serves many constituents across the country in formulating U.S. monetary policy, regulating banks, serving as the federal government's bank, providing payment services and providing information and programs about the economy to various audiences. One of 12 district banks, the Federal Reserve Bank of St. Louis, headquarters of the Eighth Federal Reserve District, covers all of Arkansas and parts of Illinois, Indiana, Kentucky, Mississippi, Missouri and Tennessee. The 12 district banks plus a Board of Governors in Washington, D.C., ensures that the diverse views and economic conditions of all regions of the country are taken into account.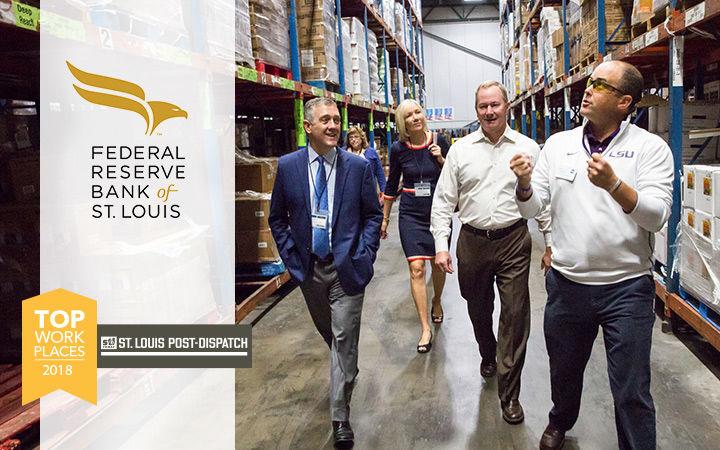 Employees at the St. Louis Fed take great pride in engaging and collaborating with the District's diverse communities. After all, the resiliency of the Bank depends on the ability of employees to showcase these traits. In order to do this, the St. Louis Fed makes it a point to hire employees who are motivated, highly intelligent and committed to maintaining a reputation of integrity. By making this a priority, the St. Louis Fed is able to transfer shared insights which often leads to better decisions and solutions, ultimately helping the economy perform better as a whole.
Guiding those decisions are the core values of the Federal Reserve Bank of St. Louis.
COMMITMENT TO THE PUBLIC INTEREST: The organization's work is centered on the benefits their mission brings to the public.
CONSTITUENT FOCUS: The St. Louis Fed proactively seeks input from constituents and consistently provides value-added services to them.
DIVERSITY AND INCLUSION: The diversity of one another is valued and the benefits are derived from collaboration, teamwork and open communications.
INDEPENDENCE OF VIEWS: The organization values professional judgment and seeks input from a variety of sources to improve decision-making.
INNOVATION: The St. Louis Fed promotes and supports the pursuit of creative ideas for improvement.
INTEGRITY AND RESPECT: Operations run in a transparent manner and adhere to the highest standards of honesty, fairness and discretion in dealings with the public, business partners and colleagues.
OWNERSHIP: Personal ownership and accountability is valued as a key to fostering high levels of performance.
Not only is innovation one of the Bank's core values, 'Cultivates Innovation' is one of the four core competencies set for every employee. For example, the Bank hosts periodic experiential innovation events such as SEE Innovation (Solve, Exchange, and Expand Innovation). One event is the Bank's hackathon which is held over the course of three days once a year. It's a professional development opportunity where teams identify a problem, develop a software solution, and on the third day, teams provide brief presentations outlining prototypes of their solutions. Judges crown a winning team and in the end, employees have been given the opportunity to learn hands-on ways on how to be innovative, meet new people, work with a team to solve an actual Bank challenge and present their solutions before a panel of judges.
The organization boasts of a team environment wherein employees feel visible, appreciated and connected. The St. Louis Fed fosters an environment where employees are continually set up to learn, grow and succeed. Employees are challenged, given ongoing growth opportunities and work in a supportive atmosphere. Through talent development tools and resources, employee skills and competencies are continually enhanced to meet the changing needs of the Bank over time.
It's no wonder the St. Louis Fed continues to be ranked as a Top Workplace among the large employers in St. Louis. The organization was also recognized by DiversityInc for its diverse and inclusive workplace culture.
To learn more about employment opportunities at the Federal Reserve Bank of St. Louis, visit stlouisfed.org/careers.
See all of the 2018 St. Louis Top Workplaces here.
Click here to nominate your Top Workplace for 2019!
---
This content was produced by Brand Ave. Studios in collaboration with the Federal Reserve Bank of St. Louis. The news and editorial departments of the St. Louis Post-Dispatch had no role in its creation or display. For more information about Brand Ave. Studios, contact tgriffin@stltoday.com.