As a long-standing business, First Community Credit Union values a strong work ethic and traditional corporate values. Celebrating 85 years in business in 2019, the financial institution takes the responsibility of handling member's money very seriously. To distinguish themselves, after operating expenses and reserve requirements are met, loan income is returned to all members in the form of competitive dividends and comprehensive financial services.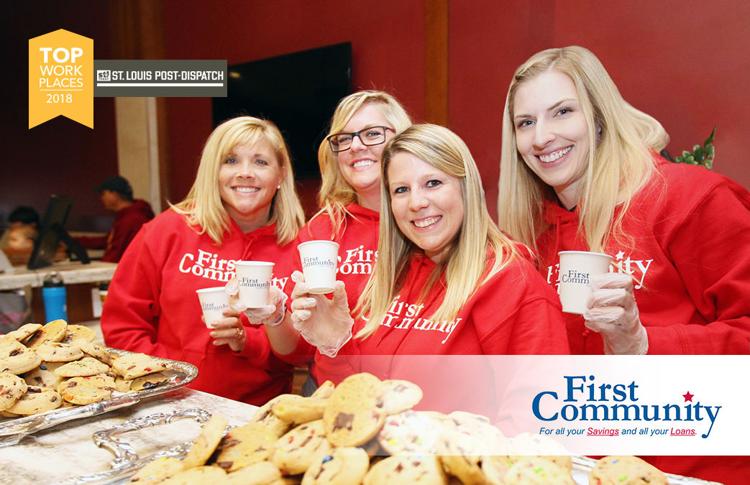 First Community has grown into $2.5 billion in assets with 43 locations in Missouri and Illinois. The company plans to add new branches and additional corporate office space in the near future. First Community Credit Union is continually enhancing technology with the latest and greatest in online and digital banking services.
Employer of choice
As an employer of choice, First Community not only gets to know their community members, but they get to know their team members, too. By hiring the best and the brightest, First Community takes pleasure in motivating its employees. A competitive salary and benefits package with health insurance premiums are paid in full for every employee. In addition, the company provides a generous vacation, holiday and paid-time off policy; unique perks such as birthdays and milestone anniversary days off; and service awards and internal recognition.
With a high level of stability and security, First Community Credit Union is highly regarded by the agencies that examine and regulate it. The financial institution has over $2 billion in assets with hundreds of thousands of members and is the largest credit union in Missouri. First Community is dedicated to becoming larger and stronger each year.
Supporting local
First Community supports local non-profits and are committed to giving back to the community as generously as they can. They back dozens of organizations every year with employee fundraising efforts as well as corporate donations. Some of these organizations include: Friends of Kids with Cancer, Alzheimer's Foundation, Junior Achievement, Nurses for Newborns and the Humane Society of St. Louis, to name a few.
First Community is proud to be a part of the St. Louis area and is committed to generously giving back by supporting local events in and around various branch locations.
The financial institution also takes a special interest in its youngest members. Rising Stars accounts are available through the age of 12. These account holders receive special perks and invitations to exclusive events at popular St. Louis venues. They also receive $1 for earning A's on their report cards. First Community Credit Union also offers classroom education presentations to all grade levels. The presentations teach the importance of balancing saving, spending and sharing. First Community presents the program to an average of 12,000 students every school year.
To learn more about employment opportunities at First Community Credit Union, visit firstcommunity.com/about-us/career-opportunities.
See all of the 2018 St. Louis Top Workplaces here.
Click here to nominate your Top Workplace for 2019!
---
This content was produced by Brand Ave. Studios in collaboration with First Community Credit Union. The news and editorial departments of the St. Louis Post-Dispatch had no role in its creation or display. For more information about Brand Ave. Studios, contact tgriffin@stltoday.com.