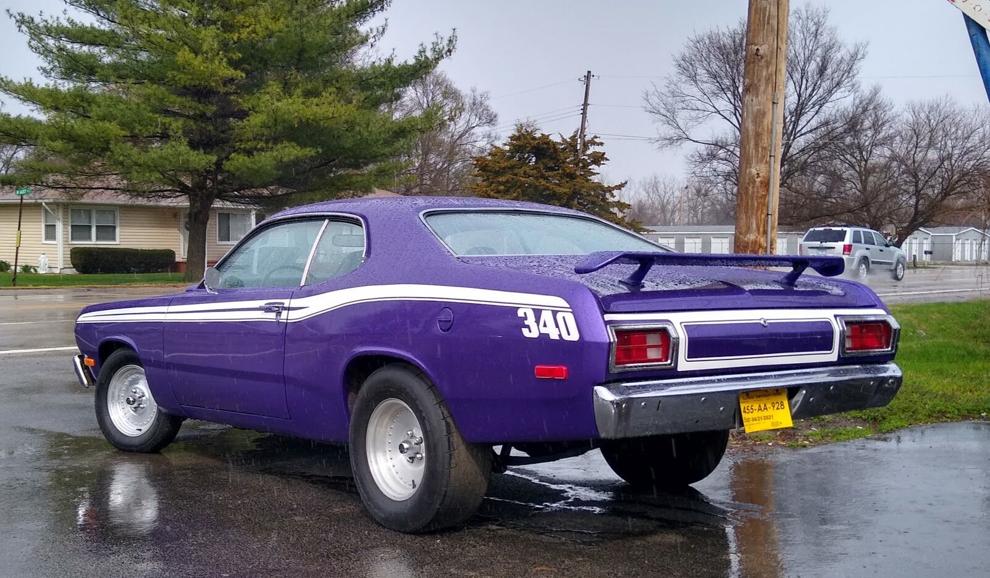 The Duster seen here is a 1973 model, decked out in Basin Street Blue, one of 16 colors on the Duster palette for 1973. Oh yes, about that headline reference to Kahoks Purple, if you are a resident of the near-east side, you'll understand. The Kahoks is the name used by Collinsville High School for their athletic teams, and their colors are purple (just like the Duster in this story) and white.
It's no secret that this Duster is a Duster 340, as evidenced by the sporty, white racing stripes with the "340" located high on the rear fenders.
The "340" Dusters came with a 340 cubic-inch V-8 producing 235 net SAE horsepower making for a very spunky ride in the 3,010 pound compact. Transmissions offered included "three-on-the-tree" and "four-on-the-floor" manuals, plus Mopar's venerable Torque-Flite automatic.
Total model year production for all Plymouths was 746,821 of which Duster sales accounted for 249,243.
What it's worth today: The latest issue of the Old Cars Report Price Guide lists a number one, Duster 340 at $35,700. Number two, three, four, five and six condition models come in at $24,990; $16,070; $7,140; $4,280 and $1,430 respectively.
Owner info: It was just hours before my deadline when I finally got hold of the Duster owner, Matt Tettaton, of Caseyville, Illinois. Matt has only owned the car for two months, but has already had a cracked exhaust manifold replaced and a complete new dual-exhaust system installed. He purchased the car from the previous owner in nearby Granite City. That owner, a "motivated seller," had the car for roughly 10 years, and had since bought a boat and was tired of seeing the Duster sitting around! (WHAAA?!?) Yes, it was restored as you see it now, when Matt purchased the car and he told me he basically 'stole' the car! (I hope he wasn't speaking literally!).
When I saw the Duster sitting on Collinsville Road at B&E Auto Repair, it looked as if it was rarin' to go! B&E owner, Bob Williams, has been a lifelong friend of Matt – and Bob, a Mopar expert, recently did carburetor overhaul and a complete tune up on the Basin Street Blue beauty. Bob's older brother, Donnie, helps out in the operation of B&E Auto Repair. 
The Plymouth Dusters enjoyed a seven model year run from 1970 through 1976. The Duster was such a success for Plymouth, that in 1971 Dodge requested and received their own version, the Demon fastback. In response, Plymouth was given a version of the Dodge Dart Swinger two-door hardtop named the Plymouth Valiant Scamp.
FIN MAN FACTOIDS: 1. The Dodge Demon was renamed "Dart Sport" in response to Christian groups' grievances and criticisms about the 'Demon' name and devil-with-pitchfork logo. 2. The year was 1973. The 110-story Sears Tower opened in Chicago, and the Oldsmobile Toronado was the first car with a passenger airbag.
This Duster is sure to capture the interest of TKCS-STL participating volunteer, 16-year old Ignacio (everyone calls him "Nacho"). He's a big Mopar fan whose father drives a Dodge Ram.
UPCOMING EVENTS: A special "Rolling" Breakfast with the Fin Man is planned for a late-April date. The event will include a visit to John Cook's 15-car automobile collection in Carlyle, Illinois and much more. Email me at the_fin_man@msn.com or write to Bruce Kunz, c/o St. Louis Post-Dispatch, 901 N. 10th St, St. Louis, MO, 63101, to let me know you are interested. Confirmation will be sent and payments will be accepted by check or credit card over the phone (one week advance required prior to the day of the event). No cling-ons. In other words, no one will be driving their own cars to John's garage. Every visitor will have a ticket, issued by The Fin Man, in order to get in.
Until then, just Keep on cruisin', staying safe and healthy! See you right here again next week.
---
This content was produced by Brand Ave. Studios. The news and editorial departments of the St. Louis Post-Dispatch had no role in its creation or display. Brand Ave. Studios connects advertisers with a targeted audience through compelling content programs, from concept to production and distribution. For more information contact sales@brandavestudios.com.