Through 50 missions on a B-17 out of North Africa during World War II, a young Missourian named Eugene Ulrich carefully jotted down in his diary what he saw, heard and thought from December 1942 until September 1943.
"I knew I was going to keep a record of everything I did," said Ulrich, a Spanish Lake resident who recently celebrated his 100th birthday. "I thought it was important."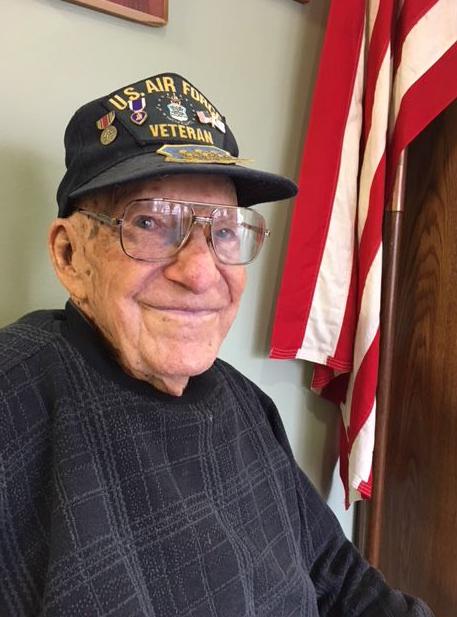 Ulrich, who grew up in Cape Girardeau, enlisted in the Army Air Corps in 1941 and by Christmas 1942 was en route to North Africa as part of the 301st Bombardment Group. Over the next nine months, Lt. Ulrich chronicled each of his 50 missions as a navigator on a B-17 Flying Fortress nicknamed Dirty Gertie 
His entries detailed the successes and failures as his crew dropped thousands of pounds of bombs on rail yards, shipping docks and airfields throughout Northern Africa and the Mediterranean. 
But he also chronicled the mundane tasks of daily life between flights: from getting a haircut to keeping his tent warm, dry and free of sand. He sketched drawings to go along with some entries, jotted down song lyrics and jokes, and wrote about the ways he and his fellow airmen amused themselves during downtime, such as volleyball games, movies and parties with Red Cross nurses.
Number 50
What he remembers most about his time in North Africa, he said, was that final mission to bomb an airfield at Marseille, France. He knew Number 50 meant he would soon be going home. Sadly, that mission is remembered more for another reason.
"I lost one of my very best friends on my last mission," Ulrich said. "He was a navigator in another squadron. A shell hit and blew the whole nose off of his plane.
"I'll never forget that," he said. "It was the hardest thing in the world for me to go tell his girlfriend in the Red Cross she wouldn't see him anymore."
Chances are hopeless
In his journal, he wrote: "Well, today was Number 50. This makes me a senior birdman. Our main target was really hit. I can say I was really sweating until the wheels of our plane were on the ground. I saw one of my best friends, Robert Michael, go down. Seven chutes were seen. Chances are very hopeless for Michael. I am so happy to have finished my missions, but so sorry about the bad luck today." 
It was August 17, 1943, not quite seven months after Ulrich's first bombing mission over Bizerte in Tunisia. 
"The flak was considered heavy although I was expecting more," he wrote about his first mission. "We were jumped by a number of ME109's (the Messerschmitt Bf 109, a German fighter plane) just as we were starting our bomb run, but they all stayed out of range of our guns. The feeling was really a thrill to look ahead and see the sky filled with black puffs of ack-ack (antiaircraft gunfire) and wonder how close they will come to you."
The bomber dropped its payload, but "I was so excited I did not take time to see what damage we had done," Ulrich wrote.
Several days after that mission the squadron ran into a "furious" fight with the German fighter planes. One of the bombers lost two motors, another lost its waist gunner to enemy fire.
"Looking up the barrels of machine guns and 30 mm cannons that are puffing at you is not my idea of fun," Ulrich wrote. "I just sit behind my gun as did all the other men, sweating out who would hit who first. Our top turret gunner is living on borrowed time. A 20 mm hit and exploded not 6 inches from his head, leaving a hole big enough to stick your fist through. He didn't get a scratch and now has the end of the shell to wear around his neck."
A Purple Heart
Ulrich had a close call of his own when he was injured while on a bombing raid to Palermo on the island of Sicily.
"A shell exploded and all those little pebbles jumped out and hit me in the face," Ulrich remembered recently. "I've still got a fragment in my upper lip. I can still feel it."
In his journal, he wrote: "Twenty minutes off the target we were attacked by ME110s. A plane was knocked out of the (squadron) that was trailing and he was gliding for the water the last time I saw him. Flak was really heavy, 30 caliber bullets tore from one wing to the other. A piece of flak tore through Sgt. Drewes' foot and just as our bombs were dropping, a 20 mm shell exploded and one fragment went through my oxygen mask lodging in my upper lip. Blood really spurted out due to pressure. I tore off my oxygen mask and grabbed a spare. It would not fit due to not being adjusted. About this time an ME110 was in, so I fired the gun in his general direction with one hand, holding the mask on with the other hand."
The crew made it home, and after a few days in the hospital, Ulrich received his Purple Heart in a field ceremony. "The medal is really beautiful and I am very proud of it," he wrote.
Ulrich, who also earned a Distinguished Flying Cross for his service, arrived home to the States just a month after his final mission. He was stationed at Army air bases in Tennessee and New Mexico before being discharged in September 1945. He went on to a career as a custom home builder and later worked for the government helping to build missile silos at White Sands Missile Range and other facilities.
He said he never really thought about the dangers he faced when he was overseas but was amazed by all that he was able to do and see. In his journal in March 1943, he summed up his adventures: "A person can sure do a lot of things in a few months. This old world has a lot of strange and interesting places for one to see. I've learned lots more since I have been out of school than I did in school."
Community Coffee Company understands the importance of family and giving back. They proudly support Folds of Honor and have established a partnership with the USO of North Carolina and the Patriot Circle to ensure that military personnel both here and overseas are able to enjoy a rich, smooth cup of Community® coffee.
Soldiers Memorial Military Museum offers programs and outreach services including special exhibits, tours, services for the military community, school programs and lectures.
---
Stories are told from the nominee's point of view. This content was produced by Brand Ave. Studios. The news and editorial departments of the St. Louis Post-Dispatch had no role in its creation or display. For more information about Brand Ave. Studios, contact tgriffin@stltoday.com.
Be the first to know
Get local news delivered to your inbox!