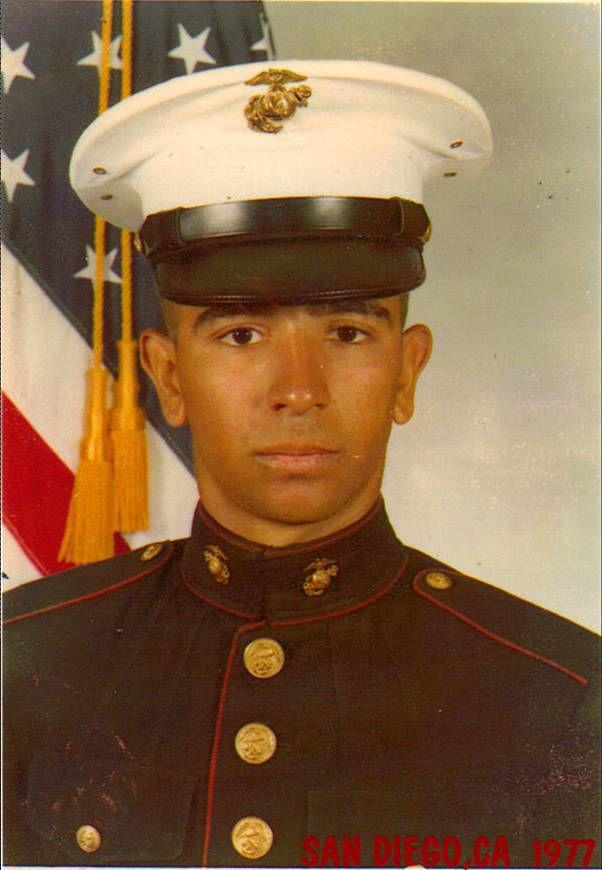 Joe Carretero missed his youngest son's first steps. He missed birthdays and family parties, anniversaries and holidays.
It was part of the price for serving 40 continuous years in the U.S. military, first in the Marine Corps, then the Marine Corps Reserve and the Army Reserve. 
"I missed a lot of family things," said Carretero, who retired from the Army Reserve as a sergeant major and continues to serve today as a sergeant with the St. Louis Metropolitan Police Department. "When I got back from Desert Storm, my youngest son, Erik, was real little. He didn't know who I was and he didn't want anything to do with me for about two weeks."
Multiple deployments overseas and training exercises far from home kept Carretero from his family but allowed him experiences he won't forget. And it reaffirmed his love for a country he wasn't born in.
"I've been all over the world and this is the greatest country on Earth," he said.
Just as American as everyone else
Carretero, 60, was born in Madrid and moved with his family to the United States after his father fell in love with this country while working at the Spanish Pavilion at the 1964 World's Fair in New York.
Eleven-year-old Joe was not happy to be leaving his friends and boyhood home, but soon grew to love the United States as well. His family settled in St. Louis, and after graduating from Bishop DuBourg High School, Carretero joined the Marines in 1977.
"I think what motivated me the most was I just wanted to prove something to myself, to say, 'hey I'm just as American as everyone else,'" he said.
His parents were not happy with his decision to join the Marines. "They didn't understand," he said. "Back in Spain, military service was mandatory. Here, it was not mandatory. They wanted me to get a college degree."
After arriving at boot camp, Carretero began to have some doubts himself. "It was rough," he said. "I'm not going to sugarcoat it. We had drill instructors right out of Vietnam. They were hardcore. I was so proud when I completed Marine Corps boot camp. I love the Marine Corps. I love the U.S. military, period. It was one of the best decisions of my life."
After completing his three-year enlistment, including assignments in Japan as part of a supply company, Carretero joined the Marine Corps Reserve and continued to serve, heading off to drill with fellow Reservists one weekend a month and two or three weeks a year. 
In 1990, then Staff Sgt. Carretero and his unit were activated in support of Desert Shield and Desert Storm and deployed to Saudi Arabia. As a platoon sergeant, he spearheaded the logistical support to Reserve Marine infantry units all over the combat zone in the Arabian Peninsula, Kuwait and Bahrain.
"It was a very scary time," he said. "It was a real eye-opener."
Back at home, like all Reservists, Carretero continued to work full time in the civilian world. In 1994 he was hired by the St. Louis Police Department and today serves as a sergeant in the Second District. 
"I love being a policeman," he said. "I've always been drawn to the patrol side. I like to engage with people. I feel like when I'm on patrol I have my feet on the ground and I'm where it's happening."
I still wanted to serve
Carretero served 24 years in the Marine Reserve, taking on new roles and assignments as he rose through the ranks until reaching Marine service limitation in 2004.  Rather than leave military service in the middle of the global war on terror, Carretero requested a transfer to the U.S. Army Reserve.
"I didn't feel like I was done," he said. "The war was going on and I still wanted to serve. The military relies on Reservists to pick up the shortages of active-duty personnel."
Carretero served in the Army Reserve for another 13 years, including deployments to Iraq, Kuwait and Afghanistan as well as extended assignments stateside. In 2010 he was promoted to sergeant major, the highest rank possible for enlisted noncommissioned personnel. Only a few active-duty soldiers or Reservists ever reach this level.
Carretero said he never regretted the time he committed to serving his adopted homeland, but he couldn't have done it without the support of his wife and his extended family.
"My two kids have grown up without their dad at a lot of significant events in their lives," he said. "It's hard if you don't have the support of your family. I don't think a lot of people would be that supportive for so many years."
Community Coffee Company understands the importance of family and giving back. They proudly support Folds of Honor and have established a partnership with the USO of North Carolina and the Patriot Circle to ensure that military personnel both here and overseas are able to enjoy a rich, smooth cup of Community® coffee.
Soldiers Memorial Military Museum offers programs and outreach services including special exhibits, tours, services for the military community, school programs and lectures.
---
Stories are told from the nominee's point of view. This content was produced by Brand Ave. Studios. The news and editorial departments of the St. Louis Post-Dispatch had no role in its creation or display. For more information about Brand Ave. Studios, contact tgriffin@stltoday.com.