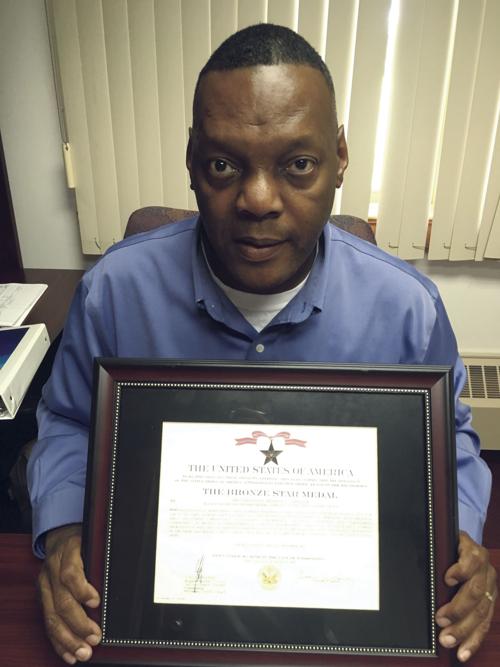 Growing up in Illinois, Fred Carpenter wanted to serve his country but he also wanted to go to college. So at age 17 he joined the Army National Guard, launching a 26-year civilian-soldier career that ultimately earned him a Bronze Star in Iraq.
"I thought about going active duty but I always wanted to go to school," he said. "That's what I tell kids today, if you think you might like the military, join the Guard or the Reserve to try it out."
Carpenter found that he liked serving in the military so much that he stayed in the Guard for 12 years, then served in the U.S. Army Reserve for another six years, all while working his way up the ranks at the ConocoPhillips oil refinery in Wood River and earning a bachelor's degree in business administration and two master's degrees in human resources.
Then, nearly 20 years after enlisting, Staff Sgt. Carpenter chose another challenge: at age 37, he entered logistics officers training at Fort Lee, Va., alongside recent West Point graduates more than 10 years his junior. 
"That's unusual," he said. "I was one of only four in the school who were in their 30s."
Deploying to Iraq
He found the experience differed from basic training and advanced infantry training. "I was shocked when I went to officer school because no one was yelling at you," he said.
Shortly after earning his commission as a second lieutenant, the Edwardsville resident was deployed to Kuwait and Iraq as the contracting officer and pay agent for the 917th Corps Support Group, a Reserve unit based in Belton, Mo.
It was 2004, the early days of Operation Iraqi Freedom, and Carpenter had been warned, "Don't unpack your bags, you're going over."
After several months in Kuwait, Carpenter and his unit traveled by convoy to Mosul and to Qayyarah Airfield, known as Q-West, a former Iraqi Air Force base. While there, his civilian expertise and connections were integral to the establishment of a safe water supply for several hundred fellow soldiers as well as nearby Iraqi villages.
Carpenter said that the water treatment facilities and pumping station at Q-West had been damaged — along with the airstrips and the control tower — during the early months of the war as coalition forces seized control. Untreated water flowing through mostly grade-level pipes from the Tigris River was being illegally siphoned off by local farmers for their families and livestock in the surrounding desert.
Meritorious Service
Carpenter's work getting the water treatment project up and running safely was just one aspect of his service in Iraq that earned him the Bronze Star Medal, awarded for meritorious service during combat operations. He was also praised for his role in safely moving his unit into Iraq by convoy, managing military contracts in northern Iraq, and helping to rescue a number of service people after the crash of a C-130 transport plane.
About a month after arriving at the logistics hub, Carpenter and his roommate were in their quarters at night when they heard something that sounded like a helicopter crash. When they looked out toward the darkened landing strips they saw flames. 
"We grabbed our weapons and took off," he said. 
They alerted the rest of the company as they ran across the base to where the plane carrying Special Forces had gone nose-first into the runway when its landing gear hit a hole in the pavement that was under repair. The rotor blades were striking the ground, sparking flames, and jet fuel was all over the place, he said. 
Several dozen soldiers aboard had been thrown to the front of the plane by the force of the crash, he said. The plane was damaged beyond repair.
"It was a tangled mess," he said. "We pulled people off and got everybody out. It was scary. I was proud of myself and all the guys because we did everything we were taught to do."
Carpenter, 53, retired from the Reserve as a captain in 2009 after leading several commands, most recently a public affairs company based in St. Louis. Today he works for Winchester Ammunition, where he serves as director of HR, security and medical, with oversight of facilities at East Alton, Ill., and Oxford, Miss.
In addition, he serves as a volunteer ombudsman for Employer Support of the Guard and Reserve, a Department of Defense program established to promote cooperation and resolve employment conflicts between citizen-soldiers and their civilian employers.
Carpenter said, "I was always taught in the military if you feed them, house them and clothe them, you'll have no issues. I use that in everyday life."
Community Coffee Company understands the importance of family and giving back. They proudly support Folds of Honor and have established a partnership with the USO of North Carolina and the Patriot Circle to ensure that military personnel both here and overseas are able to enjoy a rich, smooth cup of Community® coffee.
Soldiers Memorial Military Museum offers programs and outreach services including special exhibits, tours, services for the military community, school programs and lectures.
---
Stories are told from the nominee's point of view. This content was produced by Brand Ave. Studios. The news and editorial departments of the St. Louis Post-Dispatch had no role in its creation or display. For more information about Brand Ave. Studios, contact tgriffin@stltoday.com.
Be the first to know
Get local news delivered to your inbox!