Relaxing between patrols in central Iraq, U.S. Army Sgt. Robert "Jake" Curtis taught himself to play the blues on an off-brand guitar that he bought in the Iraqi marketplace.
"It was basically unplayable," he said. "You couldn't play it normally. You had to play it as a slide guitar."
But that was OK, because slide guitar — played by placing an object such as a bottleneck against the strings — is a signature sound of the blues music he loved. And the blues provided the therapy Curtis needed during the war in Iraq.
"The whole aspect of being in that place — the blues made sense," he said. "I've always been obsessed with music. It's always been my therapy, especially back then in combat."
Today, Sgt. 1st Class Curtis still serves his country by day as a full-time career counselor at Jefferson Barracks. And at night, he still turns to music, bringing his own brand of the blues to venues such as Hammerstone's in Soulard as frontman of his own band. The Jake Curtis Blues Band recently released its first album, "Tales from the South Side," and won the regional Road to Memphis Challenge, which allowed them to compete at the International Blues Challenge in Memphis, billed as one of the world's largest gathering of blues musicians.
"It was insane," Curtis said of his three-man band winning the regional competition in St. Louis. "It was like winning the Super Bowl. My band was not expected to win. We were the underdogs for sure. It was a big upset."
DISCOVERING THE BLUES
Curtis, 42, said he first discovered the blues as a kid when he came across the 1966 album "John Mayall and the Bluesbreakers with Eric Clapton." Clapton's distinctive guitar work mesmerized him and led him to the public library in his hometown of Decatur, Illinois, to hear more.
"The library as a kid was a wonderland," Curtis said. "They still had listening booths back then, with literally hundreds of blues records. It was a type of music that absolutely nobody I knew was listening to, so it was special to me. I could feel that music instantly."
But he didn't envision music as a livelihood for himself. After graduating from high school, he joined the Army National Guard, hoping to earn enough money to go to college and figure out what he wanted to do with his life, he said.
"Then Sept. 11 happened and I pretty quickly got a direction," he said.
Though he expected to get called up to active duty in the war on terror, his guard unit was sent to help out in places far from the Middle East. To Curtis, it seemed like everybody else was going over to fight for their country — and he was itching to do his part. "I just wanted to get there," he said.
THIS IS REAL
So he volunteered for the regular Army and joined the 1st Infantry Division, deploying to Iraq in 2004. "They put me straight to work," he said. "I thought, 'this is real.'"
His unit was stationed near Samarra in central Iraq, and as an infantry team leader, Curtis said he saw a lot of combat. But he found a fellow music lover in his platoon sergeant, and to relieve stress, the two spent hours jamming together and learning to play slide guitar.
"We kind of got obsessed, which is easy to do over there, because there are times you are working two or three days straight then there's a big gap of down time," he said.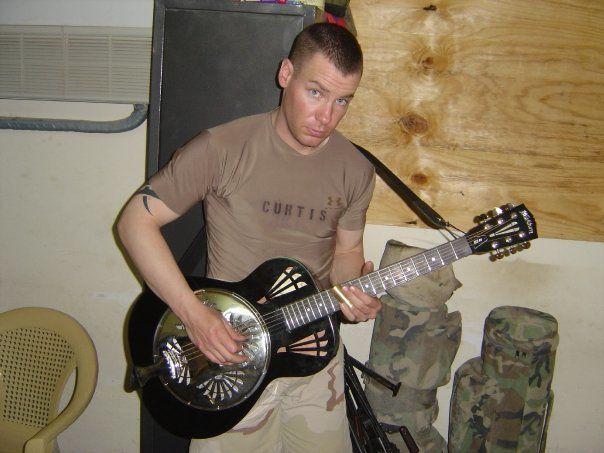 After rotating out of Iraq, Curtis was stationed in Germany. One of the first things he did was buy an electric guitar. "I plugged that thing in and immediately started writing songs," he said. "I wrote countless songs."
He started performing in Germany, playing some of his own pieces and covering artists such as Muddy Waters, Bob Dylan and Neil Young. Once his commitment to the Army was complete, Curtis returned to the States and tried to enter the civilian world. But he found he missed the structure of military life.
"I got out of the Army and then about a month later I joined back up," he said.
For the last 13 years, he has been serving as a counselor at Jefferson Barracks helping Army reservists with all sorts of issues, work-related as well as civilian.
"You get to help them sort through all of the options," Curtis said. "Sometimes they come back two or three years later and they outrank you. So, it's cool. It's one of those jobs where you actually get to see the fruits of your labor."
VIEW ALL STORIES: STLtoday.com/StoriesOfHonor

Soldiers Memorial Military Museum offers programs and outreach services including special exhibits, tours, services for the military community, school programs and lectures.
The Hiring Our Heroes Corporate Fellowship Program is an innovative program offered by the U.S. Chamber of Commerce Foundation and partnering companies that provides transitioning service members with professional training and hands-on experience in the civilian workforce. The professional development offered through the program prepares candidates for a smooth transition into meaningful civilian careers.
---
Stories are told from the nominee's point of view. This content was produced by Brand Ave. Studios. The news and editorial departments of the St. Louis Post-Dispatch had no role in its creation or display. For more information about Brand Ave. Studios, contact tgriffin@stltoday.com.
Be the first to know
Get local news delivered to your inbox!