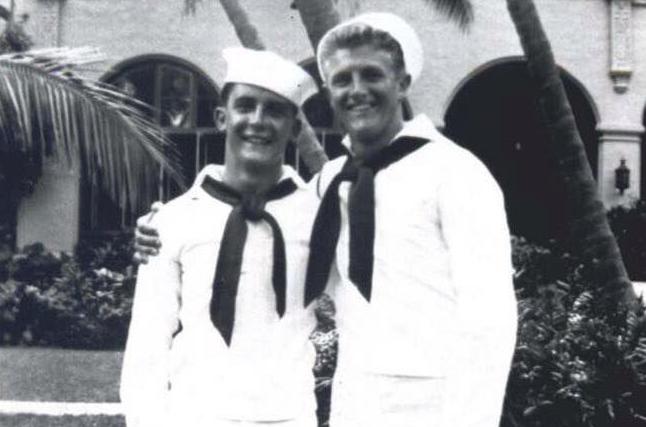 Editor's note: Pearl Harbor survivor John 'J.K.' Reed died on Monday (Nov. 12, 2018.) Mr. Reed was featured in the Post-Dispatch Stories of Honor in 2017. Here is our original profile.
In 1941, the U.S. Navy gave John "J.K." Reed an offer he couldn't refuse. Reed enlisted and was shipped to Hawaii earning $21 a month.
At the time, he and a group of friends in his native Tulsa, Okla., signed up together, but the 20-year-old Reed was the only one who ended up going. "After boot camp, I was shipped to Pearl Harbor and I was stationed at the target repair facility, towards the entrance to the harbor," Reed said. "We built and repaired the targets for fleet gunner practice."
Little did Reed know that when he arrived in September of 1941, that he would live through one of the most infamous days in American history.
Dec. 7, 1941, started off like every other day for Reed, who was eating breakfast when the first explosion rocked the base. Japan was attacking Pearl Harbor and the United States was now involved in World War II.
"I looked down toward the harbor and saw a lot of smoke," Reed said. "At first, we had a big tank down the road where they kept the fuel for all the ships and I thought it had blown up. Then we saw the planes."
"I ran out the back of the barracks and I looked up and there was a plane on the roof top looking right at me," Reed said. "We were eyeball to eyeball."
Reed was a couple of blocks from Hickam Field, an Air Force installation. Hickam got hit hard in the raid as well. Reed said all of the planes parked in such close proximity to each other made for easy targets.
Going on instinct, Reed and some other soldiers headed to a small armory on base.
"Several of us grabbed the rifles and started shooting at the planes as they were flying over," Reed said. "But it would have been a miracle had we hit one of them. That's all we had to combat with was rifles and shotguns."
Everyone was in white uniforms while eating breakfast. Once the attack happened, they changed into their dungarees to be more hidden from the Japanese pilots. They took refuge under the fleet targets during the attack.
"Right away you could hear the explosions in the harbor when the ships were getting hit," Reed said. "You knew that things were going bad. It didn't take long to figure that out."
Following the attack, Reed was put on salvage detail. "We were trying to clean up the harbor, all the debris and everything," Reed said. "It got to be such a mess. Every night I was covered in fuel and everything."
Reed then volunteered for mess duty, where he served for three months. He was later transferred to the minesweeper U.S.S. Long. They landed troops in the South Pacific and Aleutian Islands and the U.S.S. Long was the first to sweep for mines in the Battle of Attu.
Reed was transferred back to the states and attended gunnery school. On June 2, 1944, he was assigned to the aircraft carrier U.S.S. Essex. Dubbed the "fightingest ship in the Navy", the U.S.S. Essex crew shot down 33 enemy planes and its air group recorded 1,531 kills.
They defended against kamikaze attacks day and night for 79-straight days. During that time, there were 357 raids – 174 at night and 183 during the day. "The only way you could stop them was to blow them up," Reed said. Most times, sleep was a luxury. But Reed said morale was never a problem.
"I was really fortunate that I was a member of the U.S.S. Essex crew," Reed said. "It was a very good ship with really good people on there, outstanding people."
The U.S.S. Essex suffered its only damage from a kamikaze pilot in Okinawa, Japan. The pilot hit the ship at an estimated 300 miles per hour. "We had 15 men killed and 44 more were injured, and it blew a big hole in the flight deck," Reed said. He said the repair crew had the damage fixed in about 30 minutes and they were launching aircraft again.
Despite being involved in such heavy combat, Reed never thought about dying. "It never entered my mind whether I was going to get back or not," Reed said. "The only thing you're interested in is just surviving."
On Nov. 5, 1945, Reed was discharged in Bremerton, Wash., but they had to find him transportation back home to Oklahoma before he could leave. "I told them just give me my money and I'll find a way home," Reed said. "They wouldn't do that. I waited seven weeks for a train to get back home."
Reed settled into a career with Western Electric. He married, had a son and four grandchildren. Western Electric transferred Reed to St. Louis in 1965 and then to Wichita, Kansas, in 1975.
He retired to Table Rock Lake with his wife in 1980. About nine years ago, his son convinced his parents to move back to St. Louis to be closer to family. Reed, now 95, remains active. He goes to church every Sunday and still mows his own yard.
They are ordinary men and women; they are our family members, neighbors and friends. Their s…
This content was produced by Brand Ave. Studios. The news and editorial departments of the St. Louis Post-Dispatch had no role in its creation or display. For more information about Brand Ave. Studios, contact tgriffin@stltoday.com.