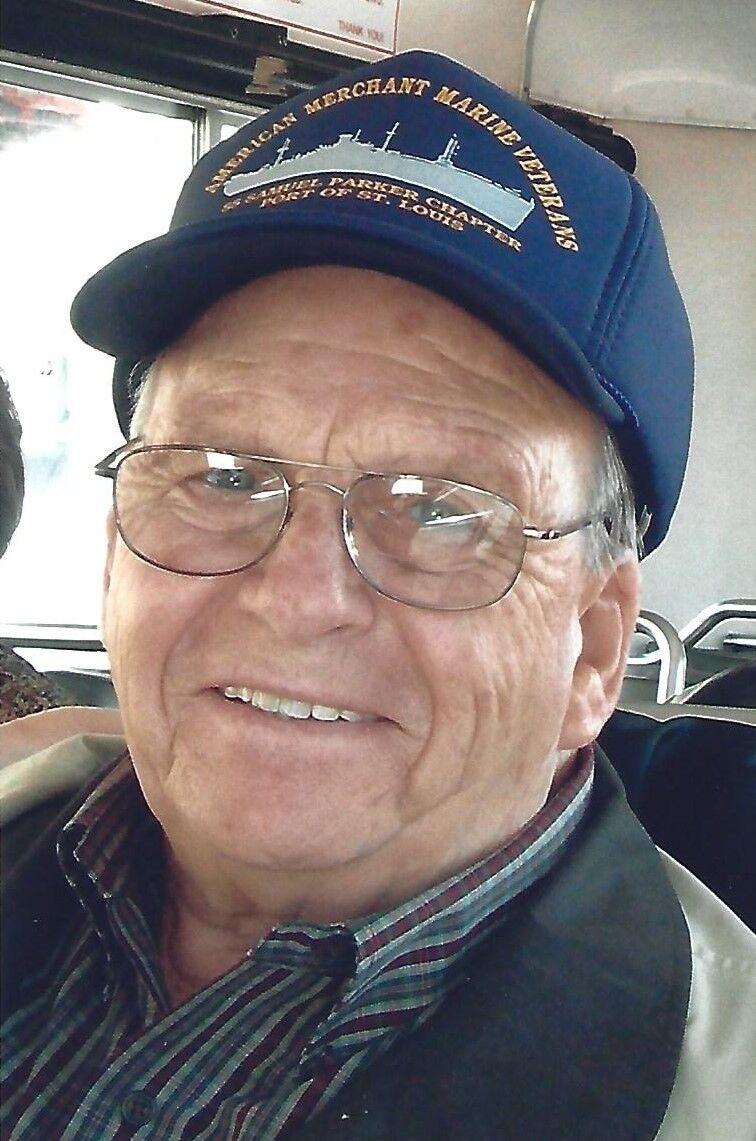 It was Christmas Eve 1944 on a Liberty ship in the Persian Gulf. Bill Laskowitz, in service with the U.S. Merchant Marine, pulled out his ever-present harmonica and played "Silent Night" while the men gathered around and hummed along.
"I can still remember the sky was absolutely clear and filled with stars like diamonds," Laskowitz, now 95, recalled. "There wasn't a cloud in the sky and it was just beautiful. Can you imagine 60-some people humming 'Silent Night?'"
It was a small, peaceful moment in a tour of duty filled with danger, rough seas and hard work.
Volunteering to serve
Joining the Merchant Marine had not been Laskowitz' first choice. At 18, the young St. Louisan dreamed of joining the Army Air Corps but failed the physical because, though he had never missed it, he was born without a pectoral muscle.
On the streetcar home, he noticed an advertisement for the Merchant Marine. The all-civilian service was desperate for volunteers to man the hastily built Liberty ships carrying vital supplies such as ammunition, K-rations, tanks and troops to battlefields on the other side of the world.
After training in Florida, Laskowitz set sail on the first of many such cargo ships, the S.S. Juan de Fuca. His travels between 1943 and 1946 took him to Europe, Africa, Central America and many places in between. "I've sailed in every ocean and around the world twice," he said.
Dangerous duty
Life aboard a Liberty ship during World War II was dangerous. Rogue waves could sweep a man overboard while rough seas could make one sick. Enemy U-boats and submarines were constantly on the prowl while ships were targeted by hostile forces on land and in the sky.
Though the ships sailed in huge convoys, those on the perimeter were the most exposed. Laskowitz said the ships that brought up the rear were said to be in "coffin corner."
The work was hard. If you were assigned to the engine room, there was always the fear of explosion. If on deck, you faced all kinds of weather. One trip kept Laskowitz at sea for 13 months. "You never slept right at night," he said. "There was always one alarm after another."
Once when his ship was carrying two locomotives and two coal cars on deck, a large wave nearly knocked Laskowitz overboard. The ship's solid railing had been removed to bring the equipment onboard and had been replaced with only a chain and stanchions.
"All of a sudden a wave came over and took my feet from under me," he said. "My feet were in the water and I'm holding on to this stanchion for dear life. They tell you, if you fall overboard in a convoy [ship], there's nobody to pick you up."
Wartime service but no recognition
Mariners served alongside Navy gun crews on Liberty ships, but they were not issued uniforms or weapons. And unlike Navy personnel, mariners such as Laskowitz who served honorably were denied a veteran's benefits — no GI Bill and no flag to drape your casket.
It wasn't until 1988 that the Defense Department, under pressure from a federal court ruling, granted veteran status to WWII-era mariners. It was already too late for many of the wartime heroes.
Laskowitz returned to St. Louis after the war, married and raised five daughters where he enjoyed a long career as an electrician. But the lack of recognition for his wartime valor still bothers him.
"We had the highest mortality rate of any of the services," Laskowitz said. "People were torpedoed, lost at sea, any number of things. Some were even prisoners of war. Yet every Fourth of July, it's always Army, Navy, Marine Corps this and that, and never any mention of Merchant Marine. And without the Merchant Marine, nobody would have had any supplies over there."
Soldiers Memorial Military Museum offers programs and outreach services including special exhibits, tours, services for the military community, school programs and lectures.
---
Stories are told from the nominee's point of view. This content was produced by Brand Ave. Studios. The news and editorial departments had no role in its creation or display. Brand Ave. Studios connects advertisers with a targeted audience through compelling content programs, from concept to production and distribution. For more information contact sales@brandavestudios.com.