It was the middle of the night when a U.S. Army reconnaissance team spotted two suspicious figures near a main road in Tal Afar in northwestern Iraq. That meant it was go-time for Sgt. Darnell Cooper and his fellow soldiers manning a nearby checkpoint.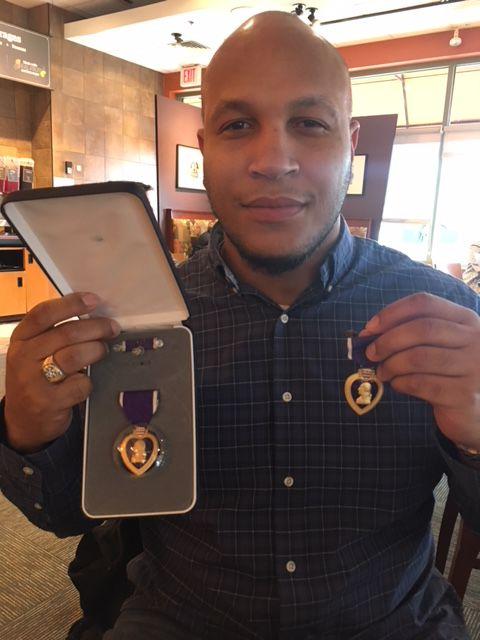 Suddenly, an explosion rocked their Stryker armored vehicle as it rumbled over a hidden roadside bomb. 
"I just remember a bright light," Cooper said. "It was a moment of calm. It seemed like time slowed down a little bit. I don't remember much after that."
It wasn't the first time Cooper was injured in an explosion while serving in Iraq.
The two-time Purple Heart recipient had also survived a car bomb that blew up near his vehicle earlier in his deployment. That time, a piece of hot metal flew through the air and sliced his neck. He didn't realize he'd been hit until a buddy told him he was bleeding.
"The doctor said I was extremely lucky," Cooper said. "But as an infantry soldier, you go right back in."
Cooper, now 36 and a resident of St. Louis, works for the Department of Defense as a military analyst and has traveled three times to Afghanistan in support of U.S. soldiers there. He's also working toward an online degree in intelligence studies through the American Military University.
The queen of battle
Raised by grandparents in Belize, Cooper would travel each summer to the United States to be with his mother, a school teacher in Brooklyn, N.Y. Each visit reaffirmed his dream of serving in the U.S. military like an older cousin who had joined the Marines.  
"It was always my dream to be in the infantry, the 'queen of battle,'" he said. "I remember seeing my cousin in uniform and I said, I want to be like him. Every year in high school I would tell my mom, I'm one year closer."
After graduating in 2000, Cooper moved to the United States and enlisted in the Army in August 2001. One month later, terrorists struck the twin towers of the World Trade Center, and Cooper knew he would soon be in the heart of the fight.
"I was in training at Fort Benning and we were getting a briefing when someone came up to the stage and whispered in the drill sergeant's ear, and he passed out," Cooper said. 
We wanted to do our jobs
The news galvanized Cooper and his fellow recruits. 
"That [9/11] was an emotional experience," Cooper said. "We were the ones who were going to be sent to war. That was personal. We wanted a piece of the action. We wanted to do our jobs."
Cooper was deployed to Iraq in 2003 and served as a machine gunner attached to the 3rd Infantry Division. His unit was involved in hundreds of fire fights and more than 1,500 raids over the next few months as they hunted for Saddam Hussein and his arsenal.
"It was a lot of fire fights, a lot of raids trying to find the ace of spades [Saddam Hussein]," he said. "We wanted to be the ones to find him, to be the ones to really deliver a message."
They didn't find Saddam, but Cooper's unit was nearby in Baghdad when the king of spades in the deck of most-wanted Iraqi playing cards, Ali Hassan al-Majid, Saddam's cousin, was captured as he tried to leave the city. Majid was known as Chemical Ali for his use of chemical weapons against Iraqi Kurds.
After re-enlisting in Baghdad, Cooper was attached to the 25th Infantry Division and sent to Fort Lewis, Wash., where he helped train other soldiers on a Stryker brigade.
I thought I was done for
As violent as the first deployment was, his second deployment in October 2004 was worse, he said. Cooper's unit took part in major combat operations, including Operation Phantom Fury, one of the bloodiest battles of the Iraq War. His unit suffered multiple fatalities and injuries.
Cooper was standing in the rear of the Stryker that night in 2004 when the IED exploded beneath him.
"I thought I was done for," Cooper said. "Surprisingly, I was the only one injured."
Cooper suffered head and back injuries and was transported back to the States to heal. His injuries still give him trouble and keep him from physical pursuits such as running that he used to enjoy.
Those injuries didn't keep him from volunteering as a civilian employee of the Department of Defense for three separate missions to Afghanistan to provide operational support to U.S. soldiers between 2011 and 2017. 
He said it hurts to think of fellow soldiers who were killed or disabled, and those who have suffered since the war with mental health issues including post-traumatic stress disorder. 
An encounter while returning home from a second tour of duty in Iraq led Maj. Dan Rooney, an F-16 pilot with the Oklahoma Air National Guard, …
"It's PTSD that's killing my friends now," he said.  
He spends time reaching out to veterans he served with and tells them: "It's OK to talk about it. Just because someone wasn't in your shoes doesn't mean they're not in a position to help you.
"War isn't fun. Even the toughest of the tough have issues processing it. But you'd be stupid to think you can forget about it." 
Community Coffee Company understands the importance of family and giving back. They proudly support Folds of Honor and have established a partnership with the USO of North Carolina and the Patriot Circle to ensure that military personnel both here and overseas are able to enjoy a rich, smooth cup of Community® coffee.
Soldiers Memorial Military Museum offers programs and outreach services including special exhibits, tours, services for the military community, school programs and lectures.
---
Stories are told from the nominee's point of view. This content was produced by Brand Ave. Studios. The news and editorial departments of the St. Louis Post-Dispatch had no role in its creation or display. For more information about Brand Ave. Studios, contact tgriffin@stltoday.com.