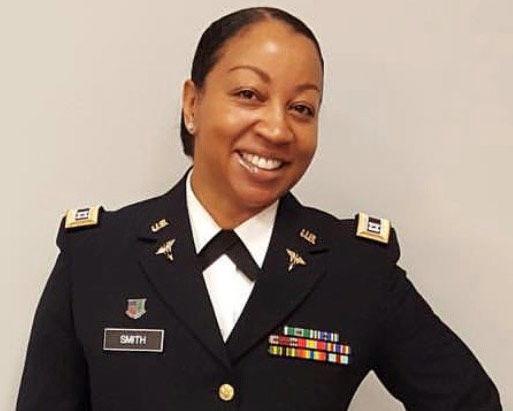 Even while stationed on the far side of the world, U.S. Army Capt. Tonita Smith devotes much of her free time and energy on mentoring and inspiring young people and women back home in St. Louis.
Smith is a public health nurse currently serving at Camp Humphreys in South Korea. She is passionate about public health, but also about mentoring young people affected by violence in their neighborhoods, and empowering women to build healthy relationships. 
She's also an author, an entrepreneur and a prayer partner.
"My passion, purpose and love is to serve others," she said.
Smith, 44, was stationed at Fort Leonard Wood in Missouri when protests broke out in Ferguson and St. Louis in 2014 after the fatal shooting of Michael Brown. She felt great frustration and helplessness about the violence and divisiveness that erupted in her hometown. 
"I felt like I needed to do something," she said. "Our city was hurting and all of these people were reacting out of frustration and anger. How could I help and be a part of the solution? All I knew was to pray. I knew I could pray, and if I could get more people to pray, it would help us to come together."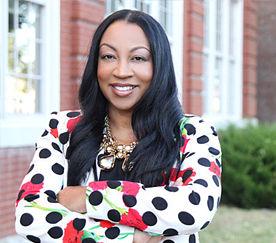 Pray without ceasing
That was the start of the St. Louis Prayer Project. She took to Facebook to enlist prayer partners for what was intended to be a 30-day plan to "pray without ceasing," as she felt called to do by God. 
The response was so positive that she decided to keep the project going, and it has since morphed into a nonprofit organization aimed at mentoring, educating and empowering youth to make responsible, positive choices in their lives. The project won funding from the Robert Wood Johnson Foundation, and she hopes to continue the work full-time when she retires.
Smith's desire to help others includes working with women to identify and develop their own passions.  She believes that inspiring and motivating other women is part of her own purpose in life.
A product of that passion is a book she wrote called "The Power of Shut-Up Grace," which she hopes will help others learn what she has about the power of words — and the power of holding your peace.
Smith said she grew up with a "slick mouth" that was her way of dealing with conflict. She was well into adulthood before she learned that not everybody had to have a piece of her mind. 
The power of holding your tongue
"I proclaimed myself to be a professional curser," she said. "I always had a quick comeback. That was kind of my defense mechanism. But when I got into church and was saved, I learned that words have power, and I learned to watch my words and use them not for tearing down others, but for building them up."
Smith's entrepreneurial spirit and love for fashion led Smith and a cousin to start a business together. Through an online boutique called Fashion Remix Boutique, the women sell clothing and fashion accessories. The shop was inspired by Smith's maternal grandmother, who sewed clothing for her and her cousins.
Smith was raised by her grandmother, who had 11 children of her own. Smith's mother died from a brain tumor when Smith was just 2. Growing up in a house full of teen-aged aunts and uncles led her to become independent at an early age, she said.
By the time she was in sixth grade she was working the register of a neighborhood convenience store after school, standing on an overturned pickle bucket in order to see over the counter. 
"I just had to grow up early," Smith said. "I think I was very responsible."
After high school she trained to become a phlebotomist but was inspired by the nurses she met to become a licensed practical nurse. "I wanted to do more for my patients besides stick them with needles," she said. 
She was 27 and the mother of three young children when she enlisted in the Army. She was looking for a better life and a way to escape an unhappy marriage and support her young family on her own.
Promoting public health as a soldier
She had never thought about joining the military, but a friend suggested it.
"It really did spark my interest, and I found out that the Army needed LPNs," she said.
After basic training, she was posted to Hawaii. Later, the Army paid for her to complete her degree as a registered nurse and commissioned her as a second lieutenant. She then went on to train as a public health nurse and later earned a master's in nursing education.
As a public health nurse, her role is to work with military personnel and their families as well as the wider community to promote health and safety, prevent and educate about communicable diseases, and prepare for disaster relief.
"I absolutely love public health," she said. "I wanted to be on the side of prevention, to help people before they get sick."
In South Korea, she also volunteers at a youth center on post and started a youth mentoring program.
"These kids are being uprooted from their norm to come to a foreign country," she said. "The soldier is trying to adjust, and some soldiers go home stressed and maybe no one's paying attention to the child. I get up close and personal with these kids and teach them anger management and coping skills."
This content was produced by Brand Ave. Studios. The news and editorial departments of the St. Louis Post-Dispatch had no role in its creation or display. For more information about Brand Ave. Studios, contact tgriffin@stltoday.com