For 34 years, Richard "Rick" Rajkovich kept alive a family tradition of military service and inspired his daughter to follow in those footsteps.
Rajkovich, 72, enlisted as a Marine during the Vietnam War and later served 28 years in the Missouri Army National Guard, including multiple overseas deployments. His grandfather and both parents served in the Army, his brother served in the Marines and his wife is a National Guard veteran as well.
Rajkovich, a Washington, Mo., resident, also served 24 years as a reserve sheriff's deputy while working full-time as a road mechanic for a trucking company, so there were countless days and nights when there was an empty chair at the supper table back home.
"I had no doubt in my mind that I would end up in the military," said his daughter, U.S. Army Pfc. Rachel Gerrein. "Everything that my dad embodies as a soldier and as a father helped form my decision to enlist. You're helping others and keeping your family safe." 
Either join or get drafted
Rajkovich might not have served in the military at all had it not been for the draft. It was 1966, and Rajkovich's birthdate put him at the top of the list. 
"I had no intention of joining the military," he said. "My birthdate was number one in the fishbowl so I didn't have much choice. It was either join or get drafted."
Despite the fact that both parents served in the Army in World War II and his grandfather was an Army veteran of World War I, Rajkovich chose the U.S. Marine Corps. The Marines trained him as a heavy truck driver, then sent him to Vietnam with an infantry battalion fighting the North Vietnamese along the demilitarized zone.
His duties included delivering mail and supplies by jeep to fellow Marines at fire bases such as Khe Sanh and Cam Lo where heavy fighting occurred. "It wasn't pretty," he said. "I'd come back with bullet holes in the vehicle. They would use me for targets."
A different homecoming
Like many battle-weary Marines, Rajkovich expected to be greeted with the thanks of a grateful nation when he returned to the States. But that wasn't the case, he said. "It's still a bitter feeling. I went and I did what I was supposed to do for my country and it wasn't appreciated," he said.
Still, 12 years later he joined the military a second time, signing on with a military police company of the Missouri National Guard based in St. Clair. Over the next 28 years, Rajkovich rose to the rank of first sergeant, serving alongside friends and neighbors — and wife, Cindy — responding to emergencies at home and abroad. This time, the homecomings felt different.
"It was to the point where we'd walk through the airport and people would be lined up in the aisles cheering," he said. "I felt I was doing my part for my community." 
In addition to multiple overseas deployments, Rajkovich spent weeks at a time on domestic missions. During the flood of 1993, he spent more than a month sleeping on a gymnasium floor in St. Charles while taking turns with other soldiers standing guard in flooded-out neighborhoods.
"There were sleepless nights and irritated people," he said. "I had sympathy for them — some of the guys in our unit who were on duty were flooded out at home, too."
A family tradition
Rajkovich's first overseas deployment with the Guard came during the U.S. invasion of Panama in 1990, followed by Desert Storm in 1991, when his company spent six months filling in for active-duty soldiers stationed in Europe. Later came two deployments to Kosovo and one 18-month stint in Iraq.
After both deploying to Desert Storm, he and his wife decided that for the sake of their daughter, it would be better if they served in separate companies. Still, there were times their missions overlapped and Rachel was cared for by her grandparents.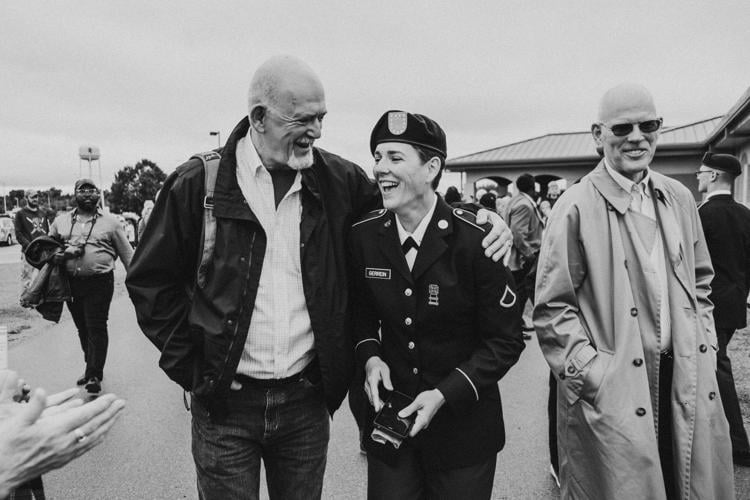 "They always made sure I understood why they were leaving, when, how long, and made sure I was comfortable while they had to be gone," Rachel said. "There was never a time when I resented their service. They were helping other families that may not have the means to help themselves."
These days, it's Rachel's turn to lean on her parents, as they help care for her daughter while both she and her husband, a soldier in the 10th Mountain Division, are away from home for extended Army training.
It's a family tradition.
Community Coffee Company understands the importance of family and giving back. They proudly support Folds of Honor and have established a partnership with the USO of North Carolina and the Patriot Circle to ensure that military personnel both here and overseas are able to enjoy a rich, smooth cup of Community® coffee.
Soldiers Memorial Military Museum offers programs and outreach services including special exhibits, tours, services for the military community, school programs and lectures.
---
Stories are told from the nominee's point of view. This content was produced by Brand Ave. Studios. The news and editorial departments of the St. Louis Post-Dispatch had no role in its creation or display. For more information about Brand Ave. Studios, contact tgriffin@stltoday.com.