Holocaust survivor Mendel Rosenberg was liberated from a Nazi concentration camp by American soldiers. It wasn't long before he became one of them.
With the end of World War II and his liberation from Dachau, Rosenberg and his mother — all that was left of his family — found their way to cousins in the United States. They settled in Ohio, where the young Rosenberg went to work during the day and attended classes at night in hopes of earning a high school diploma. 
It was 1947. Less than four years later, though not yet a citizen and before he could complete his high school diploma, Rosenberg was drafted into the U.S. Army after the outbreak of the Korean War. 
"I could barely speak English," he said. 
But he didn't dare refuse. "I thought if they drafted me I'd better go and pay attention. If I didn't go I'd never be able to become a citizen."
They were shocked, we were shocked
Rosenberg, now 90, was born in Germany and raised in Lithuania. He and his mother and older brother were forced into concentration camps in 1944 after his father was shot and killed by the German Army.
After months of hard labor, starvation and sickness, Rosenberg was among thousands of Jewish prisoners ordered by the SS into rail cars as the Americans approached the infamous Dachau and its network of subcamps in the spring of 1945. For 10 days, Rosenberg traveled in a packed cattle car with no food and little water. 
The train finally came to a stop on May 5. The doors were opened, and the Americans were there. Rosenberg was 16.
"They were shocked, we were shocked," Rosenberg remembered. "And then they said the war was over."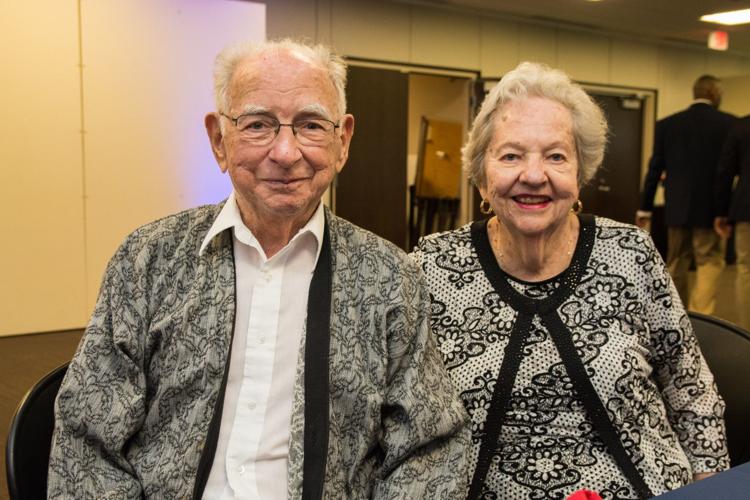 The Creve Coeur resident has told his story hundreds of times as a volunteer at the Holocaust Museum and Learning Center. He recently published his story, entitled "Thriver: My Journey Through Holocaust Nightmare to American Dream," which recounts his comfortable upbringing in a Jewish community in Lithuania and the horrors his family faced after the Russians arrived in 1939, followed by the Germans in 1941.  
Rosenberg's father was shot and killed by the Germans in 1941 and his family was forced into a ghetto before they were transferred to Stutthof, a concentration camp in Germany. From there, Rosenberg and his brother were sent to Muhldorf, a subcamp of Dachau, where his brother was beaten to death in 1945, just weeks before the end of the war.
After the war, Rosenberg stayed with thousands of other refugees in a displaced persons camp in Germany for more than a year until his mother could work her way back to him. With no other family remaining, she wrote to cousins in America and the two made plans to emigrate.
I very much wanted to serve
In January 1951, Uncle Sam came calling. "Given that I wasn't yet a citizen, I possibly could have opted out of the draft," Rosenberg wrote in his book. "But I very much wanted to serve the nation that had come to my rescue just six years before."
After boot camp at Fort Knox, Ky., Rosenberg was sent to military intelligence school at Fort Meade, Md. He figured he would be sent to Europe as an interpreter, since he spoke several languages, including German and Russian. 
An encounter while returning home from a second tour of duty in Iraq led Maj. Dan Rooney, an F-16 pilot with the Oklahoma Air National Guard, …
Instead, he was sent as an MP to guard American soldiers imprisoned at a stockade in Pennsylvania. Once, when several servicemen escaped, he was told to find them and shoot them if necessary. 
Rosenberg said he couldn't do it. He went to his commander and handed him back the rifle and the ammunition and said, "There is no way I'm going to shoot an American soldier after they had liberated me from the concentration camp."
Two weeks later he was made a company clerk, he said.
Later he was assigned overseas and volunteered to go to Europe but was instead stationed in Tokyo, where he needed a translator to help supervise Japanese mechanics working to repair the Army's halftracks and tanks and returning them to Korea. 
After his two-year enlistment was up, Pfc. Rosenberg returned to Ohio, married and became a naturalized citizen. His employer transferred him to St. Louis, where he went on to build a successful window company, complete his high school diploma and raise a family.
For years, he never spoke of the horrors of his earlier life, though his children knew he suffered from nightmares. Then a friend asked him to speak to students of his religion class. 
"That put an end to the nightmares because I started talking about it," Rosenberg said. "So I decided to keep on speaking because I wanted everybody to hear the story. I wanted them to hear firsthand exactly what happened so it won't be repeated."
Community Coffee Company understands the importance of family and giving back. They proudly support Folds of Honor and have established a partnership with the USO of North Carolina and the Patriot Circle to ensure that military personnel both here and overseas are able to enjoy a rich, smooth cup of Community® coffee.
Soldiers Memorial Military Museum offers programs and outreach services including special exhibits, tours, services for the military community, school programs and lectures.
---
Stories are told from the nominee's point of view. This content was produced by Brand Ave. Studios. The news and editorial departments of the St. Louis Post-Dispatch had no role in its creation or display. For more information about Brand Ave. Studios, contact tgriffin@stltoday.com.