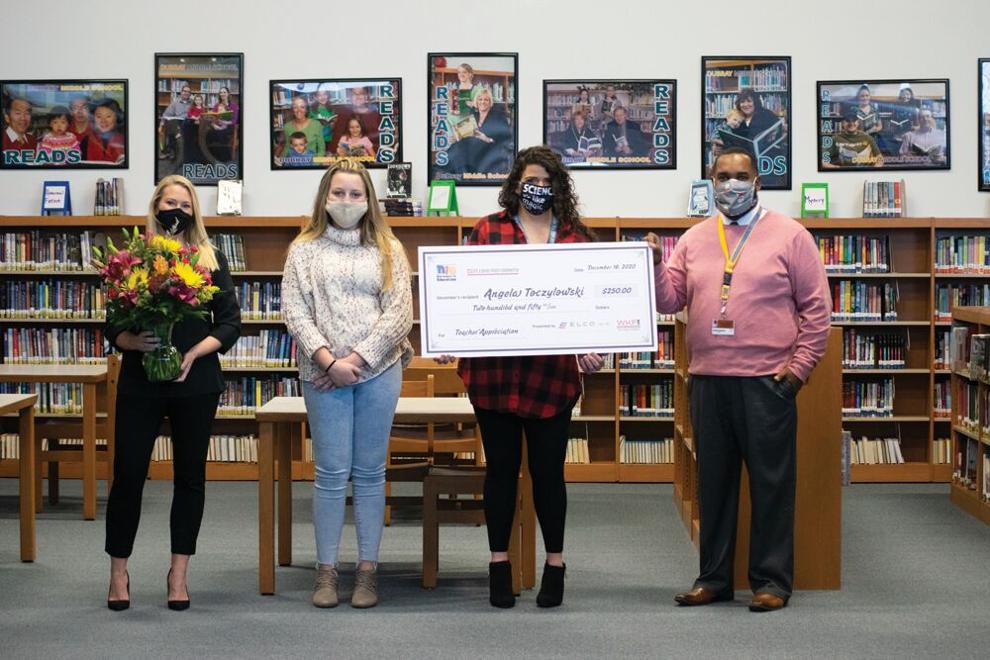 "All you need is science."
This was the mantra that Angela Toczylowski's mother, a science teacher, imprinted in her mind from an early age. The statement was more than a play on a catchy Beatles' song, but a reminder that a methodical approach to life can be applied to everything we do.
This understanding of life and the world around her was Toczylowski's inspiration for pursuing the field of education and the study of science herself.
Following in her mother's footsteps, Toczylowski currently teaches eighth grade science at Dubray Middle School in the Fort Zumwalt School District. Her approach to teaching is simple: "We need creative problem-solvers. We need people who can work together and bounce ideas off of each other to create solutions to real world problems," she said. "I love facilitating this in my classroom."
A skill that cannot be Googled
Her approach with her students centers on project-based learning. Research is at the basis of science, and Toczylowski has the opportunity to watch her students come up with ideas, share them, go back to the drawing board, make them better – and then bring them to life. "Watching this process happen is extraordinary because they take ownership of their work. They do their own research and they do it on their terms. They are learning, and they don't even realize it, because they are so engaged in what they are doing," she said.
Toczylowski also explained the project-based learning encourages her students to think outside the box. "That's a skill that can't be Googled," she explained. "And that will help them succeed in everyday life, as well as when they go into the workforce."
Although science can be a difficult subject to grasp at times, in Mrs. Toczylowski's classroom, there is beauty in the struggle. "Do [my students] get frustrated? Absolutely. However, it's a productive struggle, which makes the learning that goes along with it that much more enduring and meaningful. At times, it's exhausting for all parties involved (students, teachers, parents) but it works, and what a beautiful success it is by the end," she said.
Facilitating learning beyond the classroom
The classroom isn't the only space that Mrs. Toczylowski gives attention to her students' education. She was praised by her nominator for her willingness to help students with tutoring and one-on-one education after-hours.
However, she understands that asking for extra help is hard. "If a student comes to me and asks for help, it is a monumental accomplishment, because that means I have gained his or her trust. If that student is willing to invest the time and the effort into setting himself or herself up for success, we are going to seize every opportunity," she said.
Being a great educator and earning that trust, according to Toczylowski, takes a lot of listening. This is the primary way that she advocates for her students. "The first step is to just listen. Listen to the student. Listen to the parents. Listen to other teachers who work with that student. Always keep that line of communication open. This will effectively develop a strong support system," she said.
Beyond teaching, tutoring and advocating, Mrs. Toczylowski's students would tell you that her ultimate goal is to recruit as many of them to the science field as possible. "We have made it a competition among the other subject areas," she joked.
The ever-evolving world of education 
As for teaching amid a pandemic, Toczylowski believes this experience has shined a light on an already-known fact that humans, and teachers specifically, are natural problem-solvers. Furthermore, COVID-19 has proved that education is ever-evolving. And that her students themselves are resilient.
"What I have witnessed is teachers rising to the challenge and working tirelessly to continue to provide emotional support and a quality education during a very scary time for our students," she said. "We are finding ways around the challenges [and are] collaborating and revamping our teaching practices to best fit the needs of our students, whether they are learning in person or virtually. [Our students] are still using the same problem-solving processes they would in class, just through different mediums."
Toczylowski expressed her gratitude for this nomination, specifically to the family who nominated her for St. Louis Post-Dispatch Teacher of the Month. She received a $250 gift card from Elco Chevrolet and a bouquet from Walter Knoll Florist in honor of her nomination.

---
This content was produced by Brand Ave. Studios. The news and editorial departments of the St. Louis Post-Dispatch had no role in its creation or display. For more information about Brand Ave. Studios, contact sales@brandavestudios.com.