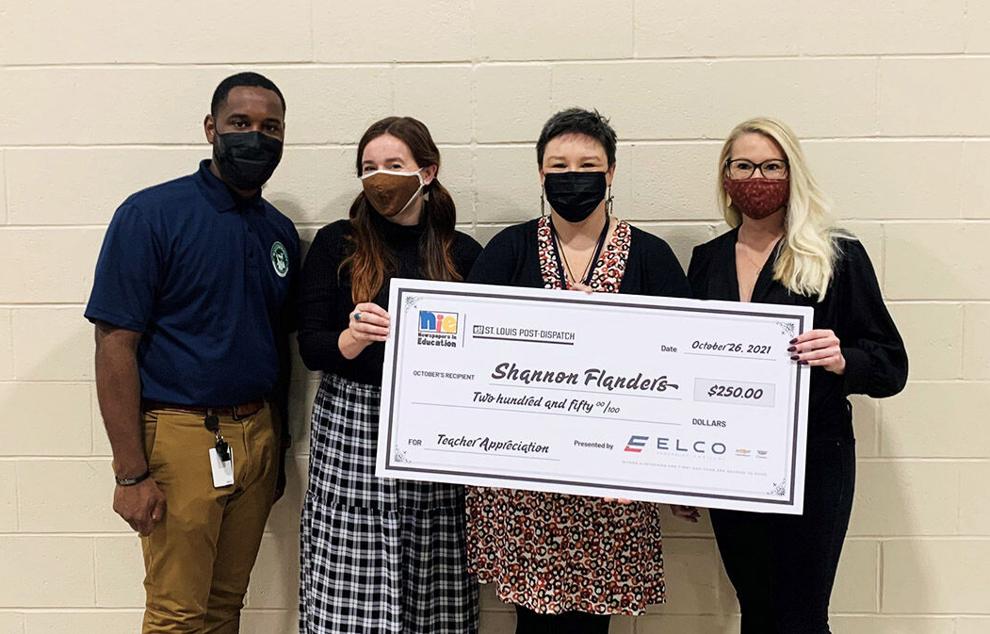 "Books are your friends, and reading is good for you!" is a mantra that can be heard throughout the walls of Mallinckrodt Academy of Gifted Instruction, a magnet school in the St. Louis Public School system. The phrase repeated by students in each one of the K-5 grades can all be traced back to one dedicated kindergarten teacher with a passion for helping students embrace a love of books.
Teachers rely on each other to build the foundation of learning that kids bring with them to the next school year. According to fellow teacher and nominator Acadia Reynolds, every year Shannon Flanders goes above and beyond to do just that for her kindergarten students.
"The love of reading Mrs. Flanders provides is a great favor to all of us," said Ms. Reynolds at her award ceremony.
For the last six years, Mrs. Flanders has been inspiring a love of learning and reading in her young students. But despite the impact she's made, she didn't always know that teaching was her calling. She spent the first ten years of her career in retail, something she was not passionate about. It wasn't until she was helping her son prepare for school that she realized her love of teaching. She already had a degree in English and went back to add on an Early Childhood Teaching Certificate and Reading Specialization.
Finding a friend in books
In her kindergarten class, students make time for reading every single day to help begin that all-important relationship with books. As they go to pick out a book from the classroom library each day, she encourages them to "find a new friend."
"Kindergarteners are a trip! They are the funniest people you're ever going to meet," said Mrs. Flanders. "I think my favorite thing about teaching kindergarten specifically is watching those little lightbulbs go off over the top of their heads when they when they realize something for the first time!"
Mrs. Flanders also says she has a hands-on teaching style and most of their learning is done through play. Her students are building things, creating things, exploring and asking questions. 
The pandemic took an obvious toll on that play style at first! But now in the third year, their classes are beginning to adjust. "I think making sure the kids have a relationship with me, whether they are in-person or whether they are virtual, so I can share my enthusiasm for learning and what we do has really kept us going," said Mrs. Flanders
A new generation of readers
The catchphrase that she's helped her students learn and share actually came from her favorite teacher when she was a kid and is a way to give back the love of reading she was taught. She hopes they can share it with someone too.
"I didn't realize at the time how impactful it was," she said, referring to the phrase her teacher taught her. "It's so cool that a teacher instilled that into me and to now be able to share it with the next generation of readers."
Mrs. Flanders hopes when her students move up through the grades they will take a curiosity to learn more, be more and do more. That sense of curiosity can help them follow their passions and dreams.
From the reports of other Mallinckrodt teachers, it sounds like they are already doing just that.
This content was produced by Brand Ave. Studios. The news and editorial departments of the St. Louis Post-Dispatch had no role in its creation or display. Brand Ave. Studios connects advertisers with a targeted audience through compelling content programs, from concept to production and distribution. For more information contact sales@brandavestudios.com.