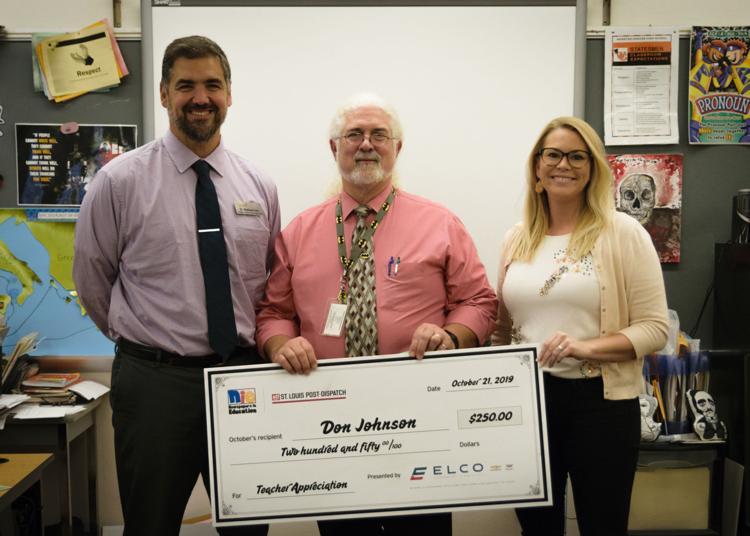 If you had taken one of Donald Johnson's English or journalism classes at Webster Groves High School — or had been on staff at the ECHO, the school's newspaper where he is the faculty adviser; or helped create the paper's website, podcast, Twitter feed, Facebook or Instagram pages — your takeaway would have been simple, yet powerful: There is always more to the story.
That message is found in the pages of Chimamanda Ngozi Adichie's novel "Purple Hibiscus" and in the four stanzas of Edwin Robinson's poem "Richard Cory" — both taught in Mr. Johnson's English class. It permeates the discussions on ethics, legality and what stories should be reported in the ECHO and why.
"The big thing I want all of my students to know is how to communicate," Mr. Johnson says. "I want them to be able to reach other people, and I want them to be able to hear other people. There are many valid viewpoints, and I don't think it does anyone any service to automatically go to the extreme negative just because the other person doesn't agree with you."
After teaching for 8 years in Texas and Arkansas, Mr. Johnson moved to the St. Louis area where he has taught at Webster Groves High School for the last 26 years. "The thing is, I really enjoy the journalism," he says. "We do what I think is very important work. It's not really me who's doing it — it's the kids. The editors decide what stories we'll cover and how they'll be laid out. It's my job to keep them out of court and the school out of bankruptcy, and as long as I do that, I'm doing pretty good," he says.
Besides covering Webster Groves High School's everyday news, the student journalists have also called attention to such topics as sexual assault, mental health and cultural appropriation. Citing court decisions and real-life examples, Mr. Johnson is keenly aware of the value of freedom of the press. Ed Donnelly, a longtime journalism teacher and friend who nominated Mr. Johnson for the St. Louis Post-Dispatch's Teacher of the Month award, says he courageously champions his students' First Amendment rights, even when his teaching status may be jeopardized.
Mr. Johnson's passion for teaching hails from his father who was also a teacher. He remembers that his father's notepads and pencils were inscribed with the words, 'Make a difference.' "My dad was about making the world a better place. Being a teacher, you're in a special place to make it happen, and I get to give them the tools to do that," he says. "Teachers are very intentional about what life lessons they're trying to give to their students. We are trying very hard to figure out what skills graduates need and how we can help them achieve those skills. We want to help students find their passion."
Mr. Johnson, has received gifts from Elco Chevrolet and Purina Farms for his winning nomination, is a trusted teacher and mentor. He believes in his students' sincere desire to change the world for the better, and he defends their right to do it. After all, he says, "If you're not willing to give something up for a cause, what statement are you really making?"
He encourages students to make bold statements even though they may be dismissed due to their youth. "Kids are smarter today than I ever was," Mr. Johnson says. "They know so much more. It feels wrong to have people just automatically assume that they don't know what they're talking about, especially when they're the ones who will inherit this world."
There is always more to the story. Mr. Johnson does everything in his power to make sure it is heard.

Nominate your favorite teacher at: STLtoday.com/contests
---
This content was produced by Brand Ave. Studios. The news and editorial departments of the St. Louis Post-Dispatch had no role in its creation or display. For more information about Brand Ave. Studios, contact tgriffin@stltoday.com.
Be the first to know
Get local news delivered to your inbox!