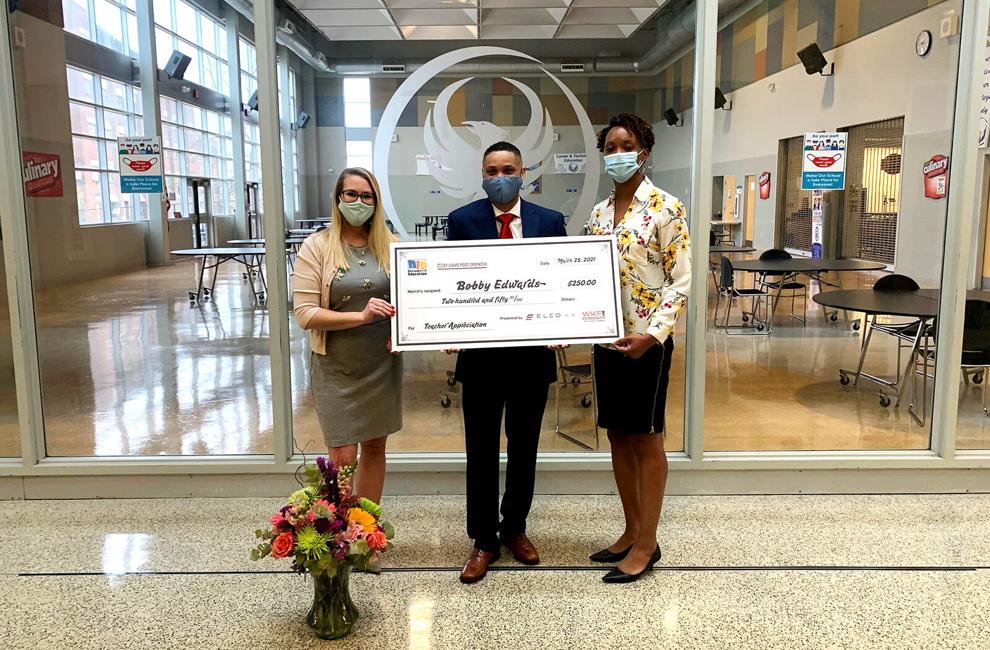 Bobby Edwards is no stranger to hardship. After his mother passed away when he was just 11-years-old, he and his siblings grew up in the St. Louis foster care system. He was a member of the desegregation program, catching a bus at 5 a.m. to Rockwood School District. He struggled in school as a teenager, and his teachers just saw him as someone who was coming to school late and fatigued without understanding why.
It wasn't until he found foster parents Amy and Tim Dodson at 18-years-old that he understood what it meant to have other people believe in you. His foster parents and teachers worked together to help him graduate and later become the first African-American student to speak at his baccalaureate ceremony.
After graduating with his master's degree, Mr. Edwards spent eight years teaching at St. Louis Community College - Forest Park. While teaching multimedia studies at the college level, he saw a gap in students' preparation and a need to assist them at an earlier age to help get them college-ready. Because of this, he made the transition to teaching high school students at Clyde C. Miller Academy High School, which is a part of the St. Louis Public School system. It is the same system that Mr. Edwards himself was bussed to Rockwood to avoid. The desegregation program he was a part of now no longer exists, and teaching the students there is meaningful for him.
Knowing what it means to be believed in is a cornerstone of Mr. Edwards' teaching methods. "It's not about how you start, it is how you finish," he always says. And it's also important for him to share his own back story with his students. "I think it's important for educators to be transparent… to share their experience and help students understand that we are humans too," said Mr. Edwards.
This transparency is part of what led students to nominate him. "While I don't know all his childhood details, I do know he was like many of us students hoping and dreaming for a better life. He always tells us he is not perfect and did not always make the right decisions, but he always tells us to remember to keep trying and never give up," said the student who nominated him.
That compassion is important for Mr. Edwards. "They don't care until they know you care," he said.
Checking in with his students and letting them know he cares is especially important during COVID-19. Mr. Edwards and his students have all had to adjust to their lessons and daily life being virtual, something that he says was a struggle at first. It inspired him to get more creative with his methods. He begins every class with a "What's in the news?" segment, where students get to discuss what is going on in the world and express how they feel about it. He thinks people tend to forget the pandemic can be just as stressful for kids as it is for adults.
"His spirit, laughter and kindness lit up the room every day. Many of my peers and I look forward to school knowing we have a teacher that truly cares about us individually and collectively," said the student who nominated him.
Despite the kindness and inspiration Mr. Edwards brings to the classroom every day, he was surprised and humbled to be honored as the St.  Louis Post-Dispatch Teacher of the Month. "I didn't see it coming," he said. When he looks back on his best accomplishments, he says this will be one to add. All of his accomplishments he attributes to his faith, a consistent inspiration in his life.
Mr. Edwards received a $250 gift card from Elco Chevrolet and a bouquet from Walter Knoll Florist in honor of his nomination.

---
This content was produced by Brand Ave. Studios. The news and editorial departments of the St. Louis Post-Dispatch had no role in its creation or display. Brand Ave. Studios connects advertisers with a targeted audience through compelling content programs, from concept to production and distribution. For more information contact sales@brandavestudios.com.