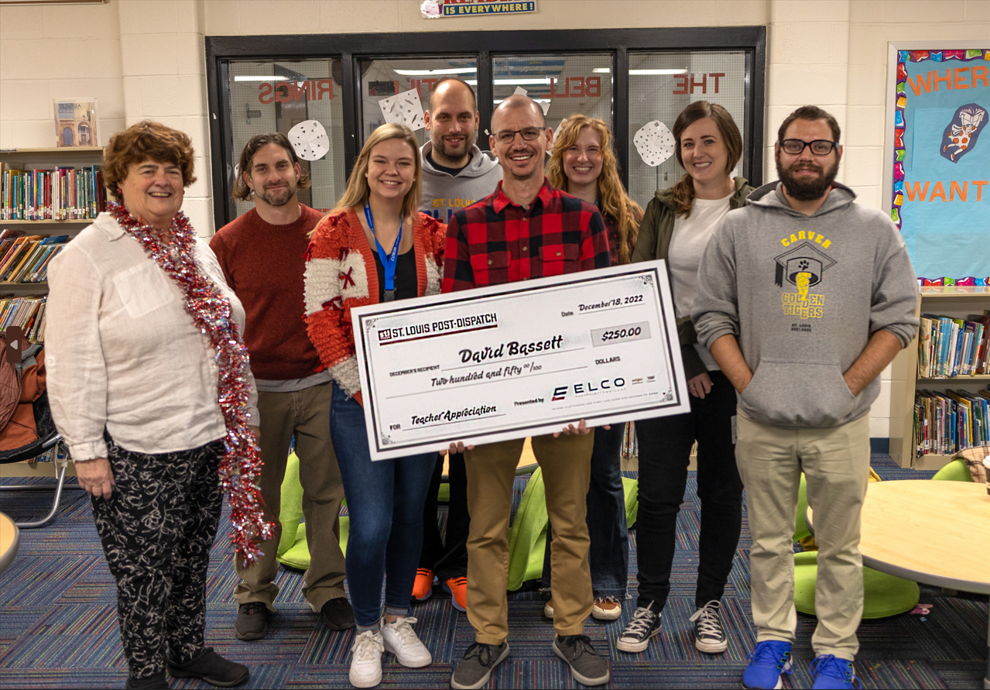 Every month, the community nominates their favorite teachers and educators from the Metro East region to be the St. Louis Post-Dispatch Teacher of the Month. This month's winner is David Bassett, a former kindergarten teacher and Academic Instructional Coach (AIC) at Gorge Washington Carver Elementary in the St. Louis Public School system. His nomination came from a family member, who said:
Dave has devoted his time and talents to meeting the needs of the students and teachers in the St. Louis Public School system. He has led the reading initiative helping children learn and reach the levels of reading abilities for their grade! Now he is sharing his creativity and knowledge with the teaching staff by developing and providing professional development programs to help advance and retain great educators for the SLPS students. What a great way to make a difference for the future!
Mr. Bassett received a $250 gift card courtesy of Elco-Chevrolet Cadillac for being named the December Teacher of the Month. Learn more about Mr. Bassett below.
Describe your teaching/educational experience over the years.
I've been a kindergarten teacher, a reading specialist and I'm currently an Academic Instructional Coach (AIC) at George Washington Carver Elementary (Carver), where I've been for the last four years.
How long have you been in education and where did you get your start?
This is my ninth year in education. Previously, I worked at Mercy Hospital in the behavioral health department and at Enterprise Holdings. My teaching career began in the kindergarten classroom where I learned just how wonderful and difficult it was to work in early childhood. It is not babysitting, as some would say. That was by far the hardest teaching job I've had to this day.
What is your favorite part of working in education?
I like to mow the grass, do laundry and fix things around the house. In other words, I love immediate impact and obvious results. My favorite part of education is that my work and the work of my teachers can have a small, daily impact that leads to longitudinal growth. It's the best of both worlds. My teachers' daily efforts lead to lifetime, student results.
How do your techniques differ when working with teachers versus students?
They're more targeted as we'll typically focus on one subject's lesson to internalize and deliver or evaluate a past lesson's effectiveness. I've been lucky to support a group of teachers at Carver that are eager to grow and try their best to meet the demands of their students. My job is easier than theirs.
This is my third career and there's no doubt in my mind that a classroom teacher has the most demanding and stressful job. In elementary education, teachers are asked to prepare for four subjects every day, deliver those lessons, collect the lesson data, and respond in the moment if it didn't hit the mark for their students. They're also responsible for building relationships with each scholar and their families, meeting their social-emotional needs, documenting everything and creating a safe and warm environment for all.
I'm honored to work to support their daily efforts and they obviously deserve more respect and more compensation. I just want to use this platform to highlight how hard-working and amazing the staff at Carver is and all the partner schools in SLPS.
Do you have any special projects or successes you can share?
Carver is determined to increase our knowledge and application of science. Science education should be thought-provoking and engaging. It also builds background knowledge that can support all other subjects. Our special project at Carver this year is implementing a new system of project-based learning that puts the students in the role of scientist and asks them to explore a phenomenon with their classmates. We're off to a great start and I hope this new focus will allow more scholars to see themselves in these fields as adults or at least have a better understanding and appreciation for the world around them.
---

Content produced by the St. Louis Post-Dispatch Marketing Department. Responses may have been edited for length or clarity. The news and editorial departments of the St. Louis Post-Dispatch had no role in its creation or display. For more information, contact marketing@post-dispatch.com.