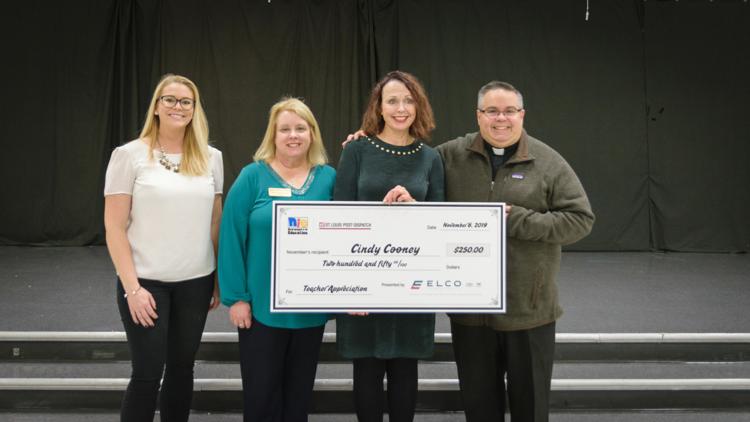 Cindy Cooney sees art in everything. As the art teacher at Christ, Prince of Peace Catholic School (CPOP) in Manchester for the last 25 years, she wants her students to appreciate art in their everyday lives as well as in every subject they study. A sixth-grader recently told her that their social studies class was learning about prehistory and wondered why early humans would have created cave art. Mrs. Cooney answered, "Because it tells the story of their civilization." 
Mrs. Cooney teaches art history to all of her students because while most of them won't grow up to be professional artists, she wants them to be able to visit a museum and identify a work's artistic style or when it was made. That knowledge could help provide context if they travel abroad someday, or it might just come in handy during a trivia night, she says. 
As an art major in college, Mrs. Cooney pictured herself working at an art museum, but after starting her first teaching job she realized teaching was what she was meant to do. She teaches art to preschoolers through eighth-graders and holds the distinction of being CPOP's first and only art teacher. 
Mrs. Cooney has found that the younger kids find it refreshing when she tells them there's no right and wrong in art. "To them, everything's wonderful. Everything's a masterpiece," she says. "In middle school — sixth, seventh and eighth grades — I still tell them that, but they don't believe it as much." 
Mrs. Cooney's classroom is a place of self-discovery, where a student is urged to find a type of art they enjoy creating. "I encourage them to experience new processes like working with clay. I let them choose things that are more interesting to them, like graffiti — it's fun, and it's an art form," she says. "I try to appeal to the age of the students and encourage them to experiment. If they try, they're usually successful. It's a different outlet — it's not just paper and pencil. Those who struggle in academics might find that the art room is a place where they can succeed." 
Even after 25 years, Mrs. Cooney continues to find renewal and inspiration in the application of art outside of the classroom. "There are so many projects to make and so little time to make them!" she says. Mrs. Cooney helps students create backdrops for plays, she curates the school's art fair and she leads art camp in the summer where kids work with clay, printmaking, papier-mâché and other media. She also formed an after-school art clubs where students can dive into more complex projects, and she started CPOP's sewing club which meets every Monday and makes pillowcases for kids in need, burp cloths for babies and headbands and scrunchies for fun. 
Mrs. Cooney's creative influence is visible throughout Christ, Prince of Peace. "From the Chihuly-inspired piece in the entryway to the myriad of origami swans dancing in the hallway, artistic treasures created by her students await around every corner," says parent Kathryn Moraczewski. "Mrs. Cooney makes art approachable for all." 
Mrs. Cooney was surprised when she found out that she was being honored as the St. Louis Post-Dispatch's Teacher of the Month. "I work with a great group of people, and it could have been any of us," she says. "I love what I do. It's a passion for teaching art — it's hardly work. I love to go to work every day, and to be recognized for something I love so much is very neat." Elco Chevrolet and Purina Farms have awarded her over $250 in gifts as part of this honor.
Whether it's through sponsoring clubs, teaching art history or giving support, Mrs. Cooney hopes to foster a love of art in all of her students. "I want them to know that art can be anything, and that anything can be art," she says. "I hope they are inspired to appreciate art, from graffiti to the Renaissance masters." 

---
This content was produced by Brand Ave. Studios. The news and editorial departments of the St. Louis Post-Dispatch had no role in its creation or display. For more information about Brand Ave. Studios, contact tgriffin@stltoday.com.