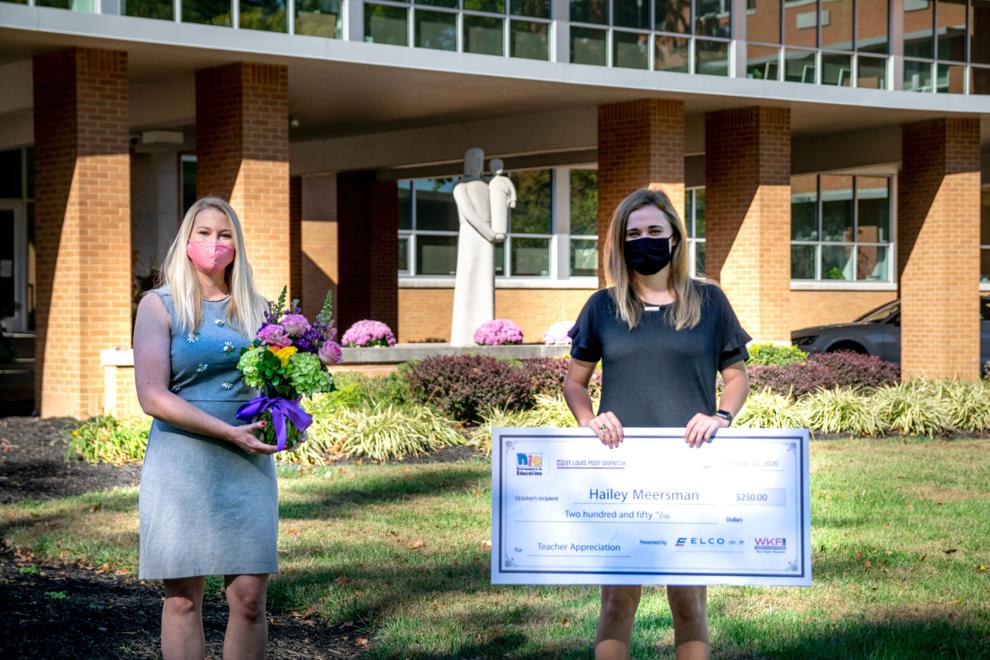 Solving for 'x' in math class is often met with dread and trepidation from some high school students. Hailey Meersman was not one of them.
"I remember saying to my mom in high school, 'I wish I could have a job where I could just 'solve for x' all day!'" said Meersman. As an advanced algebra II and calculus teacher as St. Joseph's Academy in St. Louis, she is doing just that – and then some.
Meersman attended St. Joseph's herself, an all-girls private, preparatory high school, and was eager to return upon graduation.
She considers it her "favorite place in the world."
Now her former teachers are her colleagues.
Not your average math teacher
Math equations are just a small piece of what brings Meersman joy at her teaching job at St. Joseph's. She claims it's her students that are the greatest reward. "I thought getting to do math all day would be the best part, but getting to know my students has been even better," said Meersman.
Students at St. Joseph's share the same sentiment about Meersman as she did about her former math teachers, who Meersman credits with much of her success and love of the subject.
Her nominator, a former student, deemed Meersman "not just your normal math teacher."
"She goes above and beyond to make her class an enjoyable learning place," the student said. "Miss Meersman truly cares about all her students and treats us all as close friends. I can always count on [her] to cheer me up as she always has a smile from ear to ear."
Her student was right – Meersman isn't your average math teacher. When she isn't leading her students in the classroom, she volunteers her time as the moderator for the Respect Life Club and Spirit Club at St. Joseph's.
Miss Meersman was presented with a bouquet from Walter Knoll Florist in honor of her nomination.
The Spirit Club, in particular, has been especially revitalizing for Meersman and her students during the pandemic. "Most recently, when all of our students were able to return to campus for in-person learning, the Spirit Club Officers stood at the entrance all morning and cheered as each student arrived on campus," she said.
Boosting student's confidence
As a student who actually liked math in school, Meersman is striving to create an environment where her students not only to tolerate math, but flourish within the subject. She doesn't believe in the common statement, "I'm just not good at math."
Her approach to teaching an oftentimes avoided subject is bolstering confidence in every student; not only confidence in math, but in themselves. "I try to make each lesson interesting, so that that each student, no matter their passion level for mathematics, feels engaged and excited to come to class each day," she said. "And I try to ensure they know I am happy to support them in whatever ways they need.
"I want them to have developed a healthy balance so that they can do well in school, while staying involved in extracurriculars and prioritizing their mental health. I have loved watching the increasing joy the students have as they become more and more authentic and learn to be themselves throughout their time at St. Joe."
A nod to her alma mater
Miss Meersman is confident that St. Joseph's Academy shaped her into the woman she is today.
"I have never seen another school with a community like SJA, where the students and teachers are on the same team and are constantly building each other up and making each other better," she said. "I cannot tell you how many times in a day I hear a student say, 'thank you.'"
For Meersman, going to work every day is a gift.
"I feel very lucky to be a part of a community where the students are so supportive of each other and proud of their school," she said. "I genuinely look forward to going to work every day, which I think is rare."
Ms. Meerman received a $250 gift card from Elco Chevrolet and a bouquet from Walter Knoll Florist in honor of her nomination.

---
This content was produced by Brand Ave. Studios. The news and editorial departments of the St. Louis Post-Dispatch had no role in its creation or display. For more information about Brand Ave. Studios, contact tgriffin@brandavestudios.com.