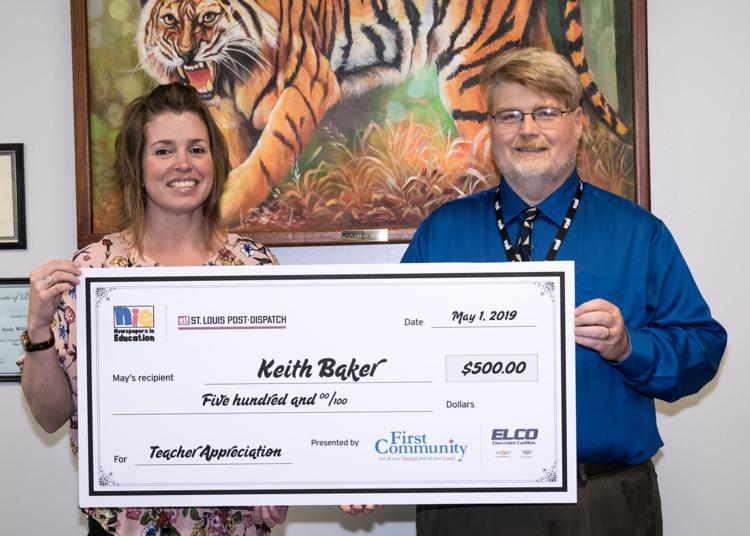 "I don't think I've ever discovered a student who was presented with actual history and thought it was boring," says Keith Baker, who has taught the subject at Edwardsville High School for 20 years. "It's about functional education. History has to come alive. The connections have to be introduced, and then students can start asking questions. They'll learn that history is not only tremendously complicated, but it is also tremendously interesting."
As if on cue, a student within earshot responds: "What you're saying is true." 
This offhand remark is indicative of the deep connection Mr. Baker forges with his students. "The relationship precedes the instruction," he says. "Every day, I try to reduce the barriers of formality that get in the way of education. Students respond better to pedagogical authority than to formal authority. They can smell incompetence from a mile away, so I'm interested in communicating to them that I have mastery over my discipline. If students can understand that I love my topic, then they will respond to my love of history."
They do. And it sticks with them. Though Ryan Burns is now a senior at Southern Illinois University Edwardsville, Mr. Baker's class still comes up when he runs into former classmates on campus. "We always ask, 'Did you have Baker in class?' And there is always a great happiness that is brought up into that conversation," Burns says. "He puts events in context, not a vacuum, why they happened and how historic events are tied to everything going on at the time — not just history, but the arts, literature, cultures, people." 
This comprehensive approach reflects Mr. Baker's own background, one that predates his career at Edwardsville High School. He began college as a music major in 1983, joined the Navy the year after and went on to teach chemistry at Knolls Atomic Power Laboratory in New York. 
His classes tie these threads together. A lesson about inventors leads to discussing chemistry. He strums Civil War–era songs on his guitar. He might come to class wearing a period costume. "There is tremendous value in not taking yourself too seriously," he says. "That's what I mean by reducing barriers. When I dress up as a French settler in 1690, they realize I'm willing to go a little further, that I'm interested in communicating what the lesson holds each day. They see the commitment. And it's fun. There's no reason this can't be fun!"
For Mr. Baker, fun is more than a means to an end. It is the end. "If I'm not enjoying it, it's likely my students aren't enjoying it either. My goal every day is to enjoy teaching. My alarm goes off at 4:50 a.m., and I think, 'Holy cow! I get to go teach history today!'"
Mr. Baker is a father of three, a visual judge for Drum Corps International, an adjudicator for Winter Guard International and the Midwest Color Guard Circuit, and he writes drill for marching bands across the country. 
Even with all of his involvement, he was surprised to be named the St. Louis Post-Dispatch's Teacher of the Month, an accolade that comes with nearly $1,000 in gifts from sponsors including First Community Credit Union, Elco Chevrolet, Kenrick's Meats & Catering, Purina Farms, Penn Station and the St. Louis Surge. "It is flattering beyond measure that people remember the work I did and think enough of me to submit my name," he says.
Even after teaching high school students for two decades, Mr. Baker says he has never been more optimistic about the future. "When we treat these students with a greater degree of responsibility, they rise to the occasion," he says. "Our culture is changing faster than at any other point in our history. I truly believe that this generation is going to create the next progressive era. Once students see the inequities in our society, they are passionate about fixing them," Mr. Baker says. "This generation gives me hope. It really does."

---
This content was produced by Brand Ave. Studios. The news and editorial departments of the St. Louis Post-Dispatch had no role in its creation or display. For more information about Brand Ave. Studios, contact tgriffin@stltoday.com.
Be the first to know
Get local news delivered to your inbox!