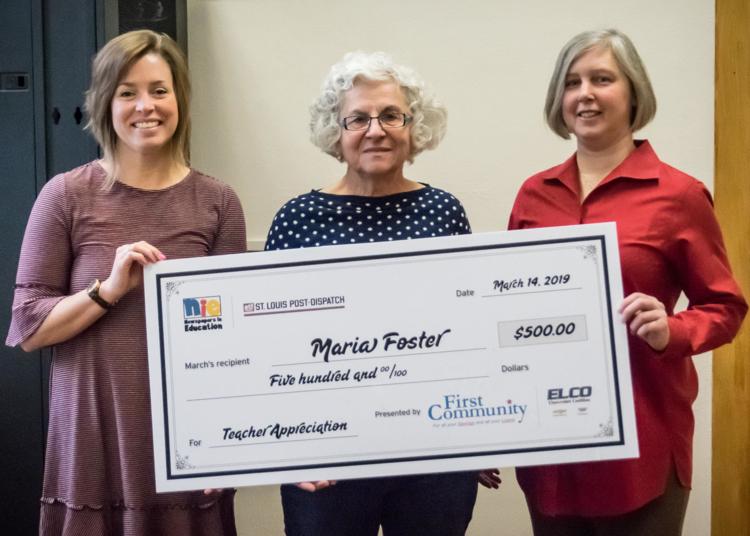 Like many moms, Mariacarla Foster went back to work after her youngest child started kindergarten. A teacher by trade, she wanted to work at a school in her neighborhood. Her kids attended St. Aloysius Gonzaga on the Hill, so she applied to teach kindergarten at nearby St. Ambrose School. "They took me, and it worked out!" she says. 
That's quite an understatement. Her youngest child turns 36 later this year, and next school year will mark Mrs. Foster's 30th anniversary at St. Ambrose.
Mrs. Foster's career spans even longer. She worked with pre-K children in California and then spent six years at schools in University City. The highest grade she's ever taught has been second, she jokes, because, "As a very short person, I want to be the tallest one in the room." But it's more than a few extra inches that draws her to the younger set: She loves the smell of paint and crayons, and she appreciates that Elmer's glue easily washes out of clothes. 
Most of all, she feels like it's the energy. Everything is new to kindergartners, and they brim with excitement. She also enjoys the flexibility that comes with teaching young kids. "It's still a play-learning experience, and it's been really fun, I have to say. As long as I cover the core curriculum guides, our principal lets me figure out what I want to do and how I want to do it." 
That's why the only textbooks Mrs. Foster uses are a handwriting book and a math book – though she often disregards the math one too, preferring to use real money and Cheez-It crackers in her lessons instead. "It's more tactile, holding the coins. The kids can add and subtract their Cheez-It crackers, and I don't have to run off copies." 
She believes in the importance of tactile exercises, sometimes using tools that have been around forever, like puzzles. "When you put together a puzzle on an iPad, you just slide the pieces over and they snap into place. But with a real puzzle, it's fine motor skills, it's hand-eye coordination and matching up the colors – there's a lot of cognitive learning that happens that people don't realize. Between the typing on a laptop and swiping on an iPad, printing with a pencil can be hard for kids because their hands aren't strong."
Technology has made incredible leaps since Mrs. Foster started teaching at St. Ambrose in 1989 and she has evolved along with it. "You really have to ham it up," she says. "I think a lot of it is just presentation and getting them to focus at that age. There's so much they attend to visually, with social media, iPhones and laptops, they expect to be entertained all the time. You're competing with YouTube videos." 
Though Mrs. Foster often incorporates technology into her lesson plans – she frequently takes her class up to St. Ambrose's brand-new science lab, even if it's just for her students to feel grown-up and get a change of scenery – she sees value in teaching the classics as well. 
"I think children don't do enough with fairy tales. They have so much to do with childhood and innocence, and I want them to have literature." Even in seemingly simple stories like "Goldilocks and the Three Bears" and "Jack and the Beanstalk," she discusses rhyming, illustrations, sequencing, story problems and story solutions. "We dissect the literature and see what makes it tick," she says.
 Mrs. Foster was honored and grateful to receive the awards from our sponsors First Community Credit Union, ELCO Chevrolet, Penn Station, Kenrick's Meats & Catering and Purina Farms – totaling nearly $1,000.
As for the neighborhood that drew her in to St. Ambrose School, the Hill continues to work its magic on a new set of parents – some of whom Mrs. Foster taught long ago. "In January we had an open house, and I saw a previous student coming to look at the school with their kids. That is what makes this community: When you don't actually live in the neighborhood but you bring your kid back here? That says something."

Nominate your favorite teacher at: STLtoday.com/contests
---
This content was produced by Brand Ave. Studios. The news and editorial departments of the St. Louis Post-Dispatch had no role in its creation or display. For more information about Brand Ave. Studios, contact tgriffin@stltoday.com.
Be the first to know
Get local news delivered to your inbox!