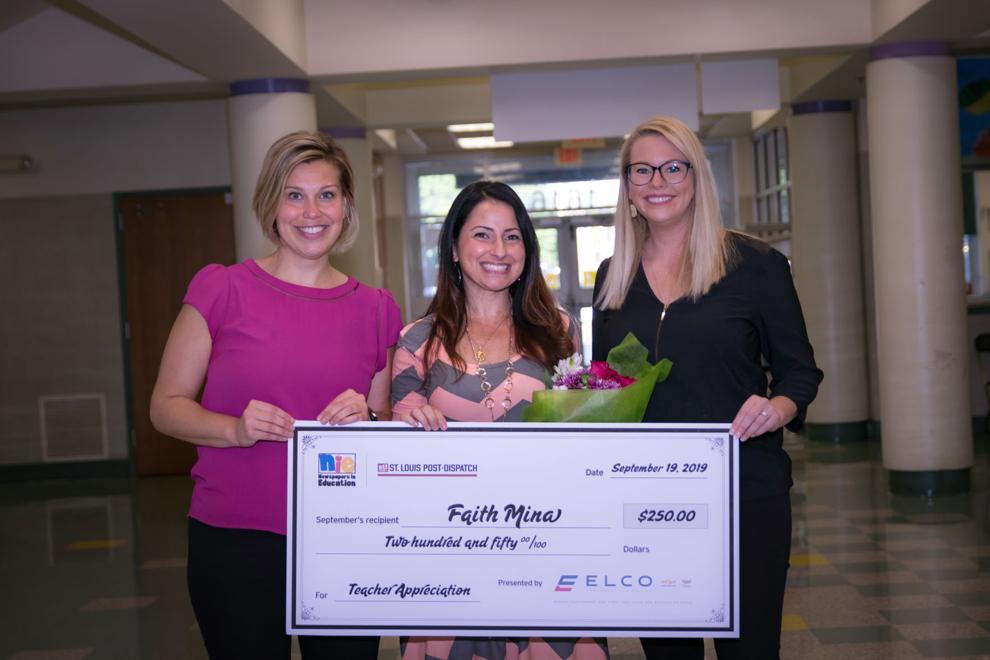 Faith Mina wanted to be a teacher since she was a child, however, school was not easy for her. Nor was her path to becoming a special education teacher with a focus on autism at Hodgen Tech Academy. She studied art education immediately following high school and later switched to dental hygiene school, but becoming a teacher was never far from her mind. After she enrolled as an education student at Webster University, things began to fall into place.
"At Webster, one of my professors said that I should get tested for ADD. I was offended at first, but she kept encouraging it, saying that if I needed extended time on a test I could get extra time," Ms. Mina says. "These accommodations didn't exist when I was a kid, and I would always get so frustrated. I would try to make myself learn, and it just wasn't working." After she was diagnosed with attention deficit disorder at age 32, she was finally able to put effective learning strategies to use.
Another puzzle piece snapped into place for Ms. Mina when she attended a required special education awareness class. "I went to [a classroom with students with autism], and it was almost like an audible [angels singing] 'ahhhhh!'" Though she was only required to observe for an hour, Ms. Mina spent the entire day in the classroom.
She's found that teaching special education taps into her creative side as well as her science background. "I get to learn how people learn, and that's fascinating to me. I have high standards and expectations for my students, and at least 90 percent of the time, they rise to the occasion."
Ms. Mina teaches the same four kids — third graders to sixth graders — day in and day out. In addition to the differing age ranges she must also account for her students' varying other diagnoses, such as Down syndrome or fragile X syndrome, which means tailoring daily lesson plans for each student.
Still, Ms. Mina's expectation for her kids remains the same. "One of my favorite things about teaching is that I take it as a challenge — to prove to [the students] themselves, to their families, to other teachers, to the rest of the building and the other kids — that my kids can do it." She plots her students' progress on a data sheet so they can see their advancements. "It's irreplaceable. Kids know when you're giving them false praise or empty words, and they also know when they're doing well," she says.
But progress isn't always linear. "I keep reminding myself that in order to be an effective teacher, you also have to be a persistent learner. Sometimes it's really good progress, other times it's slow, minimal progress, and that's OK. Some days are challenging emotionally and physically, and other days it just clicks. I can live off of that feeling for a long time," she says.
"Ms. Mina spends countless hours researching the best ways to meet her learners' needs," says Julia Kaiser, Hodgen Tech Academy's principal. "Ms. Mina spends personal time and money without hesitation to ensure her scholars have a positive learning experience while gaining independence."
Ms. Mina says she was surprised when Ms. Kaiser announced over the intercom that she'd been named St. Louis Post-Dispatch's Teacher of the Month: "It makes me feel so appreciated, like God knew I needed some good news right now." As part of this honor, she'll also receive prizes from Elco Chevrolet and Purina Farms.
Ms. Mina is grateful for the support of Ms. Kaiser and the team at Hodgen. "Teaching is hard, and at the end of the day we remind each other that if we don't have good teams and a good administration, we can feel it. We're not doing it for the paycheck. We're doing it for the kids and their families."
Nominate your favorite teacher at: STLtoday.com/contests

This content was produced by Brand Ave. Studios. The news and editorial departments of the St. Louis Post-Dispatch had no role in its creation or display. For more information about Brand Ave. Studios, contact tgriffin@stltoday.com.