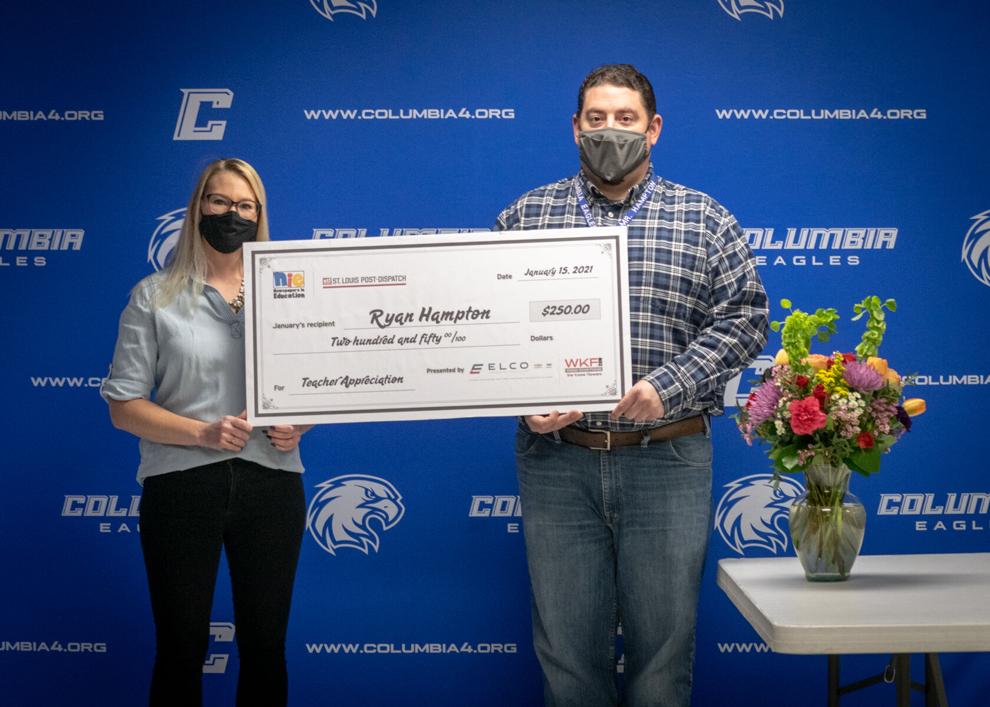 Hands-on learning flows naturally in Ryan Hampton's industrial technologies classrooms at Columbia High School. The phrase "I'll never use this when I grow up," is not applicable within his world of carpentry, construction, welding, machining and drafting. His students have the privilege of learning real-world skills through his lessons – skills that stretch and empower both the mind and the hands.
He accomplishes this stratagem through kinesthetic learning – a means by which his students are actively engaged in their learning at all times. "I demonstrate, followed up by assisting the students as they do the work. They are doing the work and I'm supervising," he said.
Handiwork was woven into Hampton from the time he was young, when he was admiring his dad for his job as an iron worker. "I wanted to work with my hands like him but [my dad] insisted I go to college," he joked. Upon graduation from Illinois State University with a Bachelor of Science in Technology Education, teaching "shop" became a natural fit for Hampton. "I love teaching students skills for a career they may pursue," he said.
Beyond bookwork
Hampton noted that many of his students who really "click" with his shop classes are the ones who are less interested in textbook-style learning at school. Science, math and English classes are of little interest to them. "Some of my most-engaged kids don't really like school in general – and they love my classes," he said. "The best math teachers can explain how to apply the subject," he said. "That's something I have the privilege of doing."
Although his students argue that they'll never use those required subjects in the real world, Hampton delights in explaining that in the end, the mundane elements that his students are learning in science, math and English are actually very much intertwined with what they are building and creating in his classroom.
What starts in their minds translates to their hands. Thus, the groundwork of a project in his classroom starts with drawings and ideas and becomes real-life buildings and architectural structures. All the curriculum they are learning comes full circle.
Ultimately, Hampton believes that the application of subjects helps his students become better learners in other classes. "It's cool that when [my students] start building things, the next thing you know, they're learning other subjects more efficiently."
Seeing the fruits of their labor
Believing that everyone has an innate desire to create and build things – Hampton has a front-row seat in watching each student see the fruits of their labor.
Through on-site school projects and community-based needs, Hampton's students are happily pulled into this work. They have had the privilege of pouring concrete for their school softball field and building the bleachers and dugouts. Another project included building a bridge for a better commute from a far-away school parking lot. In their community, Hampton and his students assisted in building a pavilion for a local church and a well house for a local historical society.
In the end, while these students are learning to build things, they are also discovering how they can transfer these skills to help others in need. Hampton has set the tone by volunteering on individual and community projects in his own free time.
His former student stated that of Hampton's most-valued qualities as a teacher, the one that stuck with her was that he always taught them to remember it takes a village to move forward. "I try my best to show [my students] life skills, not just ones that they need for careers. I also hope I show them teamwork and humility." In Hampton's courses, his students learn that it takes a village to build one.
Hampton received a $250 gift card from Elco Chevrolet and a bouquet from Walter Knoll Florist in honor of his nomination.

---
This content was produced by Brand Ave. Studios. The news and editorial departments of the St. Louis Post-Dispatch had no role in its creation or display. Brand Ave. Studios connects advertisers with a targeted audience through compelling content programs, from concept to production and distribution. For more information contact 
sales@brandavestudios.com
.