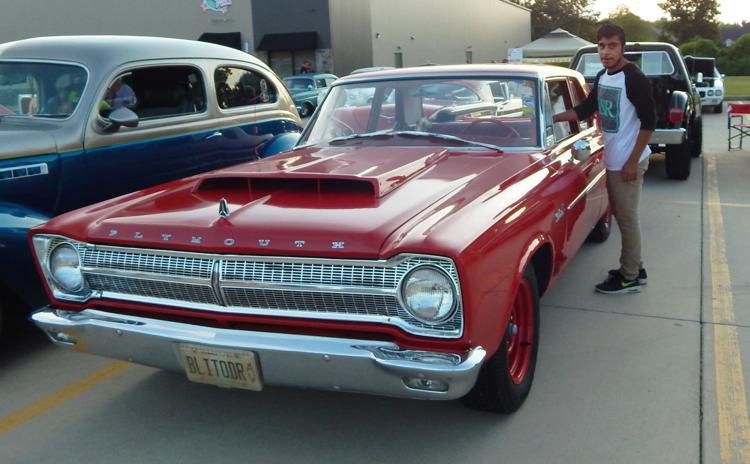 FIN MAN Flashback!
Well okay, it's not exactly a 'sleeper' because to anyone (except maybe your 93-year-old grandmother), that massive hood scoop gives away the fact that beneath it lies a monster of an engine – Mopar's hulky 426 cubic-inch, High Performance Commando 'wedge' V-8. This top-of-the-line brute has a 4-barrel carb, high lift cam, 10.3-1 compression ratio and an 'unsilenced' (pedal-to-the-metal and hear the growl!) air cleaner. This thirsty monster demands nothing but the best when it comes to fuel. Can you say premium, please?
It may not be as flashy as a '59 Caddy, but that's the beauty of this 'plain Jane' car. Plymouth built it for the hot-rodder in all of us, and as Plymouth ad men penned it, "If nothing but the hottest thing on wheels will fit your definition of performance, only Belvedere with the Optional 426 cubic inch, High Performance Commando V-8 will fit the bill."
Styling was reserved and tasteful for the Belvedere. Simplicity ruled and as this example, dressed up in 'Ruby' red, shows it just simply works. The Belvedere I was the lowest trim level offered for the model year, followed up by the Belvedere II and the Satellite Belvedere – a gussied-up model offered only in two-door and convertible formats. F.O.B. prices ranged from $2,198 (Belvedere two-door six, to $2,827 for a Satellite drop top).
There are two great clubs right here in the St. Louis area for Mopar fans, The St. Louis Area Mopars club (SLAM) and the Gateway Classic Mopar Club. For info on these clubs, Google "St. Louis area Chrysler clubs."
FIN MAN FACTIOD: Plymouth automobiles for 1965 were built at five factory locations – Detroit, MI; Hamtramck, MI; Los Angeles, CA; Newark, DE and St. Louis, MO.
UPCOMING EVENTS UPDATE: Although there are a large number of events listed on the calendar for 2020, we are taking a cautious approach to Take a Kid to a Car Show presentations for a number of reasons, primary of which is our concern for the health and safety of our volunteers. Stay tuned right here for more details as the season progresses. Email me at the_fin_man@msn.com if you would like to receive the FIN MAN Front Page newsletter in your email in-box.
---
This content was produced by Brand Ave. Studios. The news and editorial departments of the St. Louis Post-Dispatch had no role in its creation or display. For more information about Brand Ave. Studios, contact tgriffin@brandavestudios.com.
Auto reviews, driving trends and up-to-date news about life on the road.