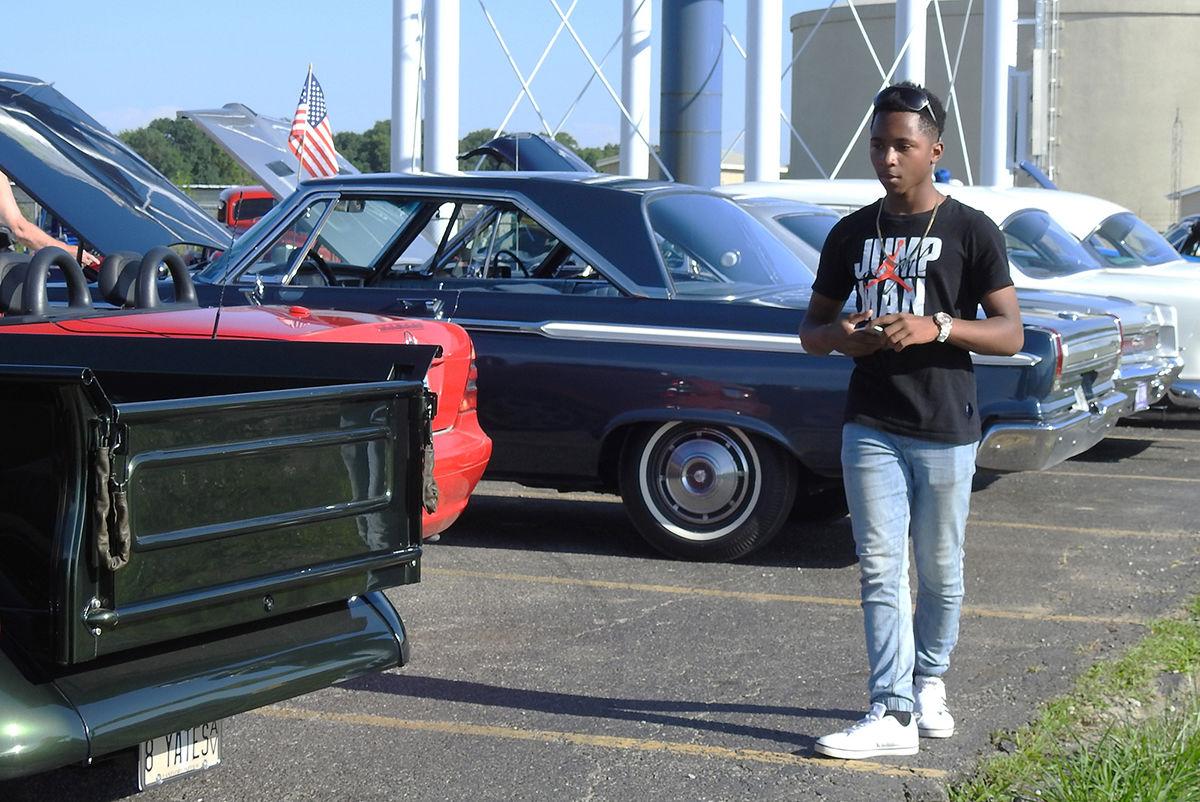 The MLB's 2020 season has run amuck. But perhaps more importantly, so has the St. Louis area's 2020 car show season!
Twenty-nineteen... ahhh, those were the good ol' days – the days when we didn't have to sing Happy Birthday twice every time we washed our hands and the days before we had to wear a mask just to go shopping at the local Walmart. One year later and things sure aren't as they used to be.
The photo on this page was taken last year. Dillan was my new TKCS-STL volunteer as Luis, the youngest of our three foster grandsons, was graduating from Collinsville High School and would soon be shipping off to MCRD – the Marine Corps Recruit Depot in San Diego. Luis had served The FIN MAN as a valuable asset to my Take a Kid to a Car Show volunteer over the past nine years and has attended over 100 car shows and cruises during his tenure.
No longer having a foster grandson at home, I knew it would be tough to find a single kid to fill Lou's shoes. So, I began a recruiting program in the fall of 2019, and after Dillan signed up (with his mother's permission) in the spring of 2019, this year I had two more volunteers sign up – Ignacio and Edgar.
The four of us started the New Year with a bang at the 2020 New Car Show at the St. Louis ConventionCenter. We saw some of my old friends from the Horseless Carriage Club of Missouri's display of vintage cars. The next month Nacho, Eddy and I took a day trip to Lebanon, Missouri for the It's A Gas! petroliana show and swap meet. That was followed one week later by the Gateway Gas and Advertising show in Springfield, Illinois.
And then came COVID-19, and all our future plans for shows and cruises were dashed, at least for the time being.
REMEMBERING YESTERYEAR'S EVENTS: The featured car, shown here behind Dillan, is a 1965 Dodge Coronet 440 2-door hardtop, owned by Arlyn and Joann Lange of Marine, Illinois. It is decked out in Dark Blue Poly (metallic). The interior is done up in a metallic medium blue which compliments the midnight blue exterior.
The 1965 Dodge Coronet series came in three trim levels, the basic Coronet, the Coronet 440 and the Coronet 500. Seven engine choices were offered starting with a basic 225 cubic-inch Slant-6 which put out 145 hp. The six engines which followed were all V-8 mills of 273, 318, 361, 383 and two 426 c.u. engines, one with a 2-barrel, and the other with a 4-barrel carb – the latter put out a whopping 425 horses!
Now, here's the best part of this story. Arlyn purchased the car brand new when he was 19 years old and has owned it ever since! He and wife Joann dated in the car, and it remained in his family as a daily driver for the first 20 years. One day Arlyn pulled it out, dusted it off and did a total restoration, including having the engine rebuilt.
The Langes didn't restore the car for it to become a 'trailer queen,' rather they drive it to car shows and cruises and occasionally to the grocery store, church or just out for a Sunday drive.
---
This content was produced by Brand Ave. Studios. The news and editorial departments of the St. Louis Post-Dispatch had no role in its creation or display. For more information about Brand Ave. Studios, contact tgriffin@stltoday.com.
Auto reviews, driving trends and up-to-date news about life on the road.