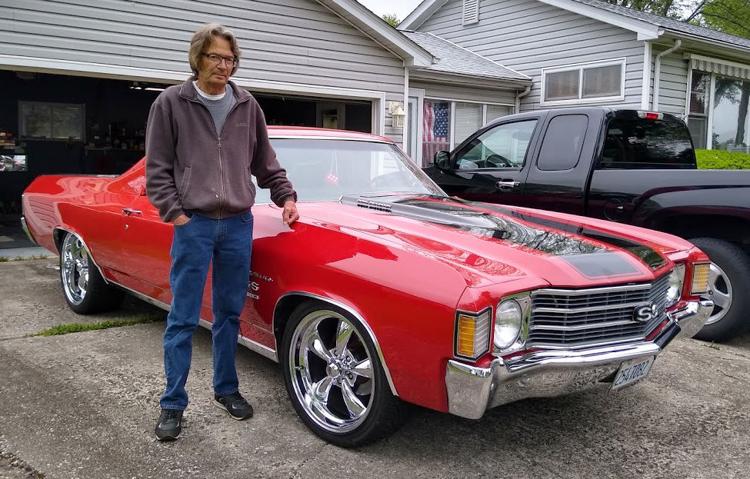 The El Camino you see here is 'cherry' in more ways than one. First, it's cherry red. OK, it's actually a different fruit, 'cranberry red,' according to Chevy's 1972 color chart. Secondly, according to the urban dictionary, cherry means "very impressive." For instance, "That new white convertible is totally cherry," or "Did you hear that song? It's so cherry!"
The totally cherry vehicle you see here is a 1972 Chevy El Camino SS owned by Cliff Yarbrough of Collinsville, Illinois. A retired Army Vietnam vet, Cliff, purchased the car just two years ago, just as you see it here, from Eric's Muscle Cars in Clarksburg, Maryland.
Cliff's El Camino has the Super Sport package, a top-level trim option available with any V-8 engine, of which there were four available in displacements of 307, 350, 396 and 454. Net horsepower ratings were 130, 175, 240 and 270 respectively.
Cliff's car had undergone a bolt off, total restoration with new, original paint and a restored interior. Under the hood sits a 383 'stroker' engine bolted to a 400 Turbo Hydramatic transmission.
In addition to the SS package, options on Cliff's car include the hood striping package, Strato-bucket seats with half center console and the super cool 'cowl induction hood scoop' which opens up at higher speeds allowing cooler air into the engine compartment for enhanced performance.
The sound this car puts out is wonderful! It sounds as good as it looks and has dual exhaust all the way from the engine to the back bumper, a pair of Flowmasters and yes, cut-outs if he really wants to be heard. (I wish my Camaro sounded this good!)
The undercarriage looks as nice as the body and interior, and it sits on a set of Beyern, chrome wheels – 18 inch in the front and 20s in the back. The result... the car has a great-looking stance, enhanced by lowering of all four corners by two inches.
Although Cliff doesn't take his El Camino to the strip, he does attend a handful of shows and cruises, mostly on the east side of the river, every year.
Cliff also owns a very 'cherry' 1956 Bel Air two-door hardtop, but this one isn't red. Instead it's decked out in black and silver. He has been enjoying that one for twenty or so years. (That car will be covered in a follow up story, after I get a Ford, Mopar and 'orphaned' make to you.)
CLIFF NOTES: (See what I did there? Sorry, I just couldn't pass it up.) Cliff bought his first car, a 1948 Ford club coupe, when he was just 14-years old. It seems his mother had been collecting Eagle Stamps for many years. One day, temptation got the best of him and Cliff snatched his mom's Eagle Stamp collection, promptly cashed it in, and with the money he netted, purchased the Ford! Cliff, what in the h-e-double hockey sticks were you thinking?!? You had to know that was not going to turn out well!
If you would like to receive the FIN MAN FRONT PAGE newsletter, e-mail your request to me at the_fin_man@msn.com.
UPCOMING HAPPENINGS: Due to the fluid situation of the COVID-19 pandemic, and the uncertainty of the seriousness of the problem from day-to-day, week-to-week and month-to-month, the car show and cruise season is subject to change daily.
Optimism abounds among club and show leadership, however, for as of last count (05-25-2020), the Lakers Club calendar showed only two cancellations, two postponements, one uncertain and two still-scheduled events for the weekend of Friday, May 29 through Sunday, May 31.
In addition, there are three cancellations, one postponement and 19 still-scheduled events for the month of June.
Meanwhile, None of the 27 events on the calendar for July, the 26 for August, the 27 for September, the 14 for October and the 2 for November have been canceled or postponed as of this writing.
Again, let me point out that due to the COVID-19 situation, you must check with local show producers to verify scheduled dates for shows, cruises and other related events. Stay on top of the situation and keep the health and safety of those you love utmost in your decision to attend these or any other public event until we are all sure this thing is going away for certain.
Meanwhile, Keep on Cruisin' staying healthy and safe! And remember to keep at least 6 feet away from other cars!
Auto reviews, driving trends and up-to-date news about life on the road.