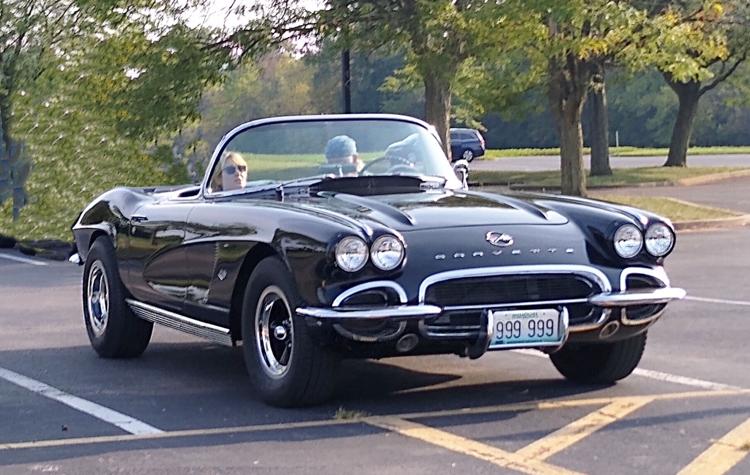 Whoa, Chevy fans! Don't get all riled up over that headline. F.O.R.D. has nothing to do with FORD cars. If you're a regular reader of the OCC, you already know F.O.R.D. is my acronym for Found On Road Driving.
This is a story about a man and his car – and an "it's a small world" moment.
Driving West on Collinsville Road last Friday (on a beautiful day for topless cruising), coming toward me I saw a great-looking, Tuxedo Black, 1962 Corvette. As the 'Vette' passed me, I checked my rear-view mirror and saw that the sporty little Chevy had turned into the Cahokia Mounds State Historic Site. My first thought was, "make an immediate U-turn and follow that car!" Unfortunately I was on assignment near the end of my work day and was unable to do such. I had to pass up the opportunity, rush to get my work done so that I could go back to the site, hoping that the car would still be there.
I returned about an hour later and sure enough, the little black Corvette was parked at the visitor's center – one of only three vehicles there, as it was 5:00 p.m. and closing time! I took a few quick shots with my phone and I was in the process of writing a note to put under the windshield wiper when I saw a middle aged man and woman walking casually in the direction of the Vette. Since it was closing time and there was only one other car in the visitors lot besides the Corvette, I had a hunch these two were heading to the subject car. My hunch was right, it was Tim Ohmeyer, and his friend, Lynette. I was glad I caught them instead of relying on my note to get in touch with the owner.
In the few minutes I spent there, I learned a lot about not only the car, but the owner as well. "Small world moment." Today, Tim still lives in the same house in Ferguson that he did when his parents moved here from Boston in 1958. Tim was just 2 years old at the time and, as it turns out, we went to the same high school, McCluer Senior High. And, his house is just a short bicycle ride from where I lived in Ferguson Hills! We weren't friends, however, as by the time Tim graduated, I already had two kids and was into my second marriage! But enough about the 'good ol' days,' I digress.
Two days later, I got ahold of Tim and told him I had a few more questions I wanted to ask him, and also wanted to know if I could drop by and talk to him in person. (I must confess, I had an ulterior motive in mind. I was hoping to get a ride in Tim's black beauty!)
When I got to Tim's house, the Vette was parked out front. He dug it out of the garage just for my visit. "You know Tim, I've only ridden in a C-1 Corvette once in my life and I was ten years old at the time." (Hint, hint!)
We talked about cars (Corvettes mostly) and Tim invited me in to see his house while he checked on his dog to make sure she was ok outside. He also took my up to his "man attic" second floor room where he had car models, posters and photographs literally covering the walls and ceiling!
After that we went down to sit on the front porch while I reviewed my notes to see if there was anything I hadn't covered. It was there that Tim asked me if I wanted to take a ride in his Corvette. "Sure," I said, jumping at the opportunity! After an under-hood check of the radiator fluid, oil level and master cylinder fluid, he fiddled with the 4-barrel carb and choke for a minute and then turned the key. The 327 cubic-inch Chevy V-8 came to life with a wonderful sound, reminiscent of '50s hot rods from the past. But it gets even better!
Tim drove down Elizabeth for a few blocks and turned into the parking lot at Paul's Market. He stopped, put the 4-speed stick in neutral, pulled up the old-time parking brake handle, looked at me and said, "Do you want to drive it?" WHAT? Are you kidding? Do Corvettes have fiberglass bodies?!? Silly question!
I traded seats with Tim and carefully eased out the clutch, knowing it would not be like anything I had driven in decades! I was right. It took about five minutes to acclimate myself to the handling, steering, acceleration and braking on this old school Chevy sports car.
The steering wheel was as big around as the Mack truck I've been driving lately but the rim was about half as thick. There was considerable center play in the wheel, making it a bit of a challenge to keep it in its own lane. The ride felt good though, solid and smooth. The acceleration was more than adequate, the '62 Vette being the most muscular of any C-1 before it. As I turned on to I-270 heading East, Tim asked me how far I wanted to go before we headed back. I replied, "If it were up to me, New York would be just fine!"
Instead we did a loop-d-loop at Lewis & Clark boulevard and headed back.
Tim purchased the car in 1980 after seeing it advertised in the St. Louis Post-Dispatch classified advertising section. The previous owner was asking $6,700 for the car. Jerry offered him $6,000 and was immediately turned down. Moving his offer to $6,200 was not accepted either, the owner saying the least he would take was $6,500. Tim needed time to think it over during which he called on an old friend and Corvette aficionado, Jerry Rogers to see what he thought it was worth. Jerry took it one level up, contacting Dave Schwendt, then president of the St. Louis Corvette Club to give the car a once-over. When it was all said and done, the two told Tim they thought $6,500 was a very fair price for the car based on the condition and current Corvette values at the time. 
Shortly after purchasing the car, Tim had it repainted and added the oversize American Racing real magnesium rims and tires. Now Tim admits to being an old-fashioned kinda guy. Just to show you how old fashioned he is, I was going to send him a photo that I had taken of his car, but he told me he can't get photos because he still has an old-fashioned flip phone! And, when we walked inside his living room, there on a piece of furniture was a 27" vacuum tube television that must have weighed as much as the average refrigerator! And to top it off, it was connected to a rabbit ear antenna, complete with aluminum foil for better reception!
The 1962 Corvette had a factory base price of $4,038, not including the detachable hardtop (which Tim's has) – a $237 option.
FIN MAN FACTOID: A 360 horsepower, fuel-injected ($484 option) 1962 Corvette could manage 0-to-60 in 5.9 seconds, and 0-to-100 mph in 14 seconds. The 1962 Corvette was the last and the fastest of the C-1 series and at 14,531 built, outsold the 1961 model by nearly 150 percent.
A final note. Tim took his wife Mary on their first date in the Corvette. He lost her to cancer five years ago, and after Mary was cremated, Tim took her ashes to her final resting place in the Corvette. Mary had her first and last ride in this car, adding to the special meaning and place in Tim's heart which this car will always have.
---
This content was produced by Brand Ave. Studios. The news and editorial departments of the St. Louis Post-Dispatch had no role in its creation or display. For more information about Brand Ave. Studios, contact tgriffin@brandavestudios.com.
Auto reviews, driving trends and up-to-date news about life on the road.