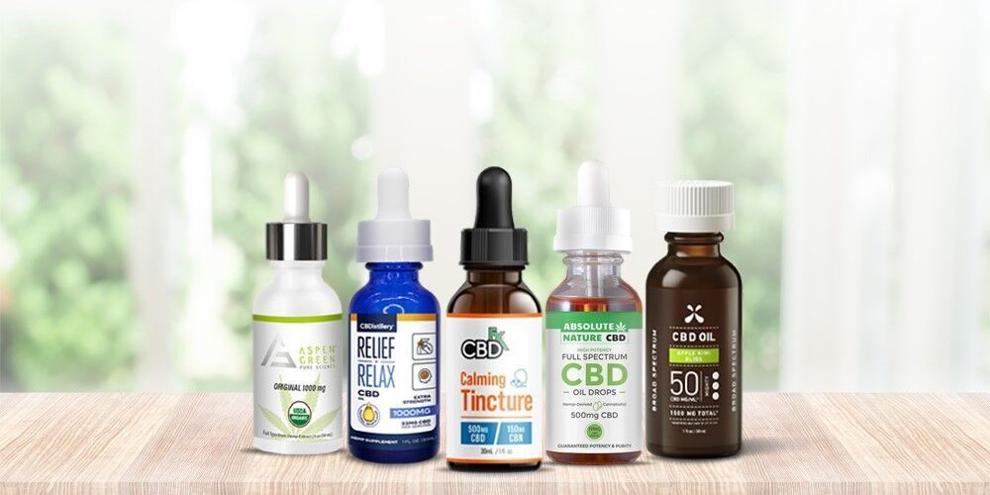 This advertorial is sponsored content provided by the advertiser and printed as is. Any claims, recommendations or errors are the advertiser's own and the reader is responsible for evaluating all information contained herein. The reader is also responsible for complying with local laws on the use of information gathered.
Is pain getting in the way of your daily life? Perhaps you struggle with arthritis pain that makes it hard to get out of bed in the morning. Or maybe you have muscle soreness from fibromyalgia that prevents you from exercising as you'd like. There are lots of natural pain remedies to explore, but CBD oil deserves serious consideration. The best CBD oil for pain can be safe, effective, and affordable.
CBD has become quite common, and there are countless brands and varieties to choose from. You could spend hours reading reviews and product descriptions, deciding on the best CBD products to try. Luckily, a lot of that work has been done here for you. Countless CBD oils were reviewed, researched, and tested to narrow the options down in order to present to you these five best CBD oils for pain.
The 5 Top CBD Oil for Pain Options
1. CBDfx: Top Choice - Best Overall CBD Oils
2. CBDistillery: Good Variety with Multiple Potencies
3. Green Roads: Great Flavor Selection
4. Aspen Green: USDA Organic Oil
5. Absolute Nature CBD: Best for Beginners
Reviews of the Best CBD Oil for Pain Relief Selections
1. CBDfx: Best Overall CBD Oil for Pain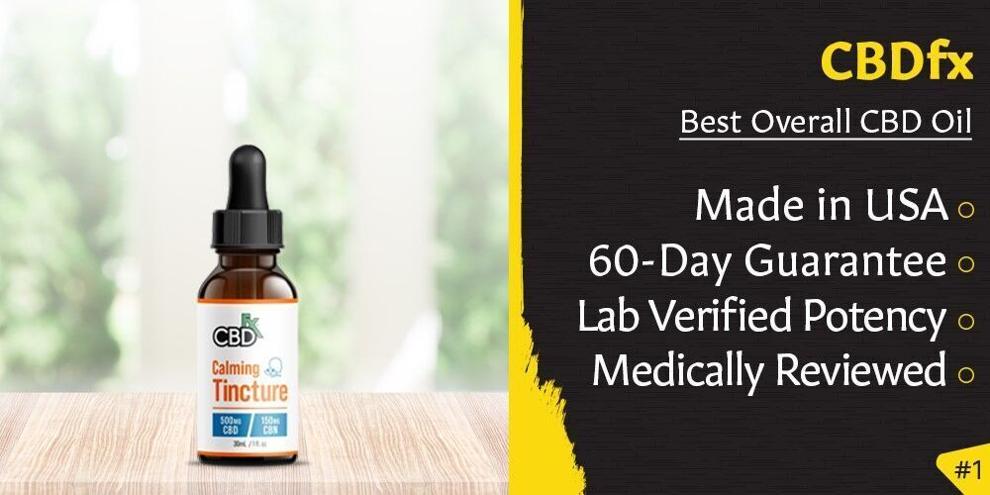 CBDfx won the award for overall best CBD oil for pain. This company is a step above when it comes to quality and consistency. All of their CBD products are medically reviewed. They stand behind them with a 60-day guarantee, and they only use USA-grown hemp. CBDfx is certified cruelty-free, and they share their lab test results openly on their website.
Good selection of CBD oils with added CBG and various botanicals

Most oils come in multiple potencies

Options for daytime and evening use

Clear, informative product descriptions

Lab test results readily available on company website
No flavored CBD oils; all have a natural hemp taste
The best CBDfx CBD oil for pain is likely their CBD + CBG Oil Wellness Tincture. This oil has a 2:1 ratio of CBD:CBG. The added CBG helps enhance the pain-relieving benefits of CBD, and it also has energizing qualities for daytime. It also contains curcumin, a natural compound found in turmeric and known for its ability to manage pain. Vegan and gluten-free, this CBD oil comes in multiple potencies: 500, 1000, 2000, 4000, and 6000 mg.
For evening pain relief, the CBDfx Sleep Tincture is a top choice. It contains CBN and melatonin, both of which are known for promoting sleep. Reviewers say this oil eases their pain while also calming mental stress before bedtime. It comes in 1000, 2000, and 4000 mg formulas, and like the other CBDfx CBD oils, is vegan and gluten-free.
If your pain sometimes leaves you feeling anxious, CBDfx Calming Tincture is one of the best CBD oil pain products to try. It's formulated with CBN, which has calming effects.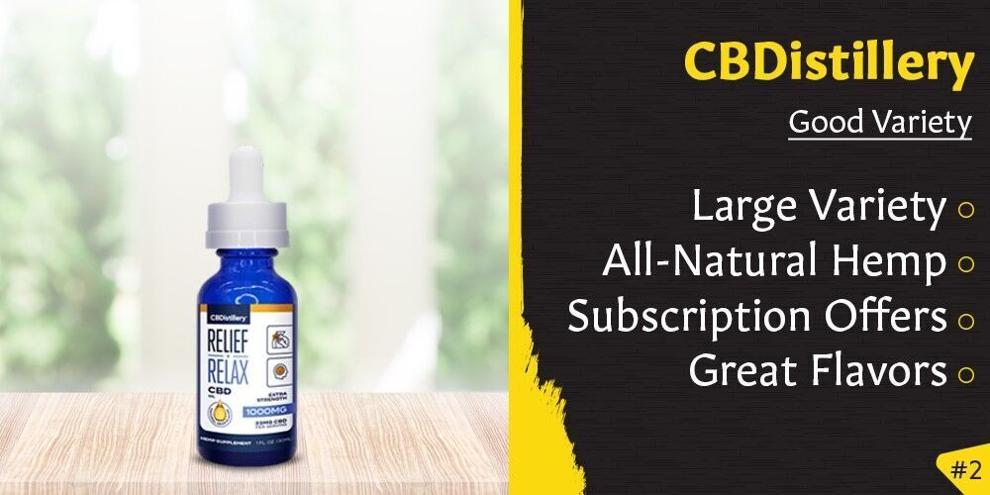 CBDistillery sells some of the best CBD oils for pain and is well-deserving of the second spot on the list. The company was founded in 2016, making it one of the oldest CBD companies in the US. CBDistillery products are all Hemp Authority Certified and cruelty-free. They submit their CBD products for third-party testing, and they only use non-GMO hemp oil.
All hemp is grown using natural farming practices

Several flavored CBD oils available

Most products come in multiple potencies

Good selection of lower-dose oils for beginners

Great full-spectrum CBD oils with high terpene content
One of the more expensive brands on this list
One of the best CBDistillery CBD oil for pain choices is their Raw Synergy oil. This CBD oil is specially formulated with CBDa, another cannabinoid known for its ability to raise serotonin levels and combat stress. Customers say this oil not only relieves their chronic pain, but also eases the anxiety associated with pain. Raw Synergy contains 500 mg CBD and 500 mg CBDa per bottle.
If you prefer a flavored CBD oil, try CBDistillery Relief + Relax CBD oil in mango flavor. It comes in 1000 mg and 2500 mg formulas. Reviewers say the mango flavor hides the hemp aftertaste quite well. Relief + Relax CBD oil is a full-spectrum CBD oil for pain that takes advantage of the entourage effect for enhanced pain and stress relief.
If your pain often leaves you fatigued, try CBDistillery Daytime Synergy. It's formulated with CBG, a more energizing cannabinoid. Daytime Synergy has a mild hemp flavor that most reviewers appreciate, and it works well for arthritis and joint pain.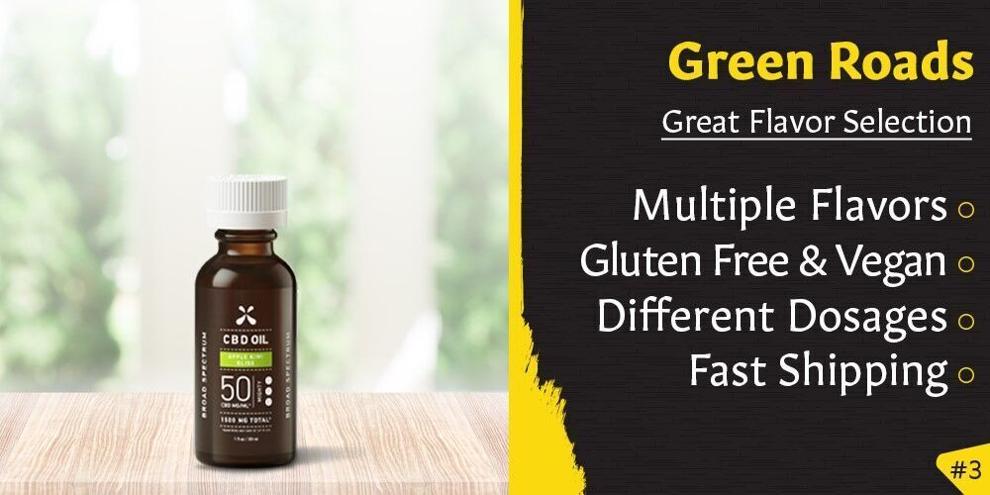 Green Roads is an award-winning CBD company, and their products receive rave reviews from customers. Green Roads' products are formulated by pharmacists and produced in an FDA-registered facility. They offer a good selection of broad-spectrum and full-spectrum CBD oils in several delicious flavors.
Oils come in 3 strengths: mild, moderate, and mighty

Pharmacist-formulated products

Every oil comes with a special measuring tool for precise dosing

Good selection of flavored oils
Few options with synergistic cannabinoids such as CBN
One of the best Green Roads products for pain is their Full-Spectrum CBD Oil. It comes in three strengths and has a natural flavor with hints of caramel. This oil is vegan and gluten-free, plus free from all artificial colors and flavors. Reviewers find it effective for managing everything from arthritis pain to headaches.
Another good choice is the Mint Breeze Broad-Spectrum CBD oil. The mild mint flavor is refreshing. Buyers can choose between 300 mg, 750 mg, and 1500 mg formulas. Reviewers like using this oil for morning pain relief since the mint flavor wakes them up. Many reviewers said that a single dose gets them through a whole day pain-free.
For evening use, Green Roads Sweet Sleep CBD Oil is a top option. It's formulated with melatonin for greater relaxation. A blend of CBD and CBN provide potent pain relief.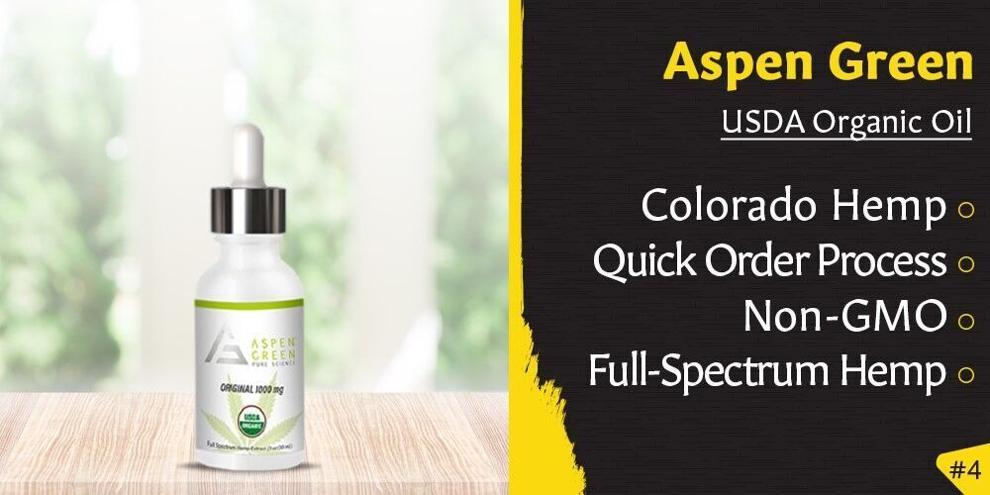 Aspen Green offers a USDA Certified Organic CBD oil that really impresses. This company truly goes above and beyond when it comes to responsible and health-focused product development. Their oils are not only USDA Certified Organic, but also cruelty-free, gluten-free, and free from toxins such as formaldehyde, phthalates, and sulfates. They only use hemp that is grown and harvested in Colorado.
Produced in an FDA-registered facility

Comes in three appealing flavors

Potent 1000 mg formula

Full-spectrum formula for maximum relief

Made from USDA Certified Organic hemp
Fewer product options than most brands
Aspen Green does not have the widest variety of products, but that's okay. The CBD oil they do have — their full-spectrum hemp cannabis plant extract — is top quality and suitable for almost every CBD user. This oil comes in a 1000 mg formula, which is a good strength for pain relief. It contains less than 0.3% THC and comes in original, mint, and citrus flavors. Reviewers find the citrus flavor especially appealing since it masks a lot of the hemp taste.
Customers praise this CBD oil for pain for its fast action and potency. Some customers use it for residual chronic pain due to old injuries. Others use it to ease acute pain, such as that caused by a toothache or sports injury.
Those who are new to using CBD oil for pain management often prefer a lower-potency product with predictable effects. Absolute Nature CBD fits that bill perfectly. This CBD company uses Colorado-grown hemp to create their USDA Certified Organic oils. They conduct third-party lab testing on all of their CBD products, and they adhere to strict cGMP manufacturing standards.
Vegan and gluten-free

CBD oils are produced via CO2 extraction for maximum purity

Third-party lab tested

USDA Certified Organic

100% natural; free from preservatives and solvents
Only comes in one potency
Absolute Nature CBD Full-Spectrum Hemp Oil Drops are the company's flagship product and well worth trying for acute or chronic pain. This CBD oil contains 500 mg CBD per bottle. This is a great dose for beginners. Experienced CBD users may want to take two droppers of the oil for more powerful relief.
This full-spectrum CBD oil has a natural hemp flavor, but isn't overwhelmingly strong. Reviewers find that the oil relieves pain within minutes if they use it sublingually. Most reviewers suffering with chronic pain use this CBD oil for pain management daily, but others use it for acute pain and headaches.
How the Best CBD Oil for Pain Options Were Selected
CBD has become a really popular pain reliever, and a lot of companies have released excellent products. So, this list could have been a mile long had strict criteria not been applied. To begin, each company had to meet these standards:
Lab Testing: Every company here works with a third-party lab to verify the potency of their CBD oils.

Ethical Standards: Some companies are USDA Certified Organic. Others are vegan or cruelty-free. They all pay close attention to ethics and health when creating CBD products.

USA-Grown Hemp: CBD is only as good as the hemp it comes from, so companies that use top-quality domestic hemp were favored.

Good Reviews: If past customers liked it, that company moved on to phase two of testing.
Once the list was narrowed down according to the standards above, the process of testing products began. Testing was conducted to see how quickly the CBD took effect when deposited beneath the tongue, as well as how long-lasting and noticeable the pain relief was. Allowance was given for some variety, since full-spectrum products can be quite different from CBD isolate products. However, after a few rounds of testing, it was pretty easy to pick the 5 top CBD oil for pain options. These companies truly make the best CBD oils around.
Benefits of Using CBD Oil for Pain Management
These days, there are so many options for pain management. You can seek a prescription from your doctor, use an over-the-counter pain relief medication, or rely on pain-relieving herbs. Why, then, should CBD products be at the top of your list of pain management options? Here are their key benefits.
CBD Oil Is Natural and Safe
As the opioid epidemic has made clear, sometimes lab-produced pharmaceuticals are not as safe as they should be. CBD is a natural substance derived from the hemp cannabis plant.
Its use as a pain reliever is nothing new, either. People have been using hemp products for pain relief and other purposes for centuries. Today's hemp-derived CBD products are a bit more pure than those used in the past, but the active ingredient, CBD, is the same.
The safety of CBD has been well studied, and research has not revealed any major concerns or side effects. CBD may be a good option for those who have reacted poorly to pharmaceuticals in the past, or for those who have struggled with opioid addiction.
CBD Oil Reduces Inflammation
Chronic pain and inflammation often go hand-in-hand. This is true of arthritis, most sports injuries, and even headaches. When tissues become inflamed, they place pressure on nerves. Those nerves send a message to the brain, which you interpret as pain.
Reducing inflammation therefore helps relieve pain, and clinical studies have confirmed that CBD reduces inflammation. This is why it's such an effective treatment for arthritis pain, in particular.
CBD Oil Can Be Used in Varying Doses
What if you take a pain reliever and you don't get as much relief as you expected? With most pain relievers, you can't take any more, or else you put yourself at risk for negative side effects. This isn't likely an issue with CBD. If you take a certain dose and it doesn't quite relieve your pain, you can always try a little more.
On days when your pain is worse, you can try a larger dose of CBD. On days when your pain is milder, you can take less. This gives you more control over your pain management.
CBD Oil Can Be Used in Various Ways
For quick relief, you can place CBD oil under your tongue. If you can't stand the taste, you can hide it in food or a drink, though this will slow down response. Some people even add it to their smoothies. You will not get this flexibility with prescription pain relievers.
CBD Oil Helps with Sleep
People who struggle with chronic pain often have trouble with sleep, too. Either the pain keeps them up at night, or the stress they experience from the pain makes it hard to fall asleep. Some people end up taking multiple medications to manage their pain and insomnia. CBD is a single remedy you can take for help with pain relief, stress relief, and better sleep. It's easier and often more affordable to have just one remedy in your medicine cabinet.
How to Use CBD Oil for Pain
CBD works best for pain management when you use it regularly. Most people take a dose when they get up in the morning and another dose before bed. There are three key ways to use CBD oil: You can take it sublingually, orally, or mixed into a beverage.
Sublingual Dosing
The best way to take your CBD oil for pain is sublingually. This means you place it beneath your tongue. There are a lot of capillaries near the surface of the skin beneath your tongue. The CBD molecules are small enough to be absorbed through your skin and into these blood vessels. They then enter your bloodstream and start relieving your pain within about 15 minutes.
Here are the steps to follow for sublingual dosing of CBD oil.
1. Draw your desired amount of CBD up into the dropper.
2. Dispense the CBD oil beneath your tongue.
3. Hold the CBD oil under your tongue for up to 2 minutes.
4. Swallow the remainder of the oil.
5. Take a sip of water or another beverage to rinse any remaining CBD down.
Oral Dosing
If you can't stand the taste of CBD oil, then you can swallow it immediately after placing it in your mouth. Rinse it down with a favorite beverage. Just know that when you swallow CBD oil immediately, it takes longer to start alleviating your pain. You may not feel the effects for an hour or more, so be patient.
If you plan to take CBD orally, look for a flavored CBD oil for pain. Flavors like citrus and mint mask the hemp taste well and will make the experience of taking CBD oil far more pleasant.
Mixing CBD Into a Beverage
If you have a favorite beverage you enjoy each day, you could mix your CBD oil into that beverage. There are water-soluble CBD oils that work especially well for this purpose.
Tea and coffee tend to hide the flavor of CBD oil well. If you blend a dropper of CBD oil into a smoothie, you'll barely be able to taste it. This can be a good option if you're always running out the door in the morning. Your smoothie can be your breakfast and your pain reliever — and you can sip it in the car.
How Much CBD Should You Take for Pain?
CBD doses are not consistent from person to person. People with a faster metabolism, greater body weight, or more severe pain tend to need more CBD than average. Those with a low body weight, slower metabolism, or milder pain can get away with a smaller dose. That being said, the average dose for arthritis pain relief is about 30 mg of CBD per day.
If you're taking CBD products for the first time, try a smaller dose to see how your pain responds. Taking 10 mg is a good starting point. Wait about 2 hours to assess how you're feeling. If you don't experience ample pain relief, then take 15 mg or 20 mg the next time around.
If you find you need a larger dose of CBD and you are taking several droppers of oil to meet that dose, shop for a stronger, more concentrated CBD oil for pain.
How Long Does It Take CBD Oil to Work?
Don't be dismayed if you swallow some CBD oil and don't notice any reduction in pain right away. CBD has a lot of benefits, but one of its downfalls is that it can take a while to take effect.
If you take CBD sublingually, your mucous membranes will absorb it and pass it on to your bloodstream. Some people feel the effects within seconds. Others don't feel the effects for 15 minutes or so.
If you take CBD orally or by stirring it into a drink, the CBD has to pass through your digestive tract, be broken down in your liver, and then enter the bloodstream. It can take at least 2 hours for this to happen. If your liver and digestive tract are really efficient, you might feel the effects of CBD within an hour.
If you need fast pain relief from CBD, then you may want to try vaping it instead. You cannot vape CBD oil that is sold for oral use. You must buy a vape juice made specifically for vaporizing. Inhaled into the lungs, CBD starts working instantly and reaches its peak effect within 3 minutes. The effects do not last as long, so this method is not usually preferred for chronic pain. However, you may want to keep a CBD vaporizer on hand for situations in which you need faster relief than oral CBD oil can offer.
CBD Side Effects
One reason CBD is such a beloved pain reliever is its minimal side effects. Serious side effects are incredibly rare. CBD overdoes does not seem to have fatal consequences, either. If you take too much, you will probably feel nauseous, dizzy, and exhausted. But these symptoms should pass within a few hours. That being said, CBD can cause some minor side effects that are important to be aware of.
Managing Common Side Effects
The most common side effects of CBD oil are fatigue, dry mouth, nausea, and changes in appetite.
Fatigue may not be such a problem if you take CBD before bedtime, but it may bother you if you take CBD products in the morning. If you notice you feel sluggish or drowsy, consider switching to a CBD oil marketed specifically for daytime use. Often, these formulas contain terpenes and other cannabinoids that interact with the CBD to create a more energizing effect.
If you're struggling with dry mouth after taking CBD, try minimizing contact between the oil and your cheeks when swallowing it. Dry mouth occurs because CBD can reduce the amount of saliva your salivary glands are releasing. Minimizing contact between the CBD and your salivary glands can minimize this effect.
If you notice you're snacking and struggling with an increased appetite when taking CBD products, try an oil made with CBD isolate rather than full-spectrum CBD oil. Sometimes, the other cannabinoids and terpenes in full-spectrum oils can give you the munchies.
Tips for Minimizing Side Effects
The key way to minimize side effects is to not take more CBD than you need. This is one reason why it's so important to start with a low dose, such as 10 mg, and only increase your dose if truly needed.
Try to be consistent with your CBD use, too. Take it at the same time each day to keep the levels of CBD in your bloodstream more consistent. This tends to lead to fewer changes in appetite and less fatigue.
FAQs:
What is the difference between full-spectrum CBD and CBD isolate?
To create CBD oil, companies extract oil from hemp flowers. This oil contains CBD, but it also contains other compounds from the hemp plant. Some of these compounds, including CBD, CBN, and THC, are known as cannabinoids. Others, such as linalool and myrcene, are known as terpenes. If the hemp oil is blended with a carrier oil in this state, the resulting oil will be called a full-spectrum CBD oil as it contains the full spectrum of cannabinoids and terpenes from the hemp plant.
Alternatively, after extracting oil from the hemp, companies can take an extra step to remove just the CBD from that oil. The resulting CBD product is known as CBD isolate. It contains only CBD; all the other cannabinoids and terpenes have been removed.
Full-spectrum CBD oil is often more effective for pain management. The other cannabinoids and terpenes it contains interact with the CBD and make it more effective.
What is CBN?
CBN stands for cannabinol. It is another cannabinoid found in the hemp plant. CBN is quite similar to CBD. It can help to manage pain — especially joint and muscle pain. CBN tends to be more relaxing than CBD and makes almost everyone feel drowsy.
Some CBD oil for pain relief products are formulated with CBN because it makes them more effective. These oils can be a very good choice for pain management, but you probably want to save them for evening use due to the sedative effects of CBN.
If you've been taking CBD products for acute or chronic pain relief and are not getting the amount of relief you desire, try a product made with CBN for enhanced effectiveness.
Will CBD make you feel high?
No, CBD will not make you feel high. It is a non-psychoactive substance. The cannabinoid best known for creating a "high" state is THC.
Some full spectrum CBD oils contain traces of THC. Federal laws permit them to contain up to 0.3% THC by weight. This is not enough to make you feel high.
Is hemp seed oil the same as CBD oil?
No, hemp seed oil and CBD oil are two different products. Hemp seed oil is oil that is extracted from the seeds of the hemp plant. These seeds do not contain CBD or other cannabinoids. CBD oil is pressed from the flower of the hemp plant, which is the structure containing all the beneficial cannabinoids and terpenes.
Sometimes, you might see CBD oil advertised as hemp oil or hemp extract. These terms are sometimes used interchangeably with the term "CBD oil." Hemp seed oil, however, is a different product.
That being said, hemp seed oil can also be a good product to include in your routine if you suffer from arthritis or other joint pain. While it does not contain CBD, it is a good source of omega-3 fatty acids. These fatty acids have been known to lubricate the joints and help patients with arthritis maintain their mobility.
Can you vaporize CBD oils?
Do not inhale or vape CBD oils that are intended for oral use. The carrier oils used in oral CBD solutions are not intended to be vaporized or inhaled. They may damage your vaporizer, and even worse, your lungs.
If you wish to vaporize CBD, then you need to look for CBD products made specifically for this purpose. Usually, these are sold as CBD vape juice or CBD vape oil.
Vaping CBD does have its benefits. CBD takes action quickly when inhaled, and you can often vaporize discreetly. Just make sure you only vaporize CBD products made specifically for inhalation.
Final Thoughts
CBD oil is a great choice for pain management. It is widely available, effective, natural, and causes few side effects. If you're struggling with arthritis pain, fibromyalgia, or another type of chronic pain, don't overlook giving CBD a try. Choose one of the CBD products featured above. Then, remember to go slow. Take a small dose the first time, see how your body reacts, and go from there.
As CBD oils become more common, the selection of products will continue to grow. This is a good thing; everyone deserves to enjoy the benefits of using a top-quality CBD for pain relief. Just remember to use discretion when selecting CBD products. The best companies share their lab results, take an ethical approach, and are always seeking to create better CBD products for their customers to enjoy.
This content is provided for informational purposes only by the advertiser and is not a substitute for professional medical advice or treatment. Please consult your healthcare provider for medical advice. Any views, thoughts or opinions in this paid post belong solely to the advertiser and do not represent the views of Brand Ave. Studios or its parent company.
---
This content was produced by Brand Ave. Studios. The news and editorial departments had no role in its creation or display. Brand Ave. Studios connects advertisers with a targeted audience through compelling content programs, from concept to production and distribution. For more information contact sales@brandavestudios.com.