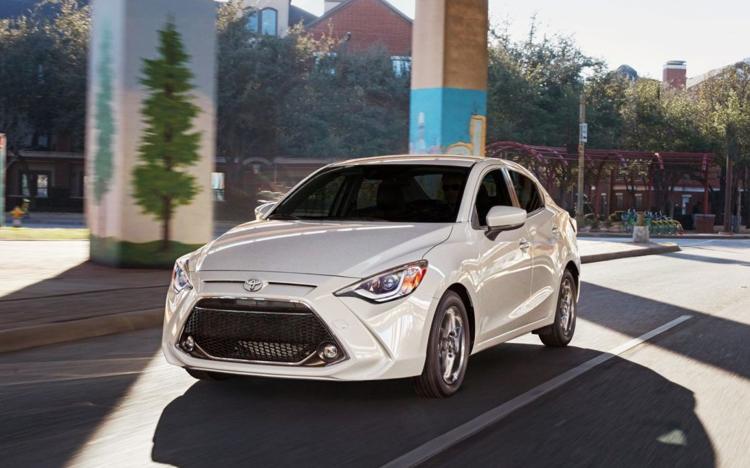 Toyota's subcompact sedan has had more names than a small-town phone book. Fortunately -- to paraphrase Shakespeare -- a Mazda by any other name drives as sweet.
The Toyota Yaris sedan began life as the Mazda2 in model year 2015. However, when that new 2 debuted, Mazda decided not to sell it in the U.S. So Toyota said (I'm paraphrasing here), "Hey, Mazda, if you're not going to sell it stateside, can we offer the little guy through our 'youth brand' Scion?" Mazda said, "Sure!"
So, for the 2016 model year, the Mazda2, for U.S. consumption, got a new grille and a new name: Scion iA.
Toyota then decided to "youthanize" the entire Scion brand, which created an awkward situation: Toyota had a deal with Mazda to sell the Mazda2 stateside as the Scion iA, but Toyota no longer had a Scion brand with which to sell it. Complicating matters further, the Toyota brand already had a subcompact car in the Yaris hatchback. So . . . What to do with the subcompact Scion iA sedan?
Solution: Rename it again.
As a result, in 2017, the Scion iA, nee, Mazda2, got its third moniker in three years: the Toyota Yaris iA.
In model year 2019, the Yaris hatchback went on hiatus in anticipation of its all-new version arriving for the 2020 model year, when it would be dubbed simply "Yaris Hatchback." Consequently, the sedan no longer needed categorizing. Ergo, Yaris iA (nee, Scion iA; nee, Mazda2) got its fourth name in five years: Toyota Yaris.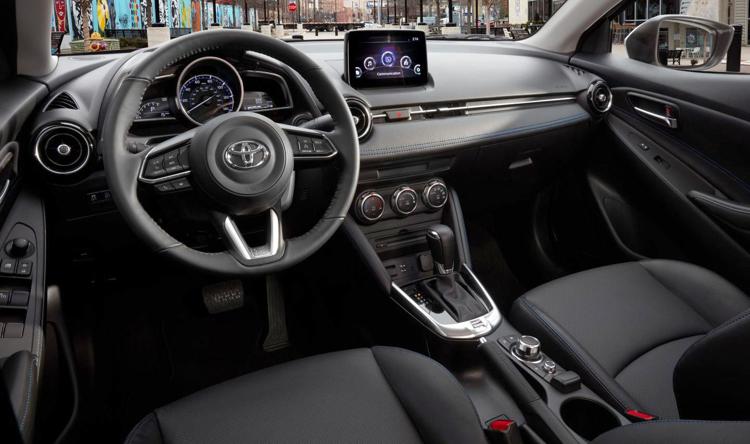 In its short life, this little guy has covered a lot of ground. Fortunately, it covers ground delightfully.
Sure, Yaris accelerates leisurely -- nearly 10 seconds to 60 mph with its 106-hp, 1.5-liter, naturally aspirated four -- but everything else is right: point-and-shoot steering, sharp handling, civilized ride, surprisingly quiet cabin. This guy drives like the Mazda it is. That is to say, very well.
Although, uncharacteristically, it has the same name it had last year, it does offer some new stuff for 2020 -- primarily an infotainment upgrade that enables Apple CarPlay and Android Auto compatibility.
But it already was well-equipped. For a starting price of $16,605, every 2020 Yaris includes air, rear-view camera, low-speed forward-collision warning with auto braking, cruise control, power locks, mirrors and windows, Bluetooth, USB and auxiliary audio inputs and smartphone-compatible 7-inch display.
We drove a top-of-the-line XLE, which adds, among other perks, a driver-selectable choice of chassis settings (Normal and Sport) and a standard six-speed automatic transmission, an item that's optional on the L and LE trims, which boast a standard six-speed manual gear box.
In 185 miles of mixed city/hwy driving, our XLE returned to us 37 mpg -- 2 better than the EPA expected us to enjoy.
Inside, XLE decor is attractive, with simulated leather and other upscale-looking materials, along with an infotainment screen that's easy to use via a center-console knob and a few surrounding buttons. Interestingly, the display's touch-screen functions are inoperable when the vehicle is in motion, so make friends with the knob.
Room is fine up front, leg room close in back, though rear head room isn't bad.
True, Yaris's big-mouth grille is a matter of taste but, otherwise, this guy dresses sharply, with blacked-out B-pillars that visually "lower" the arcing roof and a rump that's tastefully sculpted and topped in our XLE with a tiny spoiler.
Handsome and gratifyingly athletic, this little sedan is probably the most fun you'll have in a slow car. New-car buyers seeking driving dynamics, high-mileage and lots of equipment for the price of a used car won't do better than this Mazda . . . uh, we mean Scion . . . uh we mean Toyota.
---
This content was produced by Brand Ave. Studios. The news and editorial departments of the St. Louis Post-Dispatch had no role in its creation or display. For more information about Brand Ave. Studios, contact tgriffin@stltoday.com.