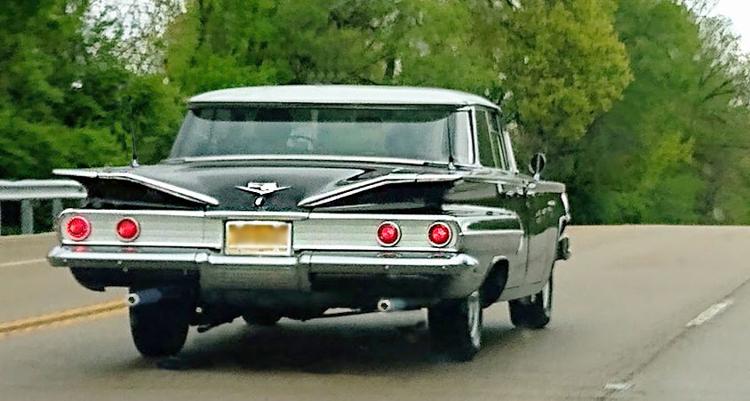 This week's story comes from The FIN MAN's F.O.R.D. file (Found On Road Driving). This car did not require use of my old car radar, because the driver made a right turn in front of me while sitting at a red light. Naturally, it caught my attention, raising a question or two.
The first thing I noticed was that it was (obviously) a 1960 Chevy – there's no mistaking those fins! However, the pair of taillight lenses on each side instantly told me it was no Impala.
At this point, I knew the natty-looking 1960 model in front of me, decked out in Ermine White over Tuxedo Black, had to be a model or two down the line from the flagship Impala. What struck me as odd was that this car was a Chevrolet 'Sport Sedan,' a.k.a. a 'flat-roof ' four-door hardtop – a body style typically reserved for top-of-the-line models – or so I thought.
I had taken note of the street the car turned onto, which was the entrance to a subdivision. So, Sunday afternoon, with my notebook and a photo of the car in hand, I went back to that street in hopes of finding out more about the car. I was hoping to get lucky and come across it parked in a driveway. No such luck.
However, after questioning a few neighbors, I had a solid lead and went to the house where one of them had directed me. In no time at all, I was talking to Jack Hickman and his wife, Darlene. They are the proud new owners of the slick Chevy.
I soon learned that Jack had recently purchased the car from Streetside Classic Cars in Dallas, Texas. Upon arrival in St. Louis, the car was taken to Fast Lane Classic Cars in St. Charles, where David Williams and his team made a number of mechanical improvements and buffed out the exterior.
Jack replaced the original Chevy rims with a set of American Racing Torque Thrust mags so that he could put disc brakes on the Bel Air. The original wheels and tires did not allow room for discs and calipers.
This car was originally equipped with Chevrolet's venerable 348 cubic-inch V-8, but now is powered by a 350 cubic-inch, nicely-dressed Chevy mill.
The car has manual steering and brakes, a two-speed Powerglide tranny and the original, under-dash, factory GM air conditioning. Darlene wanted to make sure I saw the luggage compartment, because it was just as crisp and clean as when brand-new!
The Hickmans use the Bel Air for casual drives in nice weather and attend several car shows and cruises each year as members of the Okaw Valley Classic Chevy Club, a.k.a. the Tri-Five Chevy Club.
---
This content was produced by Brand Ave. Studios. The news and editorial departments of the St. Louis Post-Dispatch had no role in its creation or display. For more information about Brand Ave. Studios, contact tgriffin@stltoday.com.
Auto reviews, driving trends and up-to-date news about life on the road.