It's often difficult, nigh impossible, to pick a favorite car among a field of show cars of all types and model years. How can you compare a sixth-generation Camaro, for instance, to a perfectly-restored, 1932 Model A Ford? It's like comparing apples to oranges. No, it's more like comparing apples to aircraft carriers!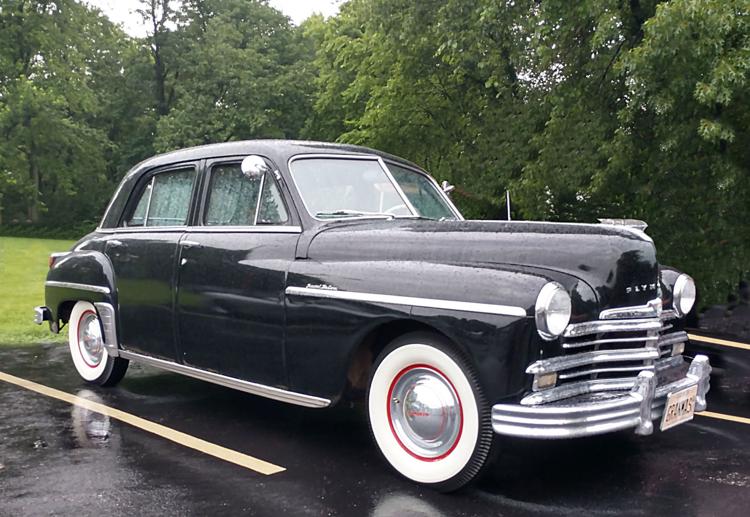 The recent car show at the Glen Carbon Church of the Nazarene, presented such a bewildering dilemma for newly-appointed TKCS-StL volunteer, 14-year-old Dillan. It was Dillan's first car show and he became an instant car fan when he saw the field of pristine automobiles and pickup trucks dating from present to early 20th century models. Oh sure, there were plenty of late model Mustangs, Camaros and Challengers that any boy his age would be drawn to, but an old, black Plymouth, parked just across the drive from our booth was one that seemed to fascinate Dillan just as much, or maybe more, than the assortment of current muscle cars on display that day.
I guess it was a combination of an old car that you just don't see every day on the road, along with the fact that the 70-year-old car looked like it just rolled off the showroom floor! In addition, the big, wide white walls just drew the eye to them, looking especially good in contrast to the black paint that according to present owner Janet Yates, was done 40 years ago.
The "Great New" Plymouth for '49, the one I remembered from my childhood, was a late bloomer arriving mid-year. From January through March of 1949, Plymouth continued to market its previous model, the P-15 Series – officially sold as 1949 models. They were identical to 1948 models but clearly different in styling from the Second Series of 1949s introduced in April.
Available in Deluxe and Special Deluxe trim levels, the "Second Series" 1949 Plymouth P-18s hit the showroom floors in April of 1949. The options list was sparse for this low-priced contender, but included such things as heater and defroster; radio and antenna; full disc wheel covers; white-wall tires; stone shields (front edge of rear fenders); bumper guards; outside rear view mirror plus a hand full of others. No, Dillan... they didn't offer satellite navigation or Sirius Satellite radio!
FIN MAN Factoid: Toward the end of the 1949 model year run, some Plymouths were built with aluminium brake shoes due to a steel shortage.
Check out my Facebook page at "the fin man" for upcoming events and a special story about my foster grandson Lou, a veteran of over 100 car shows and cruises! You may have met him at many of these events, as well as seeing him alongside cars appearing in a number of OCC stories through the past eight years. He is working on a career path which will make him a veteran of another kind years from now!
---
This content was produced by Brand Ave. Studios. The news and editorial departments of the St. Louis Post-Dispatch had no role in its creation or display. For more information about Brand Ave. Studios, contact tgriffin@stltoday.com.