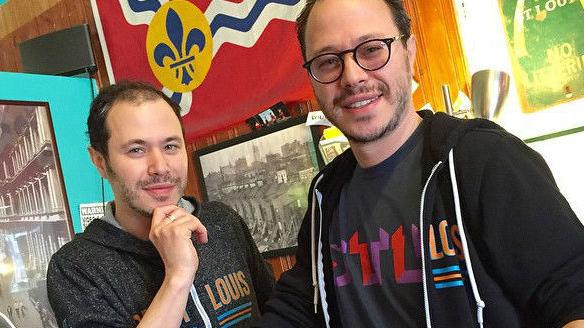 Each week, we will feature local leaders of small businesses and large corporations that are impacting the St. Louis region from a variety of different industries. These leaders are Advancing St. Louis by inspiring change and starting conversation.
Identical twins, Jeff and Randy Vines, own STL-Style, a venture they started in 2001.
Their store on 3159 Cherokee Street includes St. Louis-inspired clothing and merchandise. Learn more about what makes them successful and why they love St. Louis.
Why did you choose the T-shirt business?
Randy Vines: I think the business kind of chose us. We started out printing shirts purely as a hobby while holding down regular full-time jobs, but the passion we had for our moonlighting gig was always too powerful to ignore. One thing led to another and we figured out how to make it all work. It's not something we'll ever take for granted. We definitely attest to the notion "You can't spell HuSTLe without STL!"
Jeff Vines: We never felt we were cut out for conventional office jobs and our love of St. Louis was the only thing we never seemed to burn out on. We're both very social, casual and somewhat unstructured, so we really couldn't picture ourselves doing anything else at this point. STL-Style really is an extension of ourselves.
What makes STL-Style so successful?
RV: Authenticity. We kind of wear our hearts on our sleeves (pun intended), and our profound appreciation of our city is what drives us every day. We've been creating STL-themed products for more than a decade, so I think our track record is what keeps us relevant.  No matter what challenges and opportunities face St. Louis, we remain a reliable source of civic pride and engagement.
JV: Our brand is much more than just the products we sell. When you walk into our shop, it's a St. Louis experience. We love striking up conversations with our customers and relish the personal interaction we have with people who come from literally all over the world. We host a variety of functions at our shop, ranging from book-signing events to burlesque shows and everything in between, so we try to keep things interesting and eclectic beyond our regular business hours.
What is the biggest challenge you face as a business?
RV: The constant evolution of social media. It's really hard to keep up with all the tricks, features and promos that it takes to stay relevant and visible to our audience. There are so many easy ways for people to customize their own products, so we have to constantly think ahead. We also need to keep diversifying and not solely rely on our walk-in retail traffic or e-commerce. We have consistently expanded our range of custom graphic design, screen printing and ad specialty services, which has been instrumental in keeping STL-Style a viable enterprise.
JV: Adapting to the unpredictable nature of running a small business and getting comfortable enough to delegate tasks.  
What advice would you give someone who is looking to start a business?
RV: Don't overthink everything to the point that you scare yourself away from pursuing it.  As daunting as it may seem at first, you don't need to have it all figured out, you learn a lot as you go. Take little steps-- try things out, see what works and what doesn't.  Along the way, you gain experience and confidence. Good luck if you're motivated solely by profit, because it takes a lot more than that to establish a reputation and a loyal following. Believe in what you're doing and don't compromise your principles just to gain visibility; if you do a good job and people trust you that will follow organically.  Be sure to consult people you trust and know how to delegate tasks that you don't have time or aptitude for.  
JV: A lot of people say, "It must be so cool to be your own boss!" The truth is, our customers are our bosses, and if we don't perform well for them, we're out of a job. We don't have the luxury of clocking out and forgetting about work when we leave for the day, because our names and reputations are synonymous with our brand. Our work does define us, which is something and that's a lot of pressure, but it also motivates us to work harder.   
What are you doing to ensure STL-Style continues to grow and develop?
RV: We are launching a new website in July that better reflects the scope of what we're all about. In addition to strengthening our partnerships with the organizations and causes that have been instrumental to our success, we are expanding our civic engagement to offer tours and workshops for school groups and others who love learning about why we think this is such a cool city.
JV: Yes, what Randy said! 
The business news you need
With a weekly newsletter looking back at local history.