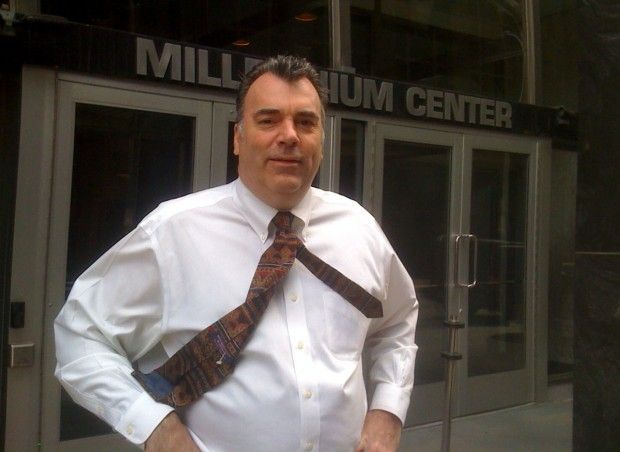 Restored public space, indoor parking and dozens of two-level apartments are planned for the vacant Alverne building in downtown St. Louis.
Developer Brian Hayden bought the 15-story building on Thursday for $550,000. He said told the Post-Dispatch Friday that the bargain price and the good location made the purchase a good deal.
Construction financing has yet to be arranged, and much engineering work for the project remains, Hayden said. Construction could begin within a year. No time for construction is set but Hayden hopes to begin work within a year. He bought the structure, at 1014 Locust Street, from downtown property owner Sam Berger.
The Alverne was built in 1923 as the DeSoto Hotel. Later, it was operated for decades by the Archdiocese of St. Louis as housing for older adults. The housing closed in 1987, but a chapel remained open until 1991.
More recently, nightclubs occupied the first floor. In 2010, a fire deemed by investigators as intentionally set damaged the basement and first floor.
In what was originally a 235-room hotel, Hayden is planning 81 two-level apartments.
"Each apartment will have a great room," said Hayden, adding that the residences would be much like town homes.
"Our vision for downtown is that it's ready for the next generation of luxury living," he said.
Each two-level apartment will have an interior staircase, Hayden said. Elevators will stop only on the floors with apartment entrances, he said.
Hayden plans to provide tenant parking in the basement, much of the first floor and the second floor. He said street level commercial space would be redone, including space for an art gallery to show the work of his mother, Martha Hayden.
Hayden said he would preserve what had been ballrooms on the third and top floors with the intent of redoing them as public event spaces. Particularly appealing is the top-floor ballroom because of its wide, column-free space, he said.
Work on the Alverne will begin in earnest after Hayden completes his current downtown project at the Millennium Center. The 20-story office building at 515 Olive Street will have apartments on the top 11 floors. Office tenants are being consolidated on the lower floors.
Previously, Hayden redid the former WS Hotel, at 400 Washington Avenue, as apartments, which is now known as Gallery 400.
The Alverne is eligible for historic preservation tax credits; but Hayden said that, as he has with his other projects, he would do the renovation without using tax incentives.