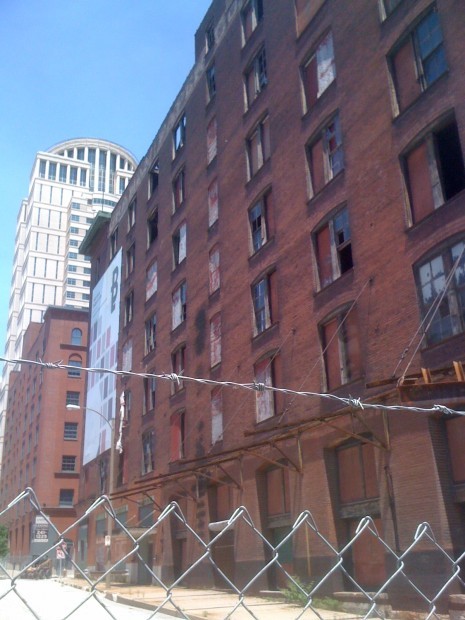 With nothing left standing between the Cupples 7 warehouse and demolition, a wrecking crew is moving in this week to begin taking down the historic but frail structure.
Spirtas Wrecking Co. will need about three months to first dismantle much of the building, then use big machines to finish the takedown. Much of the structure's red brick is salvageable, as well as some of the building's heavy-timber frame.
Finally, workers will grade the site level, removing the last sign that a seven-story building on the National Register of Historic Places had stood at 1014 Spruce Street.
The city condemned the building in 2008 and, after concerns the building could be near collapse, barricaded a block of Spruce Street in 2011.
On Monday, the city gave Spirtas a "notice to proceed" with demolition, which will cost the city $482,500. Workers will spend the next few weeks chipping away at the rear of Cupples 7. Crews also will dismantle part of the eastern wall.
Demolition was assured last week when the city was unable to reach agreement with Vertical Realty Advisors, which had floated a $40 million plan to save the building.
Mayor Francis Slay said Thursday in a statement that the city and Vertical Realty had agreed the company's plan would not work. Slay said the plan requiring the city to become Cupples 7's "master tenant" could have could have left taxpayers on the hook if the redevelopment plan failed.
On June 7, city Treasurer Tishaura Jones paid Montgomery Bank the $850,000 it was owed by the previous Cupples 7 owner, which had failed to convert the empty building into condos. Jones does not want to keep the building, citing the liability of a potential collapse.
On Monday, preservationists decried the imminent loss of Cupples 7, part of the century-old Cupples Station warehouse complex west of Busch Stadium.
Bob Wilhelm, vice president of the Landmarks Association of St. Louis board, said the city's preservation ordinance should be amended to prohibit owners of historic buildings from allowing such properties to deteriorate. He called it "demolition by neglect."
Michael Allen, an architectural historian and director of the Preservation Research Office, said he has yet to see "a good faith effort" by St. Louis officials to carry out the city's new sustainability plan as it pertains to historic preservation.
"It's going to take a lot of effort to get the city to follow the sustainability plan the mayor is talking about," Allen said.
Working to save the Crunden-Martin building represents the city's next "chance to not fail" in historic preservation, he added. For now, the building remains in much better condition than Cupples 7.
"The time to do something is now."
Daily updates on the latest news in the St. Louis business community.