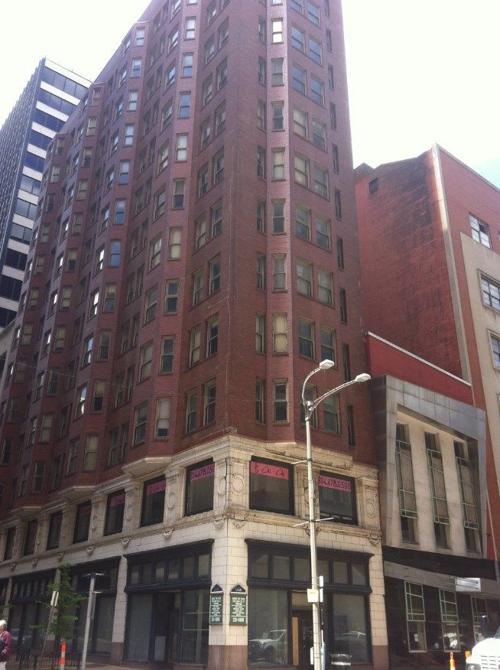 By late next year, two empty buildings at a downtown St. Louis streetcorner will be redone as Hotel Indigo St. Louis at the Arch, the project's developer said Friday.
"We're full speed ahead," said Neil Kapadia, principal of ViaNova Development, of Chattanooga, Tenn.
ViaNova plans an 86-room Hotel Indigo in the LaSalle builidng, at 501 Olive Street, and the adjoining building, at 303 North Broadway, formerly occupied by Paradowski Creative. Kapadia said the remodeled facade of the Paradowski building will be "smoothed" to blend with the front of the LaSalle.
Hotel plans include a ground-floor restaurant and a rooftop bar on the 13-story LaSalle portion of the $11 million project. Kapadia said interior demolition will begin in October with the intent to open the hotel late 2017.
Indigo is a boutique brand of hotel conglomerate IHG, owner of Holiday Inn, InterContinental Hotels, Crown Plaza and others.
Kapadia said the downtown St. Louis Indigo will cater to weekday business travelers and weekend leisure travelers.
"We're looking forward to getting this thing open," he said.
The city had an Indigo outpost before but only briefly. In 2009, businessmen brothers Mike and Steve Roberts opened an Indigo in what was originally the 1950s Bel Air motor lodge at 4630 Lindell Boulevard in the Central West End. Lien filings, suits and countersuits involving the Robertses and hotel contractors dogged the Indigo project even before the it opened.
Two years later, the Indigo was rebranded a Comfort Inn. The current owner, an affiliate of Garrison Investment Group, gave the hotel a $3 million renovation in 2014 as a Holiday Inn Express.
The Roberts brothers also had planned an Indigo for one of the buildings they had owned in the 900 block of Locust Street downtown. That project never materialized.